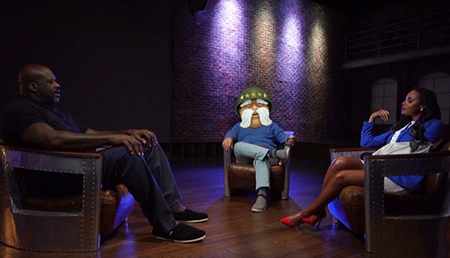 Jacksonville, FL – Insurance spokes-cartoon The General joined Papa John's investor Shaquille O'Neal to confront AEW CBO Brandi Rhodes following the shocking water-splashing incident on Dynamite.
O'Neal, the genius behind the album 'Shaq Diesel' was joined by the cartoon spokesman to confront Rhodes. AEW announcer Tony Schiavone was brought in to mediate the discussion.
"At the request of AEW officials, I will insist that no fluids be splashed at this time," said Schiavone. "Shaq, why have you brought The General with you to All Elite Wrestling?"
"The General and I have been friends for a long time," said the deputy sheriff. "We have strong family values. We support the troops. Saving money on insurance is incredibly important to both of us. We respect each other. Brandi, you disrespected me last week throwing that Schiavone backwash in my face."
"Brandi, you should have called The General and saved some time," said The General, cracking his riding crop. "I could help you save money on auto, home, or personal insurance from a General mudhole stomping!"
"I am angry," said Rhodes, making a frowny face. "Jade Cargill attacked me for no reason and now she has the star of Steel and some GEICO Gecko wannabe do her talking? You're both lucky I don't have a bucket of Schiavone spit to throw in both of your faces."
"Come on, now," protested Schiavone softly.
"How about this?" asked The General. "At AEW's next Pay-Per-View, it's Shaquille O'Neal and The General versus Brandi Rhodes and a spokes-cartoon of her choosing. It won't be a regular match, oh no. It's will be a Schiavone Tsunami Match! First team to toss their opponents into a kiddie pool full of saliva wings!"
The unique match has been scheduled for Revolution in February. While a partner has yet to be announced, it is believed that Rhodes has been in touch with Chester Cheetah, Charlie the Tuna, and the Yellow M&M.