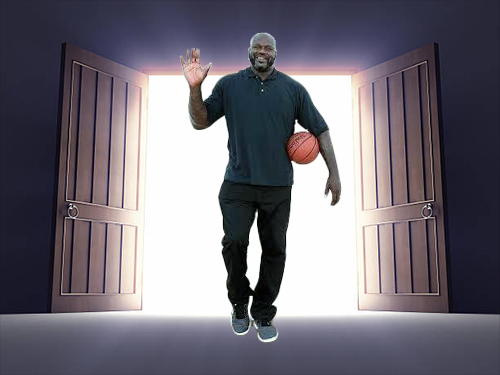 Chicago, IL – Professional basketball star and former AEW participant Shaquille O'Neal made his surprise return last night when he walked through the literal Forbidden Door.
O'Neal last appeared on AEW television in 2021 in a match against Cody Rhodes. The former AEW wrestler dove into the Hall Of Famer, sending both through a table. The star of Shazam was has not been seen on AEW since escaping an ambulance following the match.
The Forbidden Door pay-per-view, which has seen its fair number of changes and surprises, proceeded as planned. Diehard fans oohed and ahhed at the athletic displays and complex grappling. Midway through the event, everything changed.
Lights in the United Center suddenly went black. Fans buzzed with excitement as AEW announcer Excalibur expressed confusion. While many expected this to be the debut of a new wrestler or a surprise return, none were expecting what was to come.
From the entrance ramp, a rip in the time-space fabric opened. A white door appeared from somewhere beyond the third dimension. An intimidating frame cast a dark shadow across the arena. When the otherworldly mist accompanying the doorway dissipated, the arena erupted in frenzied anticipation. Shaq was back in AEW.
The noticeably older and battle-scarred O'Neal stepped through the mystical door. Wearing futuristic armor and sporting a laser gun, O'Neal blinked his cybernetic eye. Checking his time-dilation navigator, O'Neal tried to get confirmation of his travels.
"Where am I?! What year is it?!" said a panicked O'Neal.
A cameraman nervously informed him that it was the year 2022.
"It worked!" declared O'Neal. "I'm back! That means there's still time! I have to get to Washington to speak with President Barkley before it's too late!"
O'Neal ran to the back, pie-facing Zack Sabre Jr. in the process. The seven-footer commandeered an idling ambulance and left the arena. He was last seen in Indiana heading east on Route 30.