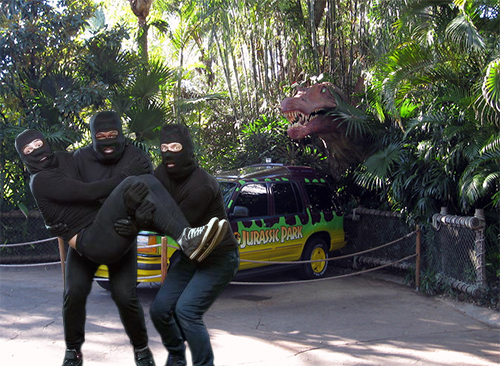 Orlando, FL – After months of attacking various members of the WWE roster and disrupting television tapings, insurgent faction Retribution decided to reward themselves with a nice day off.
Still wearing their trademark black masks, hoodies, and pants, the mysterious group entered Universal's Island Of Adventure. Although they are bent on destroying the WWE, Retribution made sure to maintain at least six feet between each other per the park's rules. Taking advantage of the park's Express Pass, the group wisely skipped lines, allowing them to enjoy more rides.
After experiencing Storm Force Acceleration and the Jurassic Park River Adventure, the group split. Bigger members of Retribution decided to ride Hagrid's Magical Creature Motorbike Adventure. The smaller members took in a showing of Poseidon's Fury.
The rowdy bunch, who definitely are not part of the NXT roster, hooted and hollered as they enjoyed their day in the sun. At times, certain members had to be reminded not to wreak havoc. Luckily all chainsaws and bolt cutters had been confiscated by park staff.
Tensions briefly rose when Retribution encountered Rey Mysterio, who was with his family. Just this past week, Retribution assaulted both Rey and his son Dominik. Thankfully, cooler heads prevailed when the smallest member of the faction handed a dole whip to the younger Mysterio. All was forgiven and quickly forgotten, especially on WWE television.
Overheated and overstimulated, the leader of Retribution purchased warm pretzels and refreshing iced teas for everyone. Properly fed and hydrated, the contingent spread throughout the park and had a great time.
As the day ended the faction gathered for a big group hug. Rested and relaxed, they all vowed to destroy WWE or something on Monday or whenever.