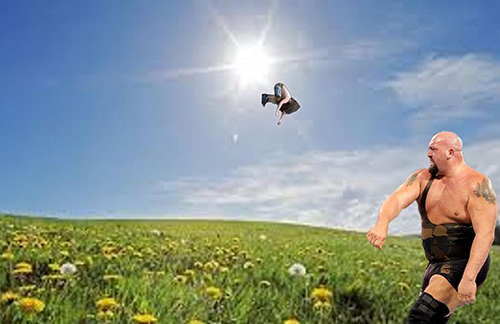 Jacksonville, FL – Newly signed AEW star Paul Wight made a splash this weekend after launching fellow wrestler Marko Stunt into the sun.
Wight, formerly known as The Big Show in WWE, spent his Saturday introducing himself to members of the AEW roster. After reconnecting with old friends and glad-handing management, Wight met Stunt. Rather than shake Wight's hand, Stunt performed various dances popularized by the video game Fortnite. The lack of respect, multiple shin kicks, and being called a 'Boomer' was too much for the giant.
Enraged, Wight grabbed the compact wrestler and balled him up in his massive hands. Kicking open the front doors to Daily's Place, Wight took a few steps forward, pushed off his back leg, and threw Stunt as hard as possible. Stunned onlookers shielded their eyes as Stunt sailed higher and higher before fading out of sight.
"It really was a once-in-a-lifetime throw," explained NASA scientist Dr. Zaina Murthi. "Mr. Wight threw Mr. Stunt at just the correct speed and angle to break through the Earth's atmosphere. Stunt's backwards hat protected him from burning upon exit. Momentum and space winds carried him through the vacuum of space, eventually hitting light speed, before crashing into the sun."
The intergalactic maneuver instantly made Wight AEW's biggest face and heel simultaneously. Paul Wight shirts are already sold out online. Wrestling Observer Dave Meltzer recently replaced Jon Moxley as Wrestler Of The Year with Wight. Officials are even considering changing the name of AEW Dark to AEW Wight.
Despite being without oxygen, absorbing solar radiation, and colliding with the molten surface, Stunt is expected to participate in this week's episode of Dynamite.