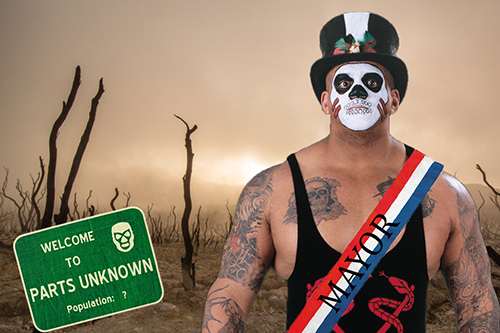 Parts Unknown – The residents of Parts Unknown must continue their lockdown for another two months, according to instructions by the local government.
Parts Unknown, which exists outside time and space, has been a refuge for masked, face-painted, and generally weird professional wrestlers for decades. This mysterious land serves as a home for such grapplers as The Ultimate Warrior, The Berserker, The Destroyer, and Demolition. Citizens have grown concerned with the global pandemic.
Mayor Papa Shango, who has served as the leader for Parts Unknown since the early 1990s, addressed the ongoing lockdown. Standing in front of a smoking cauldron and surrounded by the skulls of his advisers, Mayor Shango assured his people that no outsiders will be allowed in.
"Outsiders must stay outside! Double, double, toil and trouble! Hocus pocus! Expecto Patronum!" growled the Mayor. "These are tough economic times, but for the safety of Parts Unknown, we must remain hidden. Stay home! Flatten the curve! The lockdown must be extended for two more months!"
The Man Of Question, who is running against Mayor Shango in this year's election, released a statement to the press.
"Heheheheheh freedom! Hahahahaha repeal lockdown once elected! Hohohohohoho Jim Herd immunity! Parts Unknown Yearbook!" said the letter printed in today's edition of the Parts Unknown Times.
Mayor Shango has denied placing a voodoo curse on his opponent, stating, "No, he's really just like that. Vote for me!"