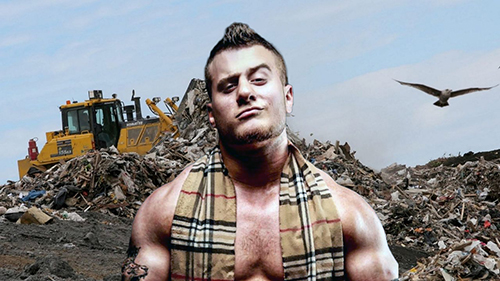 Long Island, NY – Hated AEW mainstay MJF returned home on this past week's Dynamite and received a traditional Long Island welcome.
The local people greeted MJF as he descended the stairs from his private jet at Long Island MacArthur Airport. MJF was met with open arms and extended middle fingers, as is to be expected by anyone entering Long Island.
"You people make me sick," said a disgusted MJF. The crowd applauded at the insult, pumping their fists in approval.
"Don't touch me, you scum. Go back to your townhouses and shanties, vermin," yelled MJF. This only caused the crowd to cheer louder. Three men in the crowd removed their shirts to reveal "M" "F" and "J" painted on their chests. The wrestler spit on each one of them to their utter delight.
His parents Nina and Steven Friedman hugged their delinquent son and presented him with a bouquet of various deli meats and cheeses. He climbed in the back of their 2007 Dodge Caravan, suffering through all the local updates. Father Steven pointed out all the new bagel places and Chinese restaurants that have opened over the past year. Mother Nina informed her son about how her best friend Jackie's son Victor is now a podiatrist at Stony Brook Eastern Long Island Hospital.
Strip mall after strip mall passed by MJF as the family pulled into the parking lot of his old high school.
The wrestler's old high school principal Mr. Gabagool welcomed him at an assembly in his honor.
"You are inappropriate, disrespectful, and should have been viciously beaten years ago," explained Mr. Gabagool. "Despite being an awful human being, you appear on a nationally broadcasted television show nearly every week. You truly are Long Island. We couldn't have asked for a better representative of our beloved densely populated area. Go Mets! Go Jets! Go MJF!"
MJF rolled his eyes as the group of students and administrators cheered. Accepting the award, MJF grabbed the microphone and verbally dismantled everyone and everything about Long Island. The passionate diatribe ended with a plea for all the students to "Leave this toilet before your life is flushed away like the rest of these old sad sacks."
In response, MJF received a 5-minute standing ovation.
Following his appearance on Dynamite, MJF returned home and stayed in his childhood room. His parents had kept it exactly as he left it, but they had rented it out on Airbnb, so he slept on an old sofa in the basement. The uncomfortable furniture hurt his back and a strange dripping sound from the pipes kept him up most of the night.
MJF sighed as the minutes ticked away on the Garfield wall clock. He knew he had a long day ahead of him, sitting in traffic and being yelled at by strangers. Neighbors argued deep into the night as techno music blasted from the house across the street. The smell of low tide wafted through the room. It was good to be home.