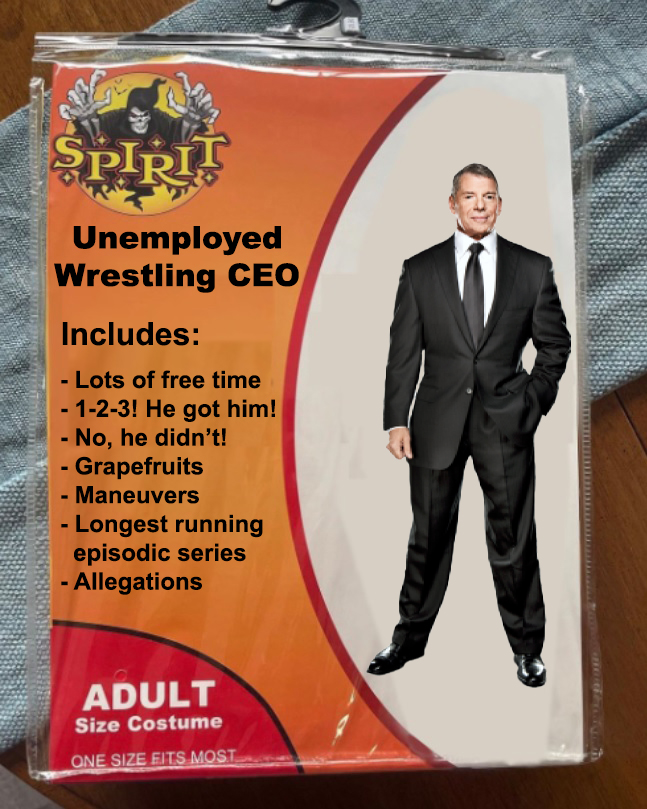 Darien, CT – Former WWE head Vince McMahon spent his Halloween accidentally being confused for someone wearing an "Unemployed Vince McMahon" costume.
With not much to do since his forced retirement, McMahon has somewhat let himself go. Gone are the early wakeups and intense workouts. Endless writing meetings have been replaced by puttering around his mansion and stamp collecting.
After alphabetizing his protein powders and watching all of his movies on laser disc, McMahon decided to go outside for the first time in weeks. Unshaven and having not bathed in days, McMahon rolled out of bed around 10:43AM. Forgoing his usual limo ride, McMahon took the bus several stops to the nearby town of Darien.
Sporting a faded powder blue WWF blazer and stained pajama pants, McMahon wandered throughout the town of Darien. He aimlessly walked through the aisles of a Trader Joe's, blowing off any employee asking if he found everything he was looking for. He angrily sampled pumpkin butter as compliments for his creative costume grew louder and louder.
"Yoooo, sweet costume, bruh!" shouted a teenager as he left the store. "You totally look like Hobo Vince McMahon!"
"Shut the hell up," grumbled McMahon as he shuffled down the street in his New Balance sneakers. "It's not a costume!" insisted McMahon. "It's laundry day and Linda hasn't finished the whites yet!"
It wasn't all bad for McMahon. The misunderstanding did pay off for as he was given a half-price burrito, or 'steak wrap' as he called it, at Chipotle for being in costume.
Having had enough of people's comments, McMahon tried to hide his identity the only way he knew how: by placing a jack-o'-lantern on his head. He almost made it to the bus, before someone stopped him and said "Hey! I love your Kevin Dunn outfit!