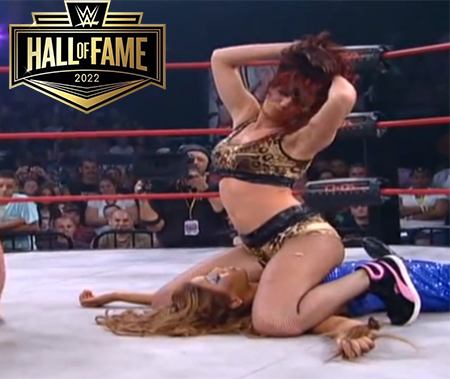 Orlando, FL – Early this morning, WWE announced that former Survivor contestant Jenna Morasca would be inducting Sharmell into the WWE Hall Of Fame.
Many wrestling fans remember Morasca's now-legendary bout with Sharmell at TNA's Victory Road 2009. The match earned Wrestling Observer's Worst Worked Match Of The Year award, a Minus Five Stars Rating from Figure Four's Bryan Alvarez, and numerous appearances on Botchamania.
While some have questioned if Sharmell was worthy of being in the Hall Of Fame, Vince McMahon explained her long and illustrious wrestling career.
"Sharmell is royalty, so she is a natural fit for the Hall Of Fame," said McMahon proudly. "She's gone from Nitro Girl, to valet, to Queen. Who could forget her creepy feud with Kurt Angle? The way she used to yell 'All hail King Booker!' was just terrific."
Despite never having worked in the company, WWE officials insisted that Morasca be included.
"I've been keeping busy since my retirement from wrestling," said Morasca. "Y'know, a little bit of this, a little bit of that. I've really gotten into soup recently. Broths, chowders, bisques. It's non-stop excitement for me. It will be tough, but I'll fit Sharmell into my schedule."
When asked about her inductor, Sharmell said, "Can't The Boogeyman just spit some worms into my face instead?"