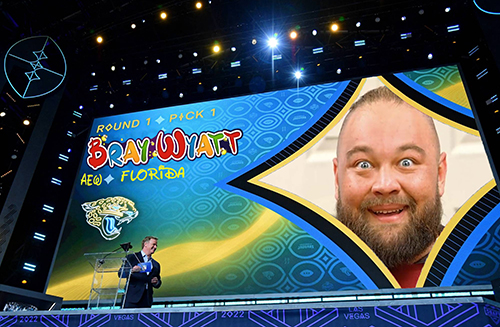 Las Vegas, NV – The Jacksonville Jaguars shocked both the football and professional wrestling worlds Thursday night by selecting Bray Wyatt as the number 1 overall pick.
The raucous crowd stood in silence as Wyatt spider-walked across the stage. Terrified, NFL commissioner Roger Goodell threw a Jaguars jersey at Wyatt and ran off stage. Shaking Shad Khan's hand, Wyatt smiled broadly an addressed the crowd.
"A new day is dawning in the National Football League," said Wyatt quietly. "Just as the sun rises, so too does Bray Wyatt. Other teams may think that the sun shines upon them this season, but, oh no, fortune's light only shines upon a force of nature such as myself. I, along with quarterback Trevor Lawrence, will lead the Jaguars to victory! Follow the play clock!"
Wyatt then blew out an electric lantern, leaving the stage in total darkness. When they lights came back, he was gone. The crowd then began to sway, holding up their cellphone lights and singing "He's got the Super Bowl in his hands."
The Jaguars, who finished dead last in the previous season, needed help at several positions. Team officials hope Wyatt will be able to fill in multiple roles on both offense and defense. Despite not officially having a position, experts believe Wyatt to make an instant impact for the lowly Jaguars.
"Jacksonville needed to make a splash and they absolutely achieved that," said ESPN analyst Mel Kiper. "He's big, he's deceptively fast, and he has the ability to turn all the lights out in the arena. That could be huge late in the fourth quarter in tight games."
"Wyatt's a hometown kid and will easily fit into head coach Doug Pederson's system," said FOX Sports analyst Rob Rang.
"Bray Who-what?" asked sports radio host Mike Francesa incredulously. "A wrestler? I don't understand. That wrestling stuff is still happening? Has he ever faced the Iron Sheik?"
Many have pointed out that Jaguars co-owner Tony Khan is also the head of All Elite Wrestling. There is speculation that this is all a roundabout way of adding Wyatt to AEW.
"Hahaha nooooo," said Khan when asked about moving Wyatt to AEW. "We chose Bray to improve our team and win the AFC South. We're 'All In' with Bray. He's absolutely 'Dynamite' and will 'Rampage' all over the Texans, Colts, and Titans with his 'All Out' performance. His addition to the roster will be an 'Elevation' to the team and a 'Revolution' to the NFL. I'm betting 'Double Or Nothing' that we will win a Super Bowl in the next five years!"