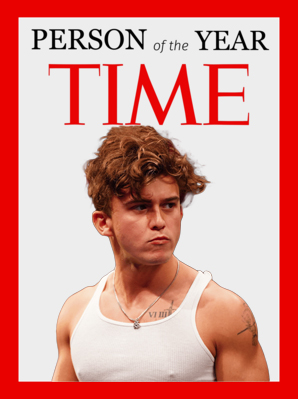 Massapequa, NY – In a stunning reversal, Time Magazine has replaced Elon Musk as their Person Of The Year with AEW wrestler Hook.
Last week, controversial Tesla and SpaceX head Elon Musk, was named Time Magazine's Person Of The Year. Following several days of bad publicity, Time's editorial board reconvened to consider a replacement. After several seconds of discussion, the group unanimously declared the world's hottest new professional wrestler Hook the winner.
"After public outcry and looking at Mr. Musk's Twitter account, we felt it was best to go in another direction," explained Time Editor-In-Chief Edward Felsenthal. "We needed a person that was universally beloved with almost no background or well-known controversies to speak of. Mr. Hook was the natural choice."
An incensed Musk took to Twitter, assailing both Time Magazine and Hook, calling the latter "A big poopy head." Following the switch and Musk's reaction, Tesla's stock dropped to $5 a share and his son X Æ A-12 legally changed his name to Team Taz FTW-12.
Even Musk's diehard fans, known for attacking anyone who dares to question their leader, applauded the decision.
"Look at Hook's hair. Just look at it! Elon can't compete with that," said Reddit user UrBoringCoMe.
"Hook just autopiloted my heart into a Jersey barrier and trapped my soul in the flaming wreckage," tweeted @SpaceXChungus99.
"Hook is all that is man," said Musk's ex Grimes.
Hook has been taking all this in stride with the cool, calm demeanor people have come to expect. When asked for his reaction to the news, Hook simply pulled a hood over his luxurious hair, shrugged, and walked off.