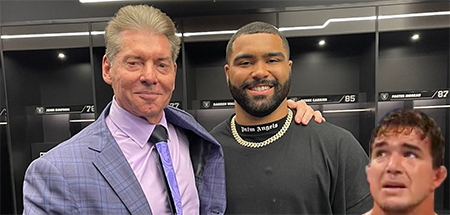 Minneapolis, MN – WWE's latest signing, Olympic hero Gable Steveson has already issued his first challenge to none other that WWE star Chad Gable.
Steveson, a collegiate star who won gold at the Tokyo Olympics this summer, is a blue-chip prospect. WWE is doing everything they can to keep him happy, including a Name, Image, and Likeness deal. Part of that deal features exclusive rights to using the name Gable. Chad Gable, whose real name is Charles Betts, refused to relinquish the Gable moniker.
"Why should I be the one to change my name? He's the one who sucks. I'm not going back to being Shorty G. You can't make me!" stomped Chad. "Never! Never! I will suplex everyone in this room right now if that's what it takes. Every man, woman, and child. If Gable wants this Gable, he'd better bring an entire stable."
The animosity between the two masters of the mat stems from both having the name Gable. WWE CEO Vince McMahon has been encouraging the feud, already hyping it up for Wrestlemania. He explained the reasoning in a press conference early this morning.
"We're very excited to announce a match this far in advance for two stellar sports entertainers," said McMahon. "A name is something sacred in the WWE. It's an identity. It has meaning. We can't possibly have two people named Gable. Who has ever heard of such a thing happening? Ridiculous. I mean, the only thing that would make sense is to fight over the name. Or maybe some sort of science experiment combing both, therefore creating the ultimate wrestler, Gable Gable. Hmmmm. I'll talk to the boys down in lab about it."
As McMahon trailed off, thinking deeply about committing acts against nature, WWE Senior Vice President Bruce Prichard stepped in.
"This is not going to be any ordinary match," explained Prichard. "It's going to be Gable versus Gable. It's true and not a fable. You can see it on Peacock or cable. The winner will have to put his opponent through a table. The loser will become unstable. Our Special Guest referee will be Sable. Can I stop rhyming? I am unable."
An alternative name for the loser has not been decided by WWE creative. The general consensus among pundits and fans is that it will be terrible and hurt the entire company.