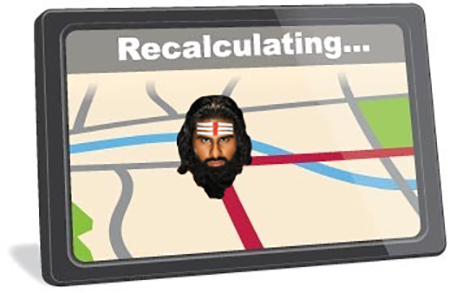 Columbus, OH – WWE Superstar Veer's Monday Night Raw debut has been delayed once again thanks to a broken GPS.
Weeks of video packages have hyped Veer's premiere, but the wrestler has yet to make an appearance on Raw. Many have speculated this was due to injury or a lack of creative vision for Veer. Unfortunately, the reasoning was much simpler; a glitchy navigation system.
"Not again!" shouted Veer in his rented sedan. The former baseball played slapped his faulty GPS, causing it to show the Nationwide Arena in the middle of the Scioto River.
Thanks to construction and poor directions from locals, Veer drove further and further away from the arena. The sounds of the GPS repeating "Recalculating" taunted the desperate wrestler. After circling the city for hours, the GPS chimed "Your destination is on the right."
"Veer is here!" exclaimed a relieved Veer. His joy turned to anger as he realized he was not at the Nationwide Arena, but at the Nationwide Hotel 15 miles away.
"Recalculating!" chirped the GPS for the 100th time.
"Mader chode!" screamed Veer, throwing the GPS out the window.
Defeated after missing another debut, Veer silently drove around the greater Columbus area. He seethed and gripped the steering wheel tightly as he passed multiple buildings and streets named Nationwide.
At 2:37AM, Veer pulled into the parking lot of a White Castle. Surrounded by empty slider boxes and strawberry milkshakes, Veer reclined his seat and fell asleep. WWE officials hope he can make it to next week's Raw in Cleveland, Ohio despite eyewitnesses seeing him heading in the direction of Cleveland, West Virginia.