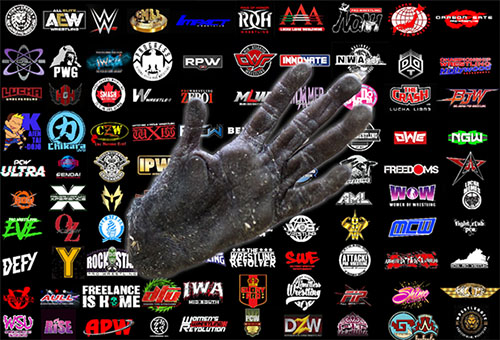 Duluth, MN – Diehard wrestling fan Henry Peterson now regrets wishing for more pro wrestling on a magical monkey's paw.
Peterson, who purchased the cursed object from a mysterious old man at a market in Marakesh, was unaware of its power.
"At first, I didn't really think much of it," said Peterson, bathed in the warm glow of his television showing matches from the Africa Wrestling Alliance. "I wished for a new clothes and the next day a box of slightly irregular pants fell off the back of a truck in front of my house. I didn't think anything was up until I wished for a million dollars and then my mailbox exploded with 20% off coupons for Bed Bath & Beyond."
After also wishing for a new car only to receive an old Power Wheels and a turkey sandwich that was a little dry, Peterson thought of one more wish.
"I just wanted to watch more wrestling," explained Peterson. "Initially, it was great to have the Raw, Smackdown, NXT, and 205 Live. Of course, there was also Impact and ROH. Plus, AEW, Evolve, CZW, Game Changer Wrestling, MLW, NWA, Shimmer, Beyond, OVW, XWA, Party World Wrasslin, and ICW. Oh, can't forget NJPW, AAA, CMLL, Chikara, Progress, EVE, Noah, and Stardom. Now I can't stop."
Peterson has missed all of his son's hockey games this season. He was also recently let go from his job for watching wrestling during work hours.
"I don't remember the last time I had a full night's sleep," sighed the weary fan. "The international promotions and time differences are really killing me. Japan, UK, Germany, Australia, India. Did you know there's wrestling in Nepal? Chile too. I know. I know all of it."
Family members have offered to send Peterson to rehab, but he knows it won't help. When asked why he couldn't just not watch Peterson replied "Dude, I don't want to miss anything."
"Just when I think I've seen enough, some other wrestling company pops up and has a show," said Peterson shaking his head. "It will stop one day. It has to stop. There's no way another company will start or another major company will have another show.
Peterson's phone buzzed, alerting him to AEW getting a second show. Uncontrollably sobbing, Peterson checked "Will not be attending" to his parent's 50th anniversary party.