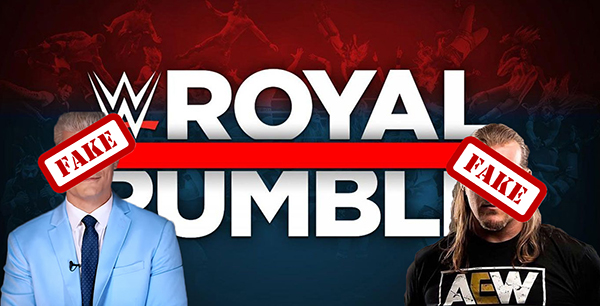 Houston, TX – In a surprisingly unsurprising move, WWE debuted and embarrassed "Cody Rhodes" and "Chris Jericho" at last night's Royal Rumble.
After Brock Lesnar entered the Rumble at number one, the two impersonators were led to the ring by Bruce Prichard. The Executive Producer of Smackdown, donning a black cowboy hat, introduced himself as "Texarkana".
"You want a war, well we're bringing you a war," said Texarkana in a thick Texan drawl. "My boys Cody Rhodes and Chris Jericho are the cream of the crop. They're the best of the best. They're elite. Heck, you may say they're…all elite."
The crowd groaned and booed vociferously at the obvious chicanery. Brock Lesnar chuckled in the corner of the ring while his advocate Paul Heyman held his head in his hands.
"Just look at these fine slobberknockers!" bragged Texarkana. "They're as smart as they are strong and they're going to prove themselves by eliminating Brock Lesnar!"
"Jericho", who appeared to be a morbidly obese senior citizen in a bad wig, slowly attempted and failed at performing a lionsault. "Rhodes", who was, in fact, former WWE Superstar JTG with bleached blond hair, performed a sloppy Cross Rhodes on a Wrestling Buddy.
Lesnar, still giggling to himself, effortlessly through both impostors over the top rope. The pretenders somehow landed in an inflatable pool of "mud" that was placed next to the ring for some reason. Ashamed, "Rhodes" and "Jericho" ran to the back, tripping over their bunched-up pants that had inexplicably fallen to their ankles.
Several people have reported that WWE CEO Vince McMahon was still laughing about the incident 12 hours later. "Dean Ambrose" who is expected to just be a child in a dirty tank top, is expected to debut tonight.