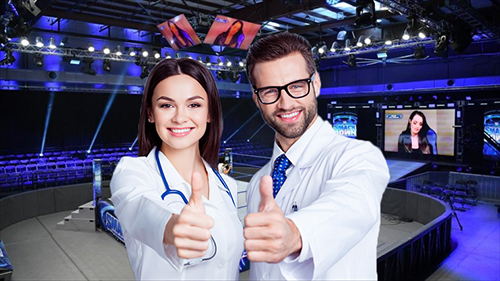 Winter Park, FL – On Sunday night at 7:00pm, doctors, nurses, and food service workers surrounded WWE's Performance Center and applauded.
Last week, Florida governor Ron DeSantis declared that WWE was an "essential business". This decision has allowed WWE to continue producing live shows despite the continuing pandemic. A social media movement to show support for these newly designated essential workers came to fruition last night.
"We came here to let the Superstars know that they're appreciated," said Dr. Binsa Magar, Chief of Medicine at Advent Health Orlando. "Sure, I just got off an 18-hour shift, but did you see that ladder match at Wrestlemania?"
"They're the real heroes," said local nurse Katerina Perez. "Where would we be without a Tamina/Sasha Banks match?"
"WWE is truly woven in to the fabric of America," said Gooding's assistant manager Garfield Bettis, a single tear streaming down his face. "Stand up for WWE!"
"Wait, if they're essential, shouldn't they be given full health care?" asked 18-year-old Wendy's employee Jason Keys. "How about dental and vision care too? Maybe quality childcare and a retirement fund?"
Keys was then quickly whisked away by security to an undisclosed location. His whereabouts in the WWE Universe are unknown.