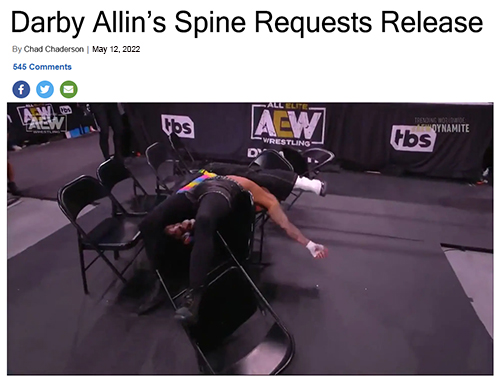 Seattle, WA – AEW star Darby Allin's spine made a surprise request to be released from Darby Allin. Following his match with Jeff Hardy on Dynamite which saw him land back-first onto a row of chairs, Allin's spine is calling it quits.
Citing years of physical misuse and neglect, the complex system of bones, muscles, and nerves has reportedly had enough. Famed personal injury attorney Francois Vertebrale has taken Allin's spine as his client and announced their intentions to leave as soon as possible.
"My client has suffered years of abuse at the hands of Mr. Allin," said the spine's lawyer. "Time and again, Mr. Allin's reckless wrestling style has put his spine in clear and present danger. Ladder matches, table matches, No DQ's. Endless coffin drops. It's all a violent tapestry and part of a pattern. This abuse must end here and now. We are calling for the immediate release from Mr. Allin effective immediately."
The lack of precedence in a such a case has left AEW officials scrambling.
"We hope the issue can be resolved quickly," said AEW CEO Tony Khan in a hastily-released statement. " Totally unrelated, an AEW Gelatinous Blob title has just been created."
Several wrestling news outlets are reporting that AEW has made several inquiries into possible spine donations from some of the talent on Dark Elevation. Allin himself was unavailable for comment as he was too busy throwing himself down a flight of stairs for no reason on Rampage.