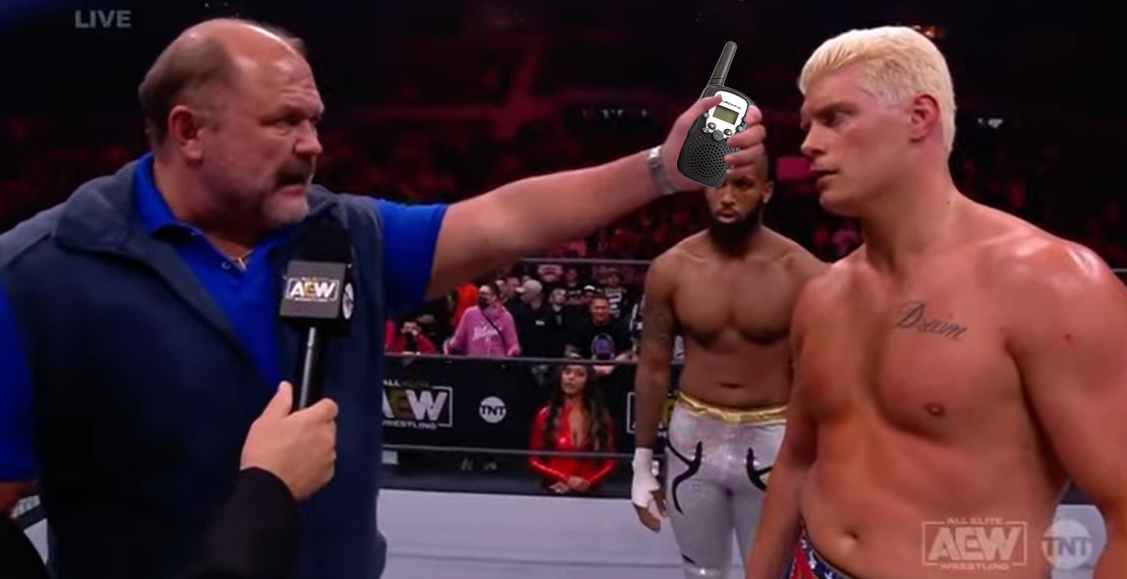 Rochester, NY – Wrestling legend Arn Anderson's much-talked about promo on last week's Dynamite has been edited for content.
During the promo, the former NWA and WWF champion told Cody Rhodes with a scenario involving an armed robber and self-defense. Shaping his hand like a gun, Anderson pointed it to Rhodes's head, saying, "I'd pull out the Glock, put it on his forehead and spill his brains all over the concrete."
Khan, who personally oversaw the editing, explained the decision.
"Arn's promo was great, there's no doubt about that," said AEW CEO Tony Khan. "It got the wrestling world talking. Unfortunately, it got some of our sponsors talking as well. After the, uh, awkwardness of the Dominos-Nick Gage pizza cutter incident, we're trying to be more conscious of what we put on TV. Moving forward, all television replays and Youtube clips of the moment will be edited."
A walkie talkie has been digitally placed inside Anderson's hand. Also, the word 'glock' has been replaced with 'clock' and, just to be safe, Cody's neck tattoo has been blurred. Even Anderson's new t-shirt, featuring a gun for the 'r' in his name has been changed. Now, the letter 'r' is shaped like a thumbs-up.
'Armed Anderson', as he is being referred to, was unphased by the decision.
"Shoot, they can edit out whatever they want," said Anderson calmly. "I'm an old-timer. Things are different now. Back then you could just light someone's face on fire and not think twice. I'll just have to be on my best behavior. No more having a blast for ol' Arn. I won't go into my promos, guns blazing, shooting from the hip. No mentions of the legendary .44 Horsemen, being a Brain Blunderbusster, or the .48-caliber Enforcer."
Anderson then paused and chuckled to himself.
"They never said nothing about the ice pick I keep hidden in my sweater vest."