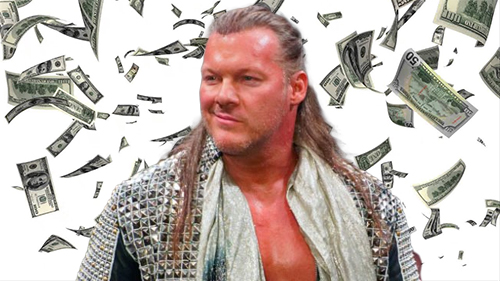 Lake Keystone, FL – All Elite Wrestling has announced the creation of a new group for wrestling fans that want to give Chris Jericho their money.
Dubbed "Shut Up And Give Chris Jericho $50", AEW describes the group as a 'community for wrestling fans who love wrestling, shutting up, and giving Chris Jericho $50.' Following in the footsteps of Brandi Rhodes' "AEW Heels", this collection of fans will intimately experience AEW in a whole new way.
Designed to celebrate former AEW World Champion Chris Jericho, fans can use Paypal, Venmo or send a check, money order, or well-hidden cash directly to their favorite wrestler. In return, they get the satisfaction of giving "Le Champion" money.
The unique club has been met with mixed reactions.
"I love shutting up and giving Chris Jericho money, so this was a no-brainer," said hedge fund manager William Bussinger.
"I don't know," said a skeptical Maria Alves. "The price is a little steep in this economy. Maybe I can shut up more and pay in installments."
Jericho, fresh off pf performing in front of dozens of bikers and swarms of Coronavirus at Sturgis, was thrilled at the launching of his new group.
"It's easy. No need to go 'round and round'! All we need is just a little patience. If you don't send me $50 and practice some 'silent lucidity', you'll be 'heading for a heartbreak'!" yarled Jericho. "Look, just give me money and shut your yaps, you stupid idiots."
Events include Zoom meetings with Jericho where everyone's microphone is muted and videos of Jericho counting their money.
AEW officials are already considering creating a "Give Orange Cassidy Some Money Or Whatever" group.