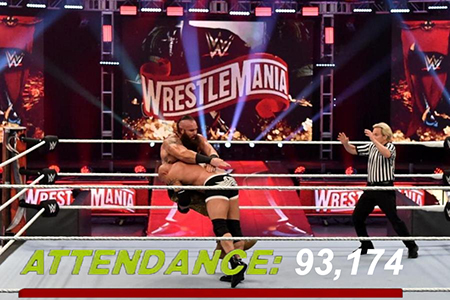 Orlando, FL – WWE officials announced this morning that they have broken their WrestleMania attendance record. In a conference call, WWE CEO Vince McMahon made the historic announcement.
"It was an amazing WrestleMania weekend," he said proudly. "The card was so big we had to spread it over two nights. Great matches! Title changes! Gronk! The WWE Universe had the time of their lives and we were rewarded with a record-shattering attendance number. No one thought we could break WrestleMania 3's record of 93,173, but we did it!"
Despite WrestleMania being held at the WWE Performance Center while Florida is under a stay-at-home-order, McMahon insisted that fans attended.
"Fans just couldn't stay away!" crowed McMahon. "They were all there. Brock Lesnar Guy, Green Smiley Face Shirt Guy, that old lady and her long-haired son or boyfriend. Even that crying kid in the yellow hat from WrestleMania 7!
When asked for more confirmation, McMahon struggled to answer.
"The Orlando fire marshal wasn't there to confirm, but I assure you it was 93,174. Too many people in the building. Look, Shane was there. Stephanie too. And uhhh…Shanephanie and Stephane. Kevin Dunn was in attendance along with his family. His son Kevin Jr and his daughter Dunn Jr had the time of their lives."
"If almost 100,00 people attended, why could we not see anyone in the audience?" asked one reporter.
Several seconds of uncomfortable silence ensued.
Clearing his throat, McMahon said, "Uhh, we're heading into a tunnel. Sounds like you're breaking up. KSSSSSHHHHH KSSSSHHHHH!"
McMahon then slapped the phone off his desk and ran out of his office, confident that the new attendance record will stand for years to come.