Did you seriously think I was going to be given the opportunity to post a "From the Pages Of…" on July 2 and NOT see what the WWF Magazine was going to have to say about it? And of course they did but what was interesting to me is that they didn't have Lex on the cover of the magazine wearing a US flag shirt while waving a US flag while standing under a US flag. No, instead we got this: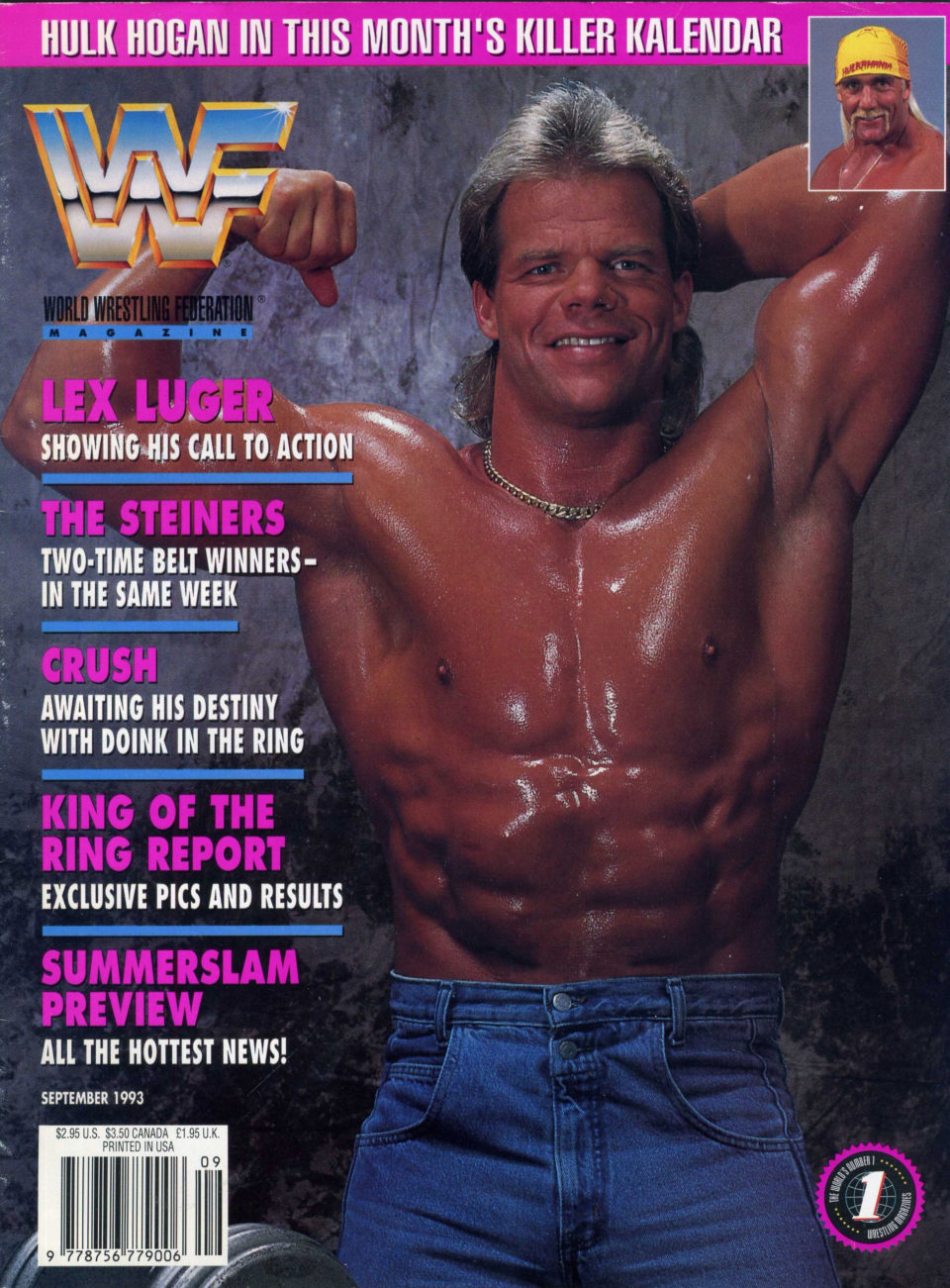 Not only did we just get a posed shot of Lex on the cover, there's even Hulk Hogan hovering over him like an omen of sorts. Further, what's with the neon purple all over the place? I mean I know it was the 90's and all and that WAS the trend, but if you're pushing Luger as Captain USA then PUSH THE GUY AS CAPTAIN USA! Heck, the dumb featured image I slapped on this article is more patriotic than this magazine cover.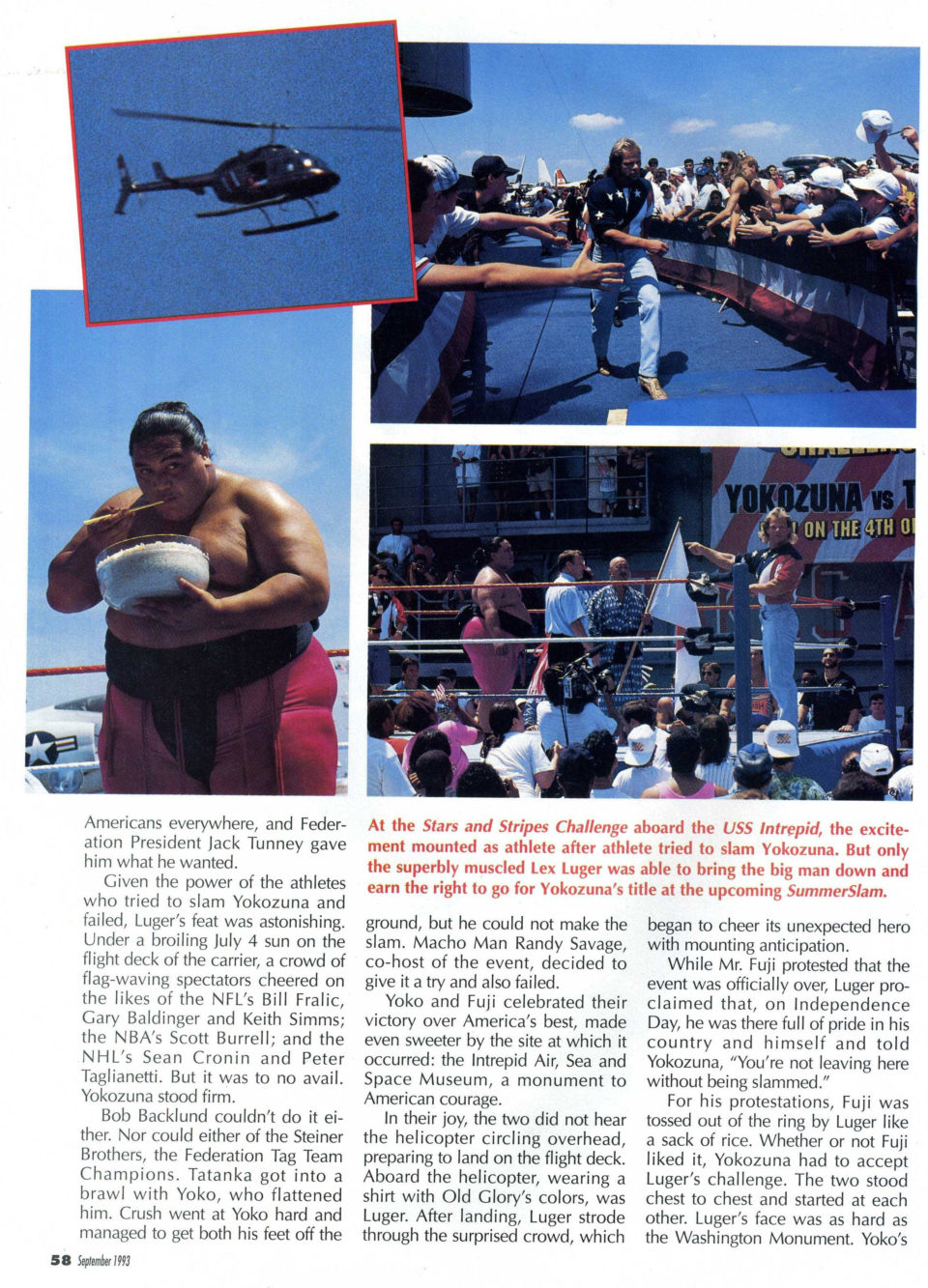 The article details that fateful day on the USS Intrepid where Yokozuna had challenged any and all to body slam him. No matter who the athlete was, they failed, be that they football players (like the awesome Bill Fralic), basketball players, NHL, you name it. The WWF contingent were disasters too, so much so that Yoko decided to eat a giant bowl of rice to show his utter lack of concern. I mean, I'm pretty sure he didn't finish that bowl as it looks to contain about 12 pounds of rice. Even as tubby as Yoko was, it would have taken him at least three days to eat it all with chopsticks.
"For his protestations (RD: is that even a word??), Fuji was tossed out of the ring by Luger like a sack of rice. Whether or not Fuji liked it, Yokozuna had to accept Luger's challenge. The two stood chest to chest and stared at each other. Luger's face was as hard as the Washington Monument."
Wait a minute. Luger's face was "as hard as the Washington Monument"??? Did he have a metal plate put in there too? I thought that was Ed Leslie, not Lex!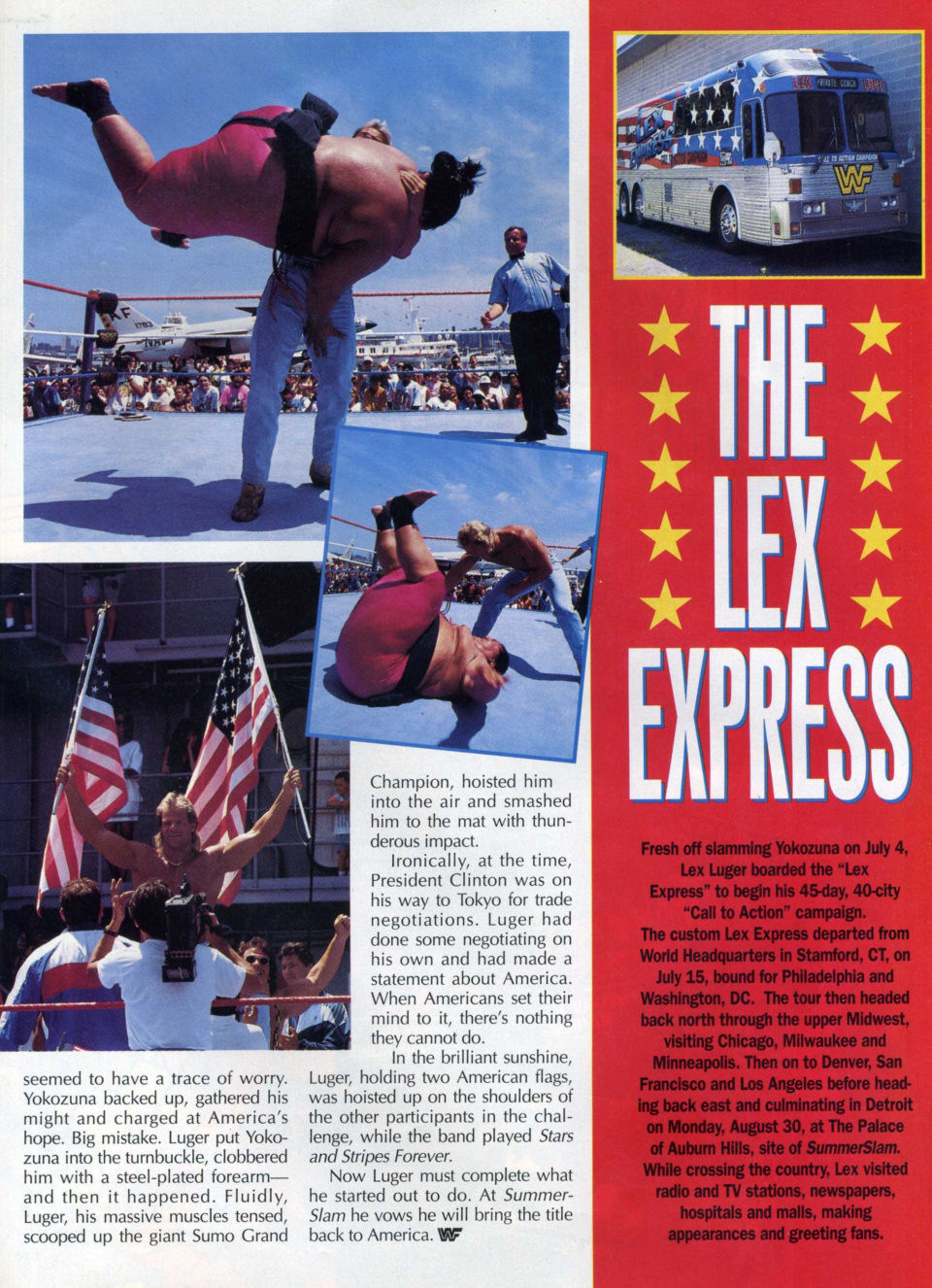 We get a sidebar to conclude the article telling us all about he Lex Express and the Call to Action campaign. I love that the bus started its journey from the World Headquarters (nice it doesn't say of what) in Stamford, CT. Because when you think the most patriotic cities in the country, you naturally think STAMFORD. Regardless, the idea of course was to get Lex over as a major hero and have him "bring the title back to America." We all know that didn't happen (feeling they could wait until Mania some nine months later), and in hindsight that completely derailed his WWF run. Would have been interesting to see what would have happened had they truly gone all the way with him. Put your hand to your chest, salute the flag, and give your thoughts below in our comments section!