With AEW's biggest show in history (and one of the largest paid crowds ever) coming to Wembley Stadium this weekend I thought it might be fun to take a look back at how the official WWF Magazine first reported on Summerslam '92. This would go on to be a gigantic show for the company and featured what would wind up being a legendary main event in the form of "British Bulldog" Davey Boy Smith winning the Intercontinental title from Bret "The Hitman" Hart. Let's see how the magazine started this hype job.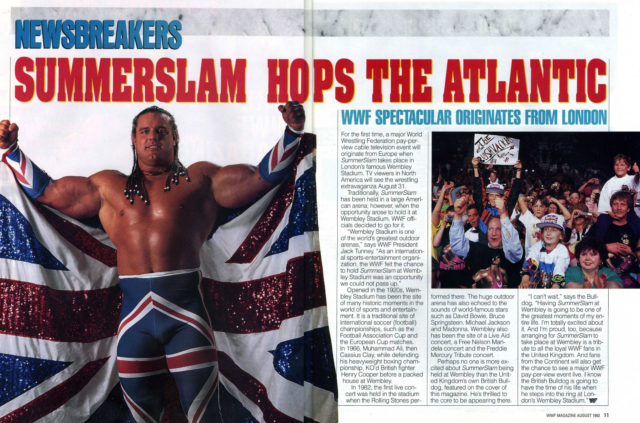 For what would wind up something so legendary, the magazine didn't do much. It had a bar across the top of the cover and then just a two page spread. Logically, they featured Davey Boy first and foremost decked out in the Union Jack.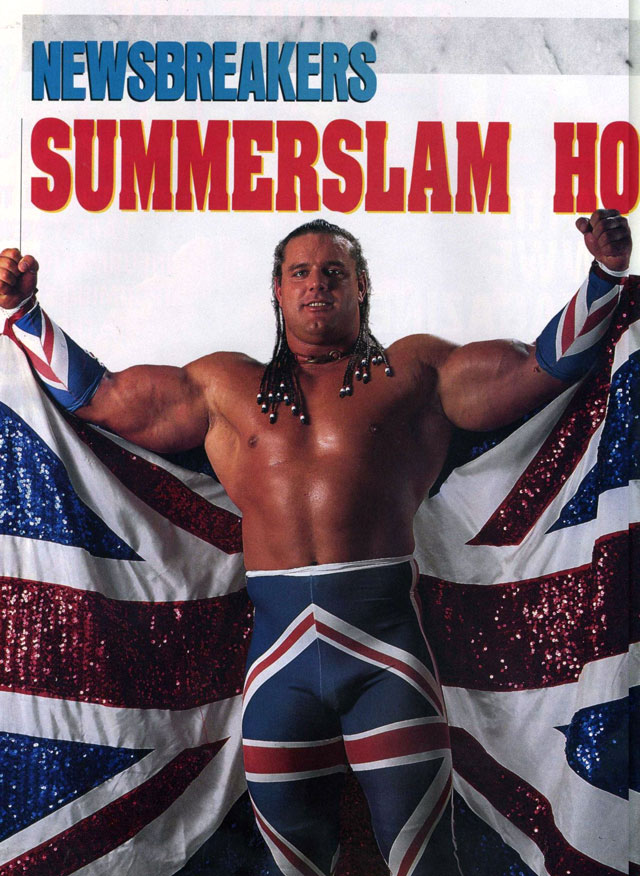 It's really weird for me to see Davey here, as I started following him when he first showed up in the company in 1986. Six years later, he looks jacked to the max, almost bloated with a puffy face. Hindsight is 20/20 and all that, but man I can't help but think that maybe, just maybe, he could have gone a bit lighter and been around longer with us.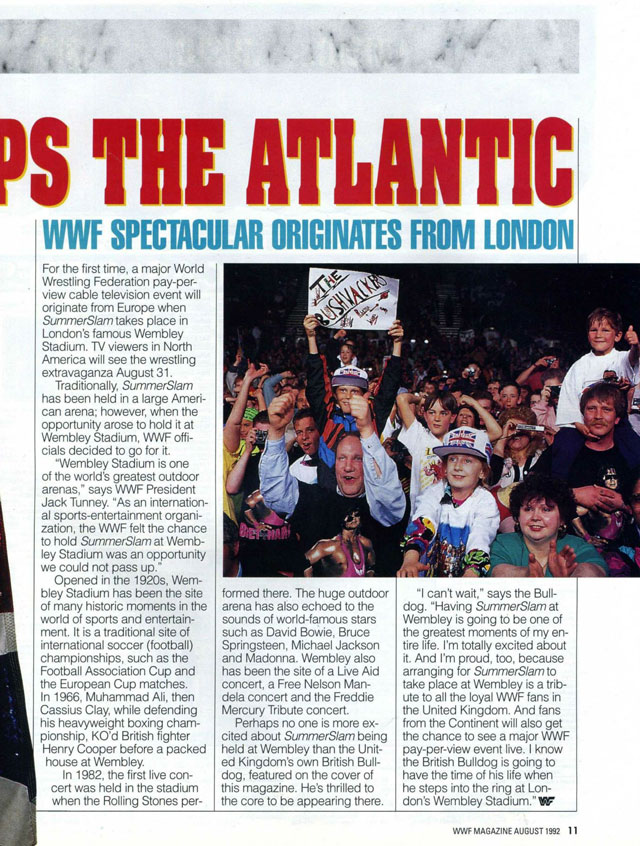 "Wembley Stadium is one of the world's greatest outdoor arenas," says WWF President Jack Tunney. "As an international sports-entertainment organization, the WWF felt the chance to hold SummerSlam at Wembley Stadium was an opportunity we could not pass up." Two thoughts here: one, replace the words "WWF President Jack Tunney" with "AEW President Tony Khan", "WWF" with "AEW", and "SummerSlam" with "All In." Read that back and tell me you could not have that exact same verbiage in a press release this week. Second, we need a somewhat inept storyline president in AEW post haste.
Even before any match was announced, it was clear they were putting Davey front and center. I think AEW is trying to do that with Ospreay as well, but they are very late getting to this. Part of that is due to the fact he isn't actually a signed AEW talent at this time. If he's not be January 1, 2024, I would be shocked. Could he be AEW's Bulldog? Let me know what you think in the comments below.