It began as an offhand challenge.
Internet wrestling institution Scott Keith posted an old review of WCW SuperBrawl VIII on his BLOG OF DOOM, and inserted passages of hindsight to his long-ago written word. As the review was written in February 2000, 2 years after the airing of this SuperBrawl, Keith drops some 2000-related notes in the original rant, and then adds 2013 on top of it (don't go cross-eyed on me….). Anyway, our own Paul Kraft made me aware of this particular portion: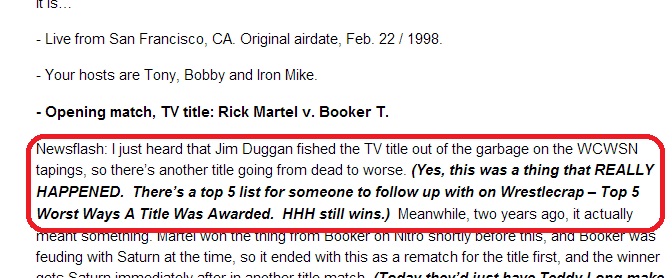 Well hey, I loves me a challenge. So with a lazy afternoon here at the office, I decided to double Scott's suggestion and go ten deep with the worst examples of a championship being awarded to somebody, without them actually winning it in the ring. Such cases were either due to politics, or just demonstrated a complete lack of respect for the prestige that the title is supposed to represent. For those who say that championships don't mean anything any more, this one's for you.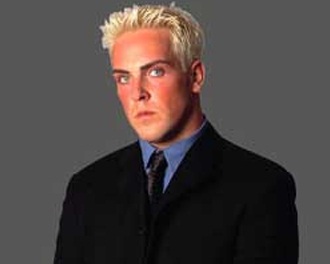 10. David Flair, WCW United States (July 5, 1999)
For a wrestler with a mere six months of experience, Flair was sure given a lot. The first-born son of "The Nature Boy" was given copious amounts of TV time, Torrie Wilson as an on-screen girlfriend, and wins over the likes of Dean Malenko and Curt Hennig.
Oh, and he was also given the WCW United States Championship.
Ric Flair was acting as the heel President of the company, and he stripped Scott Steiner of the belt, giving it to son David.
While the move itself wasn't bad from a story standpoint (a parallel to Vince and Shane McMahon's nepotistic connection in WWE at the time), the younger Flair was a far worse performer than Shane-O-Mac. WCW was in a freefall at the time, and giving David a silver-spoon title push wasn't going help cause defected fans to turn on the red-hot WWE.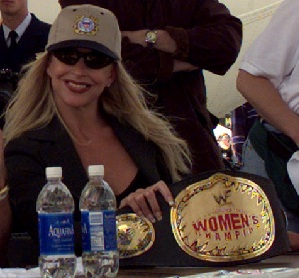 9. Debra, WWE Women's (May 10, 1999)
If you think the Divas division today gets shafted, ask yourself: would you rather a division be ignored, or objectified?
Testosteronal men would prefer the latter, as WWE's Attitude Era was about T&A (whereas TNA at one time was all about stars of the Attitude Era). Sable reigned as champion for much of 1999; appropriate, given her fame.
How did she lose the belt, you ask? She beat Debra in an evening gown match. Yes, beat. You see, Commissioner Shawn Michaels declared that Debra, in her bra and panties, was the real winner, and forced Sable to abdicate the championship to her.
Also, in the same bit, Shawn Michaels called Nicole Bass, "Mister." Yeesh, be a star, Shawn.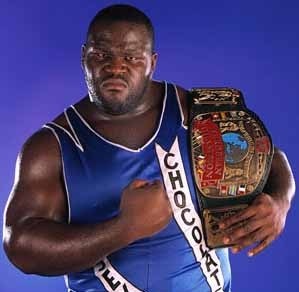 8. Mark Henry, WWE European (August 23, 1999)
Before he split wigs, "The World's Strongest Man" split gold with Jeff Jarrett.
Through the summer of 1999, a C-level storyline saw D-Lo Brown trying to help friend Mark Henry get in better shape (a sharp upgrade from Henry's usual story fodder in this period). To do that, Brown forced Henry to run the pounds off, which Henry subtly didn't care much for.
At SummerSlam, Brown, the Intercontinental and European Champion, was felled by Jeff Jarrett, after Henry turned on his friend and struck him with the guitar.
The next night on Raw, Jarrett gave Henry the European title as a thank you gift. The title exchange was then overshadowed by Jarrett giving valet Debra her own assistant, Miss Kitty (Stacy Carter).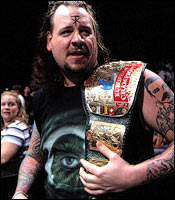 7. Mideon, WWE European (June 21, 1999)
Geez, what is it with 1999 and ridiculous title switches? And we complain about the devaluation of the midcard today; 1999 wrestling on Monday nights was drawing a combined 10.0 rating for the mid-level to be full of "here ya go" scenarios, featuring supposedly valuable titles. But remember, things were ALWAYS BETTER in the Attitude Era.
Anyway, this is a pretty simple one: Shane McMahon "retired" as European Champion on March 30, just to rub it in X-Pac's face. For some reason, The Boy Wonder lugged around the European Title for no reason upwards of three months later.
Mideon, merely a stormtrooper among the ranks of the Corporate Ministry, was going through Shane's bag one night, for reasons I'd rather not know, and found the European strap. And with that, Mideon was now European Champion, losing the belt a month later to D-Lo Brown.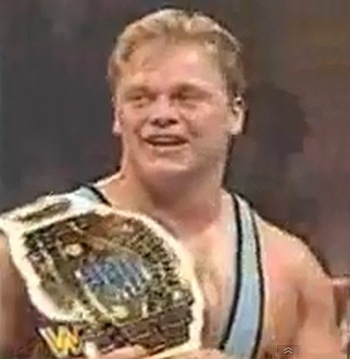 6. Dean Douglas, WWE Intercontinental (October 22, 1995)
Shane Douglas does more whining and complaining about what coulda been than Brando in On the Waterfront, but he's got a point in regards to the events of the fourth In Your House.
Douglas, as a snobbish educator not unlike Matt Striker or Damien Sandow, was set to take on Shawn Michaels for the Intercontinental Title, but Michaels was assaulted 9 days earlier in Syracuse, NY by a number of Marines, after making a drunken pass at one of their girlfriends.
Michaels forfeited the title (more on him later), and Douglas got the gold without pinning the Showstopper. However, minutes later, Douglas was jobbed out to Michaels' Kliq ally Razor Ramon, so the gold stayed within the confines of the five-headed menace. Disgusted by the WWE scene, Douglas would depart back to ECW two months later.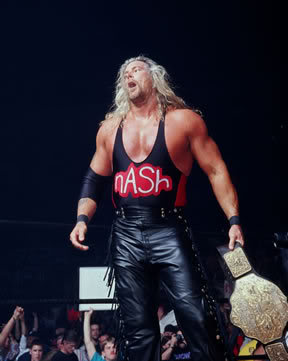 5. Kevin Nash, WCW World (January 25, 2000)
By 2000, WCW was pretty much a lost cause, with further decay coming in the form of Chris Benoit and the would-be Radicalz jumping to WWE in mid-month. But the loss of the technical proficiency of that quartet had nothing to do with this particular issue.
The WCW Championship was vacated three times in January 2000 alone: once when Bret Hart vacated it due to a concussion (retiring thereafter), again when Benoit dropped it to get his release, and again as part of a storyline.
Kevin Nash had won WCW's Presidency the previous week from Terry Funk, and then stripped Sid Vicious of the gold on a technicality. Nash then declared himself champion to further fragment the worth of the lifeless title. Later that night on Thunder, he lost the title back to Sid anyway, as he and Ron Harris lost a handicap match.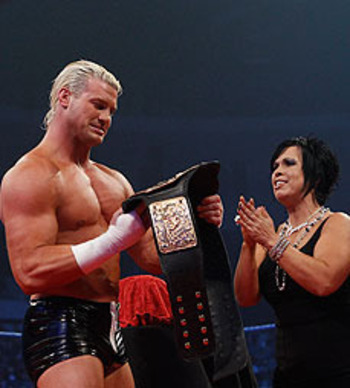 4. Dolph Ziggler, World Heavyweight (February 15, 2011)
While Ziggler's cashing in of his Money in the Bank briefcase might go down as WWE's most exciting moment of 2013, his first World Title win was far less auspicious. Hell, it wasn't even a win.
Main event storylines on Smackdown are horridly dumbed down, paint-by-numbers drek most of the time, and this was no exception. After GM Vickie Guerrero (the Sherri to Dolph's HBK) banned Edge's spear, he used it on Dolph during a 12 man tag to open the broadcast. Vickie stripped Edge of the title on the spot, and fired him as a result (also in part because she claimed Edge was the culprit in an attack on Teddy Long).
At the end of the night, Ziggler was handed the title by Vickie, and Long returned from injury to his GM post. He claimed Vickie orchestrated the hit, and she fingered Dolph (not like….well, maybe…). Edge was rehired and crushed Ziggler in 3 minutes to regain the title.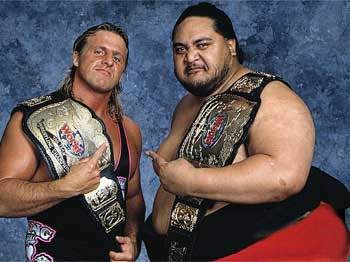 3. Owen Hart and Yokozuna, WWE World Tag Team (September 25, 1995)
One day after their six month reign as Tag Team Champions came to an end at the hands of Diesel and Shawn Michaels, the belts were simply returned to Owen and Yoko. Later that night, they dropped the belts to the Smoking Gunns.
Wait, what?
One day earlier, Diesel (WWE Champion) and Shawn (IC Champion) won the Tag Team Titles after Diesel pinned Owen in the main event of In Your House III, with all the titles on the line. The reason for the ensuing hand-over: British Bulldog was technically Owen's replacement; Owen ran in at the end (running late after the birth of daughter Athena), and got Jackknifed and pinned.
Pretty handy way for the Kliq to drop the belts without being pinned as well.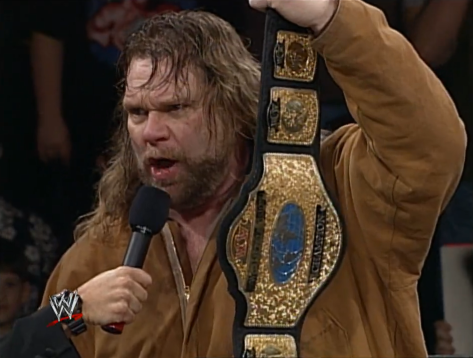 2. Hacksaw Jim Duggan, WCW Television (February 16, 2000)
Wrap your mind around this puzzle.
Scott Hall wins the WCW TV Title by forfeit from Rick Steiner in November 1999. A week later, Hall throws the title in the trash. Not the worst idea ever, since it gave the World, US, Cruiserweight, and Tag Titles a little more focus.
Three months later, on February 16, 2000, in Bethlehem, PA, Hacksaw, now a janitor for some reason, fishes the TV Title out of the trash can, and declares himself champion.
I forgot to note that when Hall threw the belt in the trash, that particular Nitro episode was in Denver. Does our garbage really route around the United States? Did somebody mistake Bethlehem for the dump?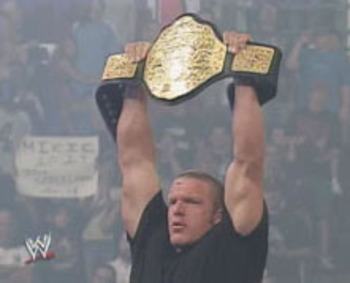 1. Triple H, World Heavyweight (September 2, 2002)
Undisputed Champion Brock Lesnar jumps to Smackdown in late August 2002, leaving Eric Bischoff and the Raw brand without a champion.
So Bischoff reactivates the World Heavyweight Title that was absorbed into the Undisputed Title (not sure how that works), and declares it a world championship exclusive to his brand.
So what does Bischoff do? Hold a tournament? A battle royal? Put it up for grabs in his soon-to-be-unveiled Elimination Chamber?
Nope. Just handed it to Triple H and said, "Here, you're the champ."
Weird. You'd think Trips would want to go over the entire brand in one night, or over several weeks, to prove himself the alpha male.
Send all love, criticism, and general vitriol to Justin on Twitter!