WWF RAW – December 8th, 1997 – Civic Center, Portland, ME
Stills from last night's Intercontinental title match, set to the stock music, "Night Sweat", open WWF Raw. Steve Austin retained his title, but you'll have to catch tomorrow night's Degeneration X encore to see all the action (including three DQ finishes and Goldust reading Green Eggs and Ham).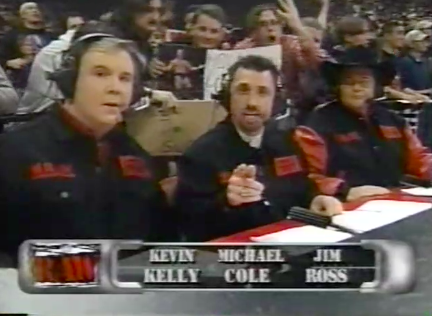 Too much dogs, and not enough cats! It's time for WWF Raw! Michael Cole joins the commentary team for the first time, along with Kevin Kelly and Jim Ross. WWF Raw comes to us live from Portland, Maine, which is like Portland, Oregon except a tenth the size.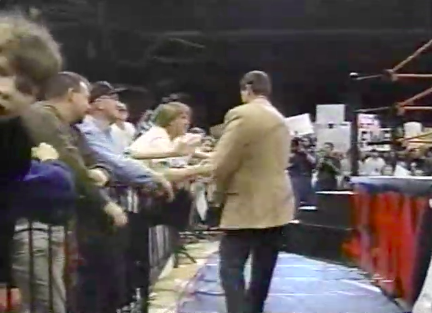 Vince McMahon comes to the ring for his first live appearance since the Montreal Screwjob, shaking hands with fans at ringside. McMahon acknowledges the popularity of Steve Austin, but says that recently he has been "getting away with murder". Okay, but how come Vince never had this talk about Jimmy Snuka?
Austin, says McMahon to much applause, has attacked WWF officials and announcers. But he finally crossed the line last night by driving a pick-up truck to the ring! McMahon says that the first referee attempted to disqualify Stone Cold for (mistakenly) giving him the Stunner, but that the second referee ignored his ruling and counted the three-count for Austin. Therefore, Austin must defend the Intercontinental title again against The Rock tonight.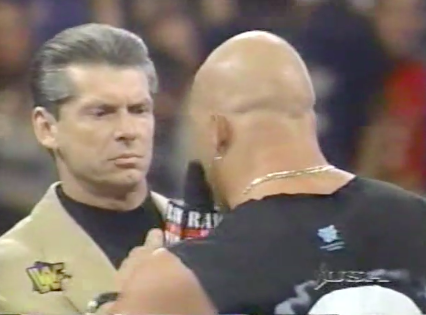 Stone Cold comes to the ring, unfavorably comparing his concern over Vince's identity to a murine rectum. McMahon reiterates that he is the owner of the WWF and, reluctantly, Austin's boss. Vince threatens Steve Austin with "consequences" if he refuses to defend the title, but he won't get into the specifics. Stone Cold, in turn, polls the audience, who with a unanimous assent of "Hell yeah" vote to see Vince McMahon get his ass whipped. This leads McMahon to chide Austin for his language, which prompts Austin to apologize with more profanity. If Austin has to come out later tonight, Stone Cold warns, somebody is getting their ass whipped.
Michael Coles announces a contest to win Steve Austin's pick-up, the very same truck he used last night at the PPV. Of course, it has a broken windshield, a dented hood, and a caved-in roof, but aside from the repair costs and the gift tax, it's absolutely free!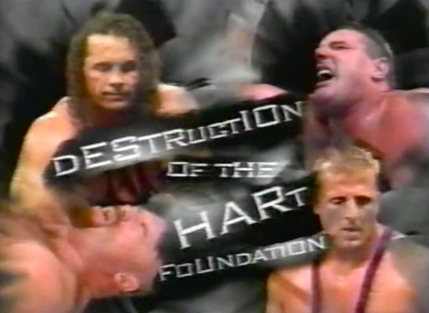 As Vince McMahon continues his post-Montreal victory lap, Jim Ross announces a feature on tonight's WWF Raw on the "total destruction of the Hart Foundation".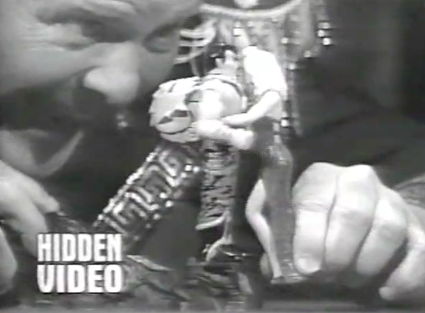 In the finals of the Karate Fighters tournament, Jerry Lawler faces Sunny. "May the best *man* win", says the King. "As if!" says Sunny. Jerry initially wins the bout, but the decision is overturned after footage reveals he used gum to secure his Fighter's foot to the pedestal. Not only that, but he also bribed the referee and convinced Sunny's Razor Jaw to take a dive in exchange for sexual favors from a Sable action figure.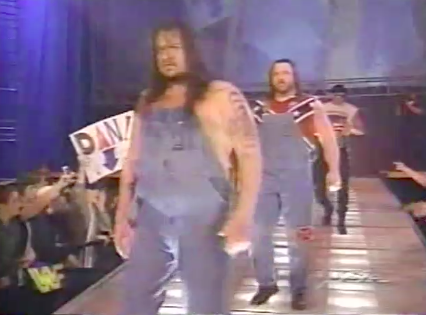 Via stills from last night's DX pay-per-view, the announcers narrate the tag team title match, where Road Warrior Hawk idiotically cost his team the match by using Henry Godwinn's slop bucket as a weapon against Road Dog. As a result, the Legion of Doom face the Godwinns tonight. Henry arrives in a Confederate flag shirt, and Phineas in no shirt at all, with the tag team champions as back-up.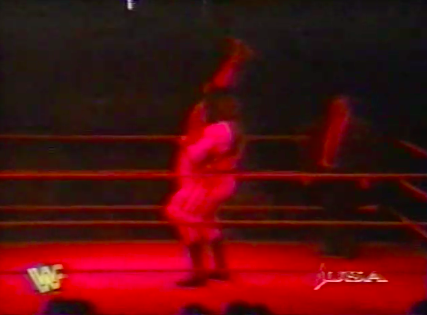 The big dudes knock each other around until Hawk misses a flying clothesline on Phineas. The hillbillies throw Animal into the ring steps when the lights go out. Kane, who last night helped Jeff Jarrett defeat the Undertaker by chokeslamming him (Jarrett), comes to the ring. He hits Hawk with a standard piledriver, after which Hawk, as a Road Warrior, immediately sits up. Kane, whom Jim Ross suggestively calls "the one-eyed monster", then chokeslams and tombstones Hawk. After Kane leaves, the Ass-Roads stomp Hawk until Animal chases them off with a chair.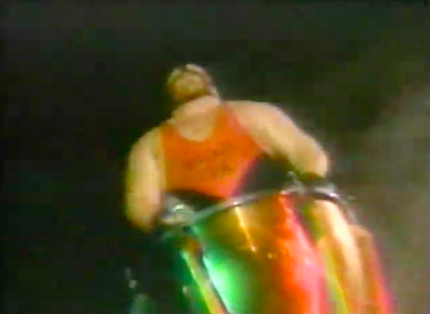 In a commercial for WWF The Music: Volume Two, Vader pounds a tympani, Mankind tickles the ivories, and The Undertaker crashes cymbals.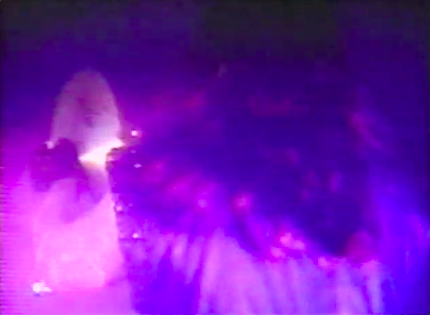 Road Dog and Billy Gunn, dressed in South Park shirts with air-brushed slogans on the back, remain in the ring. With a dedication to the "O.L.D." (Of Legion Doom), the two sing the chorus to Na Na Hey Hey Kiss Him Goodbye. Jim Ross, with his encyclopedic knowledge of pop music, says that Steam was a one-hit wonder like the current tag champions. The champions brag that they've conquered the tag team division, so they're issuing an open challenge for a singles match vs. Billy Gunn.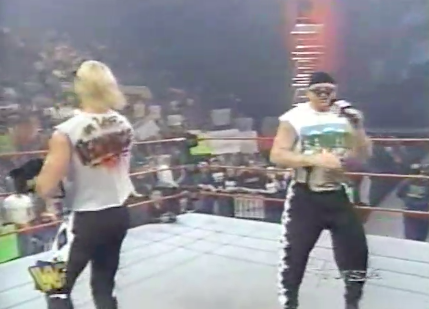 Dude Love answers the call, but Bad Ass attacks him before the bell. Meanwhile, Road Dog joins commentary, where Michael Cole questions he and Billy's alliance with the Godwinns. The Dog tells Cole not to worry about "Southern Justice", the name the Godwinns would adopt the following year.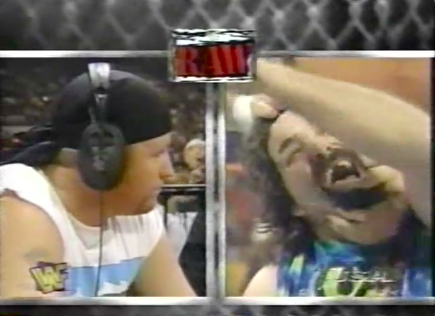 The "Dudester" dodges a corner splash from Billy, paving the way for a comeback. Unfortunately, he telegraphs Sweet Shin Music, allowing Gunn to counter. Dude still catches him with the deadly move seconds later, then hits a double-arm DDT for the victory. In retaliation, Road Dog smashes a chair over Dude's head, then drapes the title belts over Dude Love's face before Gunn smashes him from the top rope.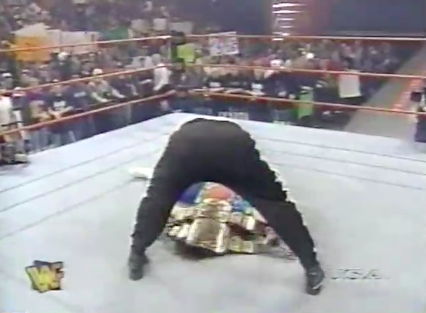 The Rock promises to beat Austin for the title tonight, just as he beat him up last night. Forget Austin 3:16, says Rock, it's all about The Rock 9:11. Kama Mustafa, wearing a BWF shirt, nods along. So Kama's a badminton fan, huh? After the interview, Michael Cole clarifies that The Rock in fact lost last night.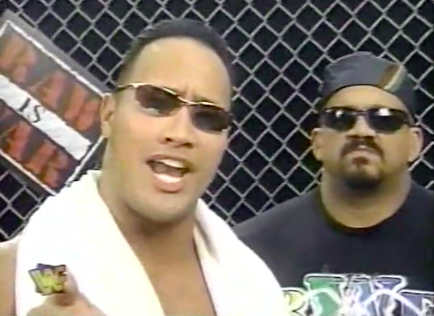 The announcers narrate last night's Light Heavyweight title match, which Taka Michinoku won after evading Brian Christopher's "Tennessee Leg Jam". He thus became the 33rd-ever WWF Light Heavyweight champion. Backstage, Brian Christopher vowed to have the last laugh. He wouldn't.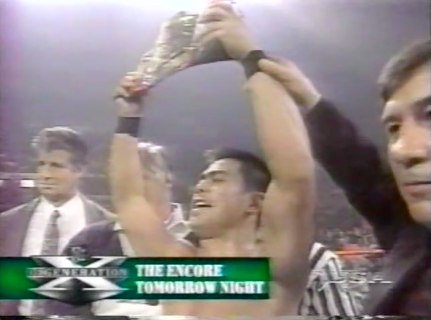 Jim Cornette interviews Taka Michinoku, whom Jim Ross has been teaching English. The extent of Ross's English lesson was the word, "slobberknocker". Before Cornette can introduce Taka's first challenger, Jerry Lawler interrupts and complains about Japanese wrestlers coming here and stealing our championships. "You jackass", says Michinoku after King dares him to speak English.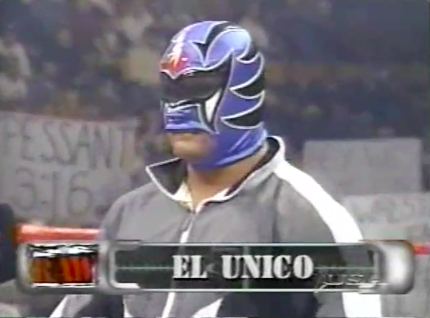 Before the two men come to blows, Cornette introduces Taka's first challenger, El Único ("The Unique One"). King accuses Unico, who doesn't look too sexy in his mask and track suit, of illegal immigration. The two light heavyweights appear poised to team up against King, but instead Unico and King gang up on Taka. Unico unmasks as Brian Christopher before officials clear the ring.
Backstage, Stone Cold eats a hot dog. He is scheduled to defend his IC title against The Rock tonight, but will he?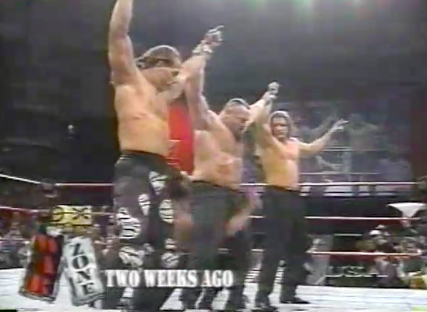 Flash Funk waits in the ring as the announcers recap how DX has "literally devastated" the Hart Foundation. It began with Shawn Michaels's defeat of the British Bulldog in Engalnd for the European title. Then, HBK defeated Bret Hart in Canada. Finally, DX humiliated Jim Neidhart (in the US). Last night, however, Owen Hart attacked HBK at the end of the pay-per-view, which Jim Ross thinks is the end of this feud.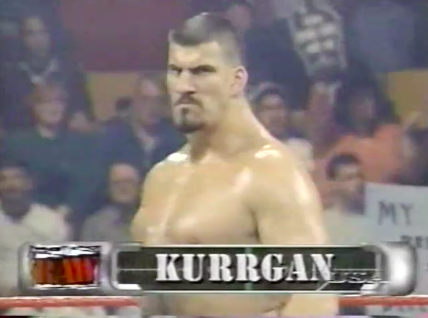 The Jackyl brings out The Interrogator, now known as Kurrgan. "Who?" asks Michael Cole. "Kurrgan the Interrogator", says Ross. "K-U-R-R-G-A-N". On commentary, Jackyl rails against WWF Creative for mishandling Kurrgan. The giant locks Funk in a claw hold, then jumps and slams Flash down.
Kurrgan wins by submission but refuses to release the hold, shaking off the other two Truth Commissioners who try in vain to break the hold. The referee reverses the decision, awarding the match to Funk, but since Kurrgan still has the hold locked in, he no longer has any incentive to release it. Eventually, Jackyl slaps Kurrgan, who releases the hold and shares a laugh with his manager.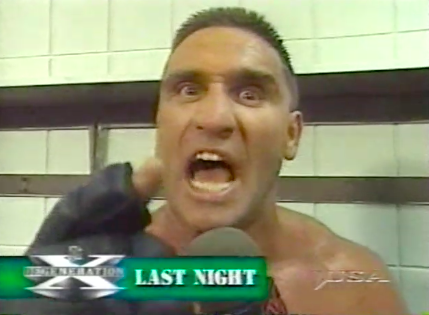 Last night, Ken Shamrock had Shawn Michaels locked in the ankle lock until DX caused an intentional disqualification, saving the title for HBK. Off the air, Michael Cole spoke with Ken Shamrock, who says he'll win the Royal Rumble if he has to if it means he gets another shot at Shawn.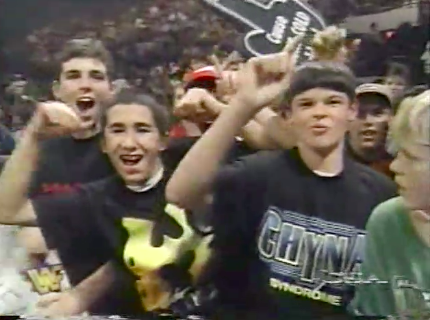 As "We're All Together Now" plays, it's time for WWF WarZone! DX arrive to a table set up in the ring. Triple H talks some more about his penis and Sgt. Slaughter's wife before handing off the mic to Michaels. At a rather deliberate pace, Shawn gloats over his retention of the title last night against Ken Shamrock. In the front row, two teens show off their H³ and Chyna Syndrome t-shirts. Michaels then turns his attention to Owen Hart, whom he compares to a nugget left over from the big smelly turd that is the Hart Foundation.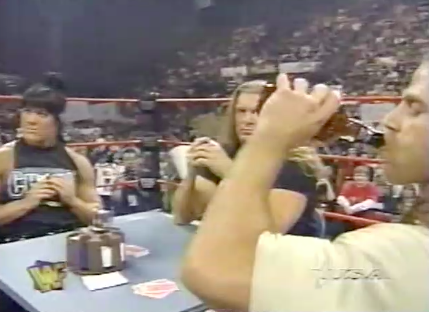 DX then settles in for a game of strip poker, waiting out Owen Hart. After all, says Michaels, he had promised to walk out on WWF Raw naked last month and never got to do it. HBK even takes a swig of Jack Daniels, in front of the cameras this time. The bald members of Disciples of Apocalypse ride on stage as WWF Raw goes to commercial.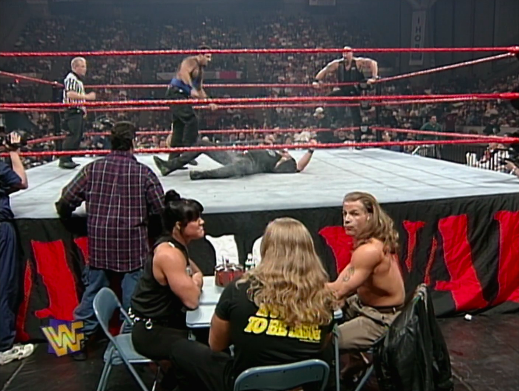 After the break, DX continues to play strip poker to make way for the Harris Brothers vs. two Boricuas. A naïve Jim Ross suggests Owen Hart got his frustrations "out of his system" last night and won't show up tonight. He also suggests that Austin's pick-up truck will be repaired before it is awarded to a lucky fan. Ross and Lawler continue to talk about anything but the match in the ring until Savio (who is not officially in the match) hits one of the apocalypse disciples with a 2×4. Miguel Perez pins the skinhead for the victory.
Still tonight are three great matches: Jeff Jarrett will wrestle, Marc Mero will be in action, and Stone Cold may or may not wrestle the Rock.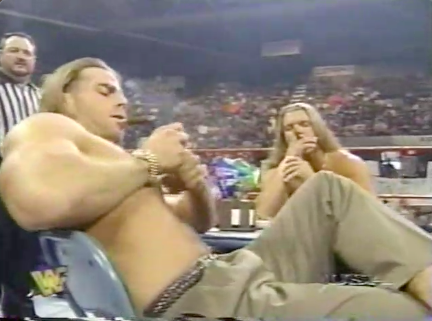 When WarZone continues, DX is back in the ring, sitting in various stages of undress and smoking cigars. Shawn strips to his jockey shorts before the Headbangers arrive for their scheduled match. After the 'Bangers turn over the poker table, Shawn smashes a glass of whiskey in Mosh's face. That's got to hurt him bad! It hurts Mosh, too. With his teammates' help, Triple H then superbombs Thrasher through the table. The punishment continues for several minutes until Owen Hart tackles Michaels and disappears through the crowd.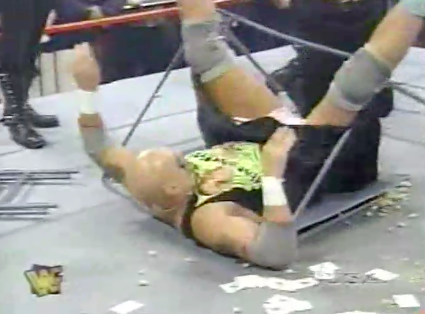 Once order has been restored, Jeff Jarrett makes his entrance. His theme music includes one of the worst opening sound bites of any entrance song: "There's all the great WWF Superstars, and then there's… me!" It's a far cry from the glass shattering for The Ringmaster… I mean, Stone Cold. His opponent is supposed to be Vader, but before the two can even lock up, The Artist Formerly Known As Goldust flashes the big man. After Vader chases Goldust up the ramp, Jarrett wins by countout.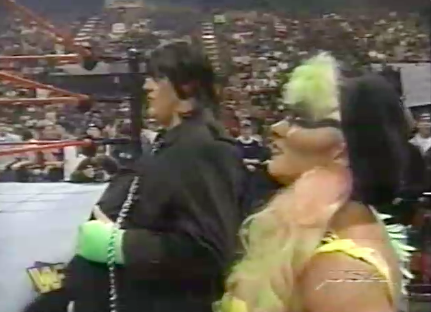 On the WWF Superstar Line, a "former WWF titleholder's career is in deep jeopardy because of, uh, of being over". Is his career over, or is he himself "over"? If it's the latter, Ross must be talking about someone in Dubya-Cee-Dubya.
Salvatore Sincere is in the ring to face Marc Mero. Last night, Mero hits several cheap shots on Butterbean, including a drop kick, a thumb to the eye, a low blow, and a shot with a stool. After the fight, Butterbean showed the cuts on his back to Michael Cole, complaining, "Does this look like a boxing match to you?" Of course it didn't; this was a Tough Man competition.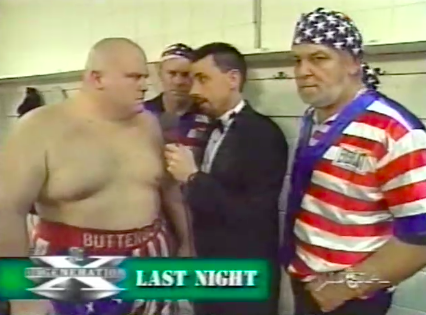 Marvelous Marc arrives without Sable and grabs the mic. He's steamed that Vince McMahon has booked him against a "jobber" like "Tom Brandi", a "jabroni" given a "stupid gimmick". In response, Jim Ross calls Mero a "baaad man". He then introduces the "new and improved" Sable, who walks through the curtain in a potato sack.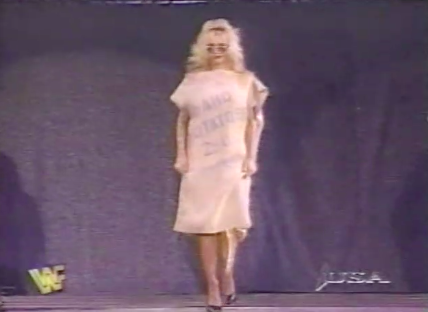 Mero tells Sable (who has never even performed a Mero Sault!) to "disrobe" him, which Jerry Lawler thinks he's got backwards. Sure enough, Sable strips off her spud bag to reveal a floss bikini. Furious, Marvelous Marc tries to cover up Sable until Sal Sincere dropkicks him over the ropes. As Mero leaves with Sable, the referee counts him out, awarding the match to Brandi, who actually leaves the ring before the count is over.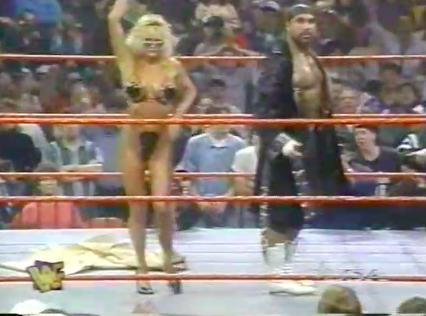 If you're keeping score, that's one match canceled this WarZone (featuring the Headbangers) and two consecutive matches ending in immediate count outs. Good thing Austin and The Rock will deliver a solid main event to save WWF Raw's second hour.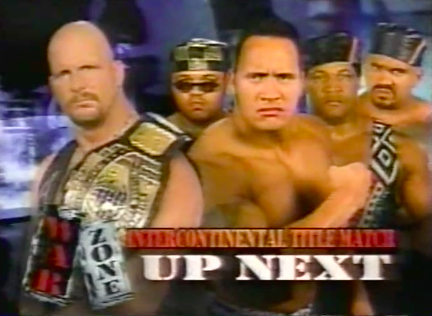 Speaking of Austin, if you want the truck he banged up last night, you can enter the Royal Rumble Sweepstakes. To enter, you just have to call 1-900-RUMBLE-98 at $1.99 per minute. In the next breath, the same announcer tells us that no telephone call is necessary, and that you need to send in a postcard. And it's just that easy! But don't delay — call 1-900-RUMBLE-98! Even though you don't have to!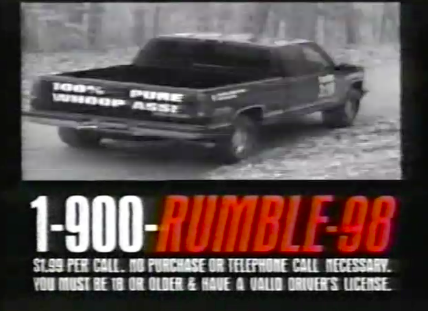 As Vince McMahon stands at ringside with "a bevy of officials", Rocky Maivia enters for his IC title match. Stone Cold then walks to the ring in jeans and a t-shirt, suggesting he's not going to wrestle. After consuming a hot dog and a number of Steveweisers, Austin has decided not to defend his title again tonight. Therefore, says Vince, he will have to strip Austin of the title and give it to The Rock.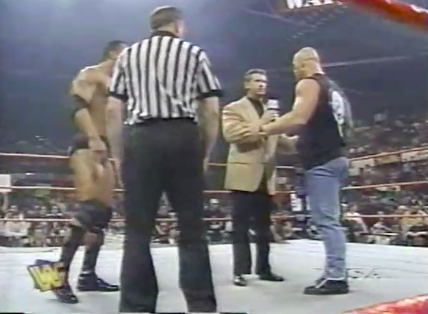 Stone Cold says he won't let McMahon strip him of the title, but since the only title he really wants is the WWF belt, he's going to forfeit the title voluntarily. Four title forfeitures in one year? Stone Cold just beat Shawn's record! Austin hands the belt over to The Rock and shakes his hand, then stuns him and steals the belt back. Austin says he has big plans for the belt, which you'll have to tune in next week to see. He then runs the ropes, knocking McMahon off the apron. It was an accident!