WWF RAW August 18th, 1997 – Atlantic City Convention Center – Atlantic City, NJ
This week's Raw starts off, as always, with a sweep of the crowd. This time, though, the camera spends an inordinate amount of time on a fan holding a sign calling Bret Hart not a "hitman", but something different altogether. I won't say what exactly, as I don't want it showing up in the preview, but you can look at the picture and read it for yourself. Okay, I think that's enough words to where I'm confident you won't be able to see this without clicking on the article. Anyway, it says, "shitman".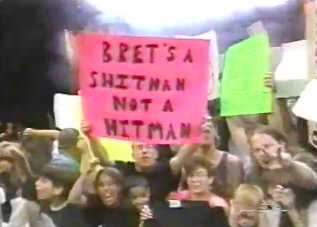 This week, Jim Ross is the one putting over the crowd as the greatest in all live entertainment, which means Vince McMahon must not be at the announce table. In fact, he's in the ring for an interview, introducing Ravishing Rick Rude. Rude, who enters to his old "Stripper"-esque theme, hasn't been seen since his 1990 suspension for insulting the Big Bossman's mother. Damn Jack Tunney. It's taken an interim Federation president, another interim president, the return of the previous interim president as a permanent president, and the appointment of a commissioner for Rude to return to the WWF.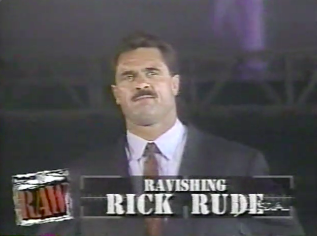 The Ravishing One tells the fat, out-of-shape Atlantic City sweathogs — including Vladimir and Faith No More Guy — to pay attention to what a real man has to say. Rude says that he is an "insurance salesman" (hopefully not a multilevel marketing scheme; this author almost got roped into one of those once). Vince wants to know who exactly paid Rude – Michaels, Helmsley, or someone else? Rick paraphrases the State Farm, Prudential, and All-State mottos while advertising his services.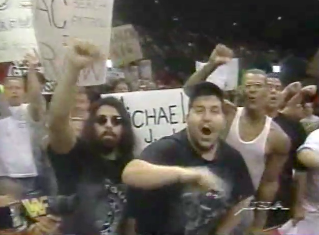 Later tonight (during the War Zone), a Jim Ross interview of Stone Cold will air, as will a tag team match between two first-time teams, Taker & Mankind against Michaels & Helmsley. It's also the first time The Undertaker and Shawn Michaels will wrestle each other, says the King. But next, The Legion of Doom face Owen & Bulldog in a preview of the Fatal Four-Way at Ground Zero.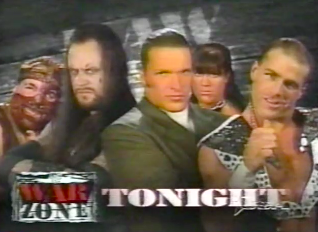 Old black-and-white footage of Atlantic City plays with 60's-style California surf music. Sure, why not. Raw tonight is being held in the crummy old Convention Center, instead of the great Trump Plaza, site of WrestleManias IV and V (which is the same building). Backstage, Shawn Michaels argues with someone with a big chin, but due to poor lighting and a lack of sound, I can't confirm his identity.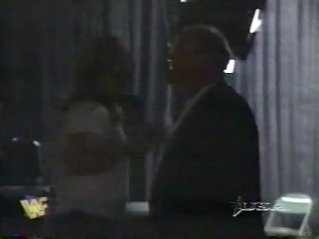 The team of two-time Slammy Award-winning Owen Hart and the British Bulldog (who has a belt or something) arrive to take on the LOD. Steve Austin is still advertised in the graphic for the upcoming Fatal Four-Way elimination match, which also includes the Godwinns.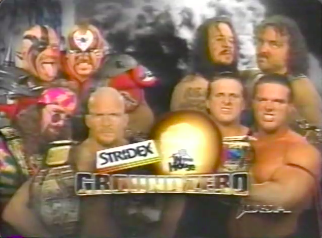 Animal flapjacks Owen, who lands with a thud on his own arm. "I'm not surprised if he didn't break his arm", remarks McMahon, who would be surprised if Owen broke his arm. Watch those double-negatives, Vince. Hawk tags in and works the arm before hitting the ring post charging at Owen. Outside the ring, Davey Boy throws Hawk into the steps and rolls him back in. Bulldog tags in and delivers his delayed vertical suplex as fans, loudly chanting "LOD", try to rally for the Road Warriors. Davey follows this up with a chin lock and tags in Bulldog. Meanwhile, Jim Ross warns viewers about Stone Cold's "colorful language", and Vince reports that Shawn Michaels is throwing a "temper tantrum" backstage with Commissioner Slaughter.
Animal gets the hot tag and tries to pin Owen, but Bulldog breaks it up. Animal catches Owen Hart's flying cross body and counters with a powerslam, Bulldog again breaks up the pin; I can assume the super-secret "one break" rule hasn't been instituted yet. "We've got four individuals!" says Vince as both teams brawl in the ring. In the fracas, the Godwinns insert themselves, with Henry sneaking in to hit Animal with a bucket while the referee is distracted. The announcers marvel at the sound of the impact, but the referee can't call what he hears perfectly well but doesn't see.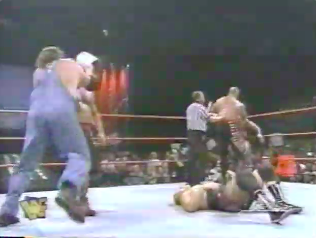 Owen pins Animal for the win, but soon all three teams in the Fatal Four-Way are brawling in the ring as Vince still insists that Stone Cold and Dude Love will be in the match. Likewise, he's also insisted repeatedly that the tag team titles have never been defended in a four-way elimination match. Just about the only thing Vince gets right is that the match will be a melee — and even then, he pronounces it, "mee-lay".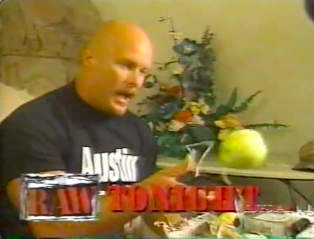 In a preview of the Stone Cold interview, Austin is seen tossing fruit at Jim Ross. In the boiler room, Mankind wonders whether he'll help or hurt the Undertaker, his tag team partner tonight. Who knows — if they do well tonight against Michaels & Helmsley, they could challenge Dude Love and Stone Cold for the titles!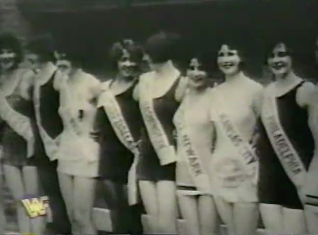 More black-and-white footage of Atlantic City airs, this time of an old Miss America pageant; unimpressed with the contestants' looks, Jerry Lawler speculates that nobody won that year.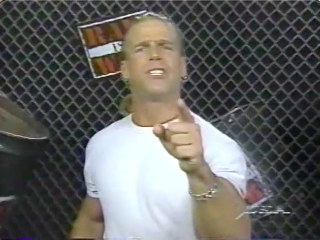 In the back, Shawn Michaels complains about his treatment by the fans and the WWF, such as being forced to team with Hunter Hearst Helmsley. Michaels wears a plain white t-shirt straight out of the Brian Danielson collection.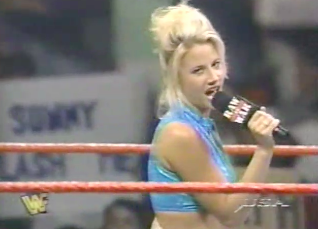 Sunny is here, and she knows you want her. She's here as the guest ring announcer, but she is interrupted by Flash Funk's "Oooh Flash, you are sooooo funky!" sound bite. Flash Funk's music plays. Flash Funk's TitanTron plays. Sunny introduces Flash Funk. Brian Christopher walks out instead. "Okay", says Sunny. "Maybe not."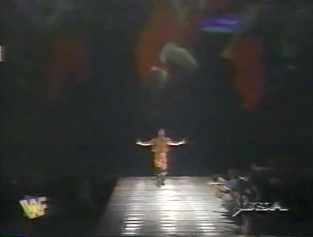 The sound guy plays the right music this time as Jerry Lawler explains that Christopher is #1 and waits for no one. He should call him "Too Funky". In prerecorded comments, Brian explains that he challenged a heavyweight like Funk to prove that his loss (to Taka Michinoku two weeks ago) was a fluke. Flash Funk then makes his real entrance while prerecorded comments, made in his pimp hat, air. The match gets underway as Jerry Lawler insists he's just Brian Christopher's mentor, not his father. This leads Jim Ross to cite a recent poll showing that 25% of Americans believe they are good at lying. That's a change of pace; it used to be Jerry Lawler who would dub in random new statistics on commentary to prove the taped Raws were actually live. As far as Brian Christopher moving up to a higher weight class, Ross says he's no Roy Jones. Boy, are these shows timeless!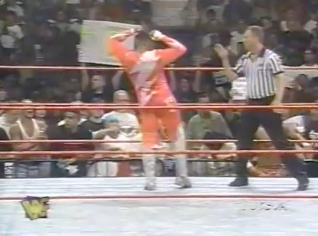 Flash welcomes Brian to the heavyweight division with a one-legged dropkick, sending him flying over the ropes. "Look at that Maneuver, would you!" Funk then baseball-slides into Christopher, then fakes him out on a plancha; instead, he drops to the mat, somersaults backwards and forwards, and dances. To this, Vince states matter-of-factly: "Oh, he is sooo funky." McMahon, nevertheless is impressed with Brian for returning to the ring "notwithstanding" the kick from Flash. Too Sexy turns things around with what would later be known as the Skull-Crushing Finale, then dropkicks Flash in the back of the head. "Unbelievable, what a Maneuver!" (#2) says Vince. Christopher takes Funk over with a northern lights suplex, minus the bridge — a kitchen fire suplex, if you will. Too Sexy then clotheslines Too Cold, again not going for a cover, then heads up the ropes for his finisher. It's like what people imagine Bret Hart's Five Moves of Doom were like.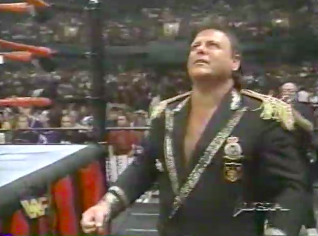 Jerry Lawler tells his protégé to do a piledriver, inadvertently distracting him. Flash runs the ropes and crotches Brian, then hits the 450 splash to win and hear his music for the third time tonight. As Lawler and son argue, a replay airs of the 450 splash. "Look at this Maneuver [#3]", says Vince. "That's one of the most Devastating Maneuvers [#4] in all of the WWF."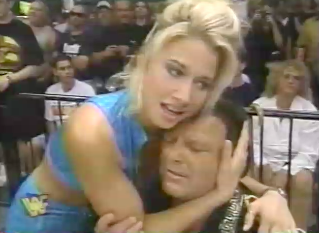 Sunny consoles Lawler as Jim Ross runs down the upcoming WWF live events in such illustrious venues as the Warwick Musical Theatre, the South Shore Music Circus, and the Cape Cod Melody Tent. There are also some shows in bigger, more famous arenas like The Summit in Houston, the Rosemont Horizon in suburban Chicago, and The Tingley Coliseum, which is where the Romans used to go for ASMR. Raw will be in Madison Square Garden next month.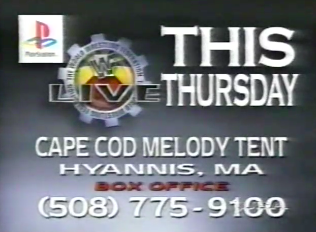 Backstage, Undertaker issues a threat to Shawn Michaels and a warning to Mankind.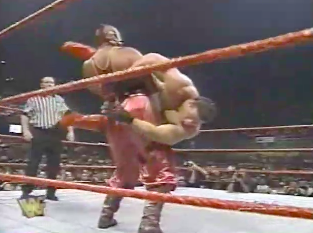 The Sultan is already in the ring as cameras cut to the back, where Hunter Hearst Helmsley and Commissioner Slaughter silently argue about tonight's match. Ken Shamrock, who recently won a battle royal in Boston, arrives to take on the masked Fatu. Jerry Lawler takes exception to Shamrock's nickname of "The World's Most Dangerous Man", given that he only beat 19 opponents that night, and not everybody in the world. Chuckling, Vince concurs. Shamrock is caught awkwardly by Sultan while attempting a More Traditional Maneuver (#5 – cross-body). Shamrock recovers and clotheslines Sultan over the ropes, but Sulty-Baby soon throws him into the steps. The Iron Sheik then cracks the Iranian flag over Ken's back, breaking the flagpole.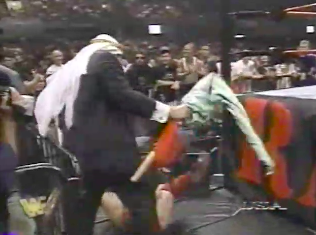 Back in the ring, the Sultan squanders his advantage with the same charge to the corner that backfired on Hawk earlier tonight. Shamrock turns Sultan inside-out with a clothesline, takes him down with a belly-to-belly, and looks poised to win until the Sheik steps onto the apron. Ken suplexes the Iron Sheik, then takes Sultan over with a huracanrana.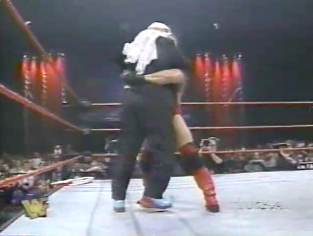 Shamrock slaps on the ankle lock, to which the Sultan taps out (as, having had is tongue cut out, he can't verbally submit). Don't worry, Sultan. I predict that if you gain more weight, bleach your hair, and wrestle in a thong, you'll be a bigger star than Ken Shamrock ever will be. But on this night, says Vince, Ken Shamrock is adored. That's adored, not a Dord, a word meaning "density" which was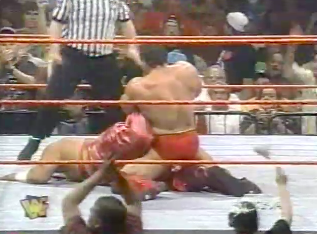 At the announce desk, the commentators discuss the main event as a fan holds up a sign reading, "Dave Prazak 12 & Under". Ironically,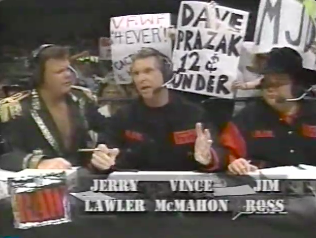 Jim Ross starts introducing the Austin interview, but he is interrupted by the Nation of Domination's entrance. While the announcers act as if this is unexpected, they had earlier advertised the Austin interview for War Zone, which hasn't started yet. Still, I can't believe they've made the interview take a backseat to the first heel promo by Rocky Maivia! The Nation demands that Jim Ross get in the ring and interview them, rather than simply grabbing a microphone and talking on their own. It's protocol even the Black nationalists feel compelled to follow. Fans chant, "Rocky sucks!" at Maivia.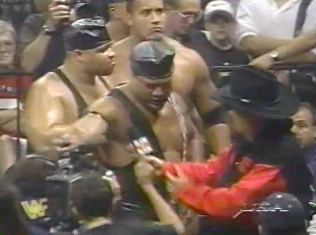 With Jim Ross holding the mic in front of Faarooq's face, the Nation leader says Ahmed Johnson is just a wannabe white man. As for Crush and Savio, Faarooq will beat the two men he took "literally out of the trash can" (like Oscar the Grouch) at Ground Zero. Rocky Maivia then speaks, citing chants of "Die Rocky, Die" and "Rocky sucks" that he received as Intercontinental champion. "Rocky Maivia is a lot of things," he says, "but 'sucks' isn't one of them". He's right — Rocky isn't sucks. However, the backlash against babyface Maivia has been overblown over the past 25 years; fans generally responded to him with apathy, not hatred.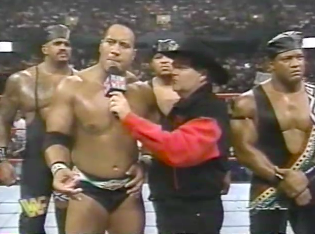 Maivia continues, calling the Disciples of Apocalypse a racist faction. Preposterous! The DOA appear on screen, where Crush calls Faarooq's group, "The Nation of Constipation" (which is a lot nicer than what some fans have called them). He challenges the group to a fight in the parking lot, which the Nation appear to accept.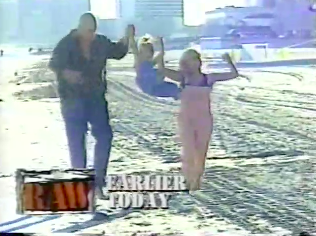 Footage airs from earlier in the day of Dustin and Terry with their daughter on the beach. Jerry squeals as they lift the daughter high into the air, like they're performing a double-team move and are going to throw her into the fifth row. "Give me a break!" says the King, possibly jealous that he can't bring his own child out on TV.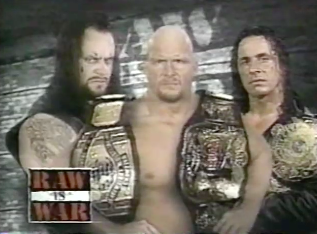 For the New York market, Dok Hendrix announces the matches for the Madison Square Garden Raw on September 22nd, using the c-word ("card"). In a bit of wishful thinking, he advertises Steve Austin in a Triple Threat match in only one month's time against Bret Hart and The Undertaker. Shawn Michaels will be there, as will 25 men who will compete in a battle royal; the winner gets a WWF title shot in November at MSG. The Brooklyn Brawler will win.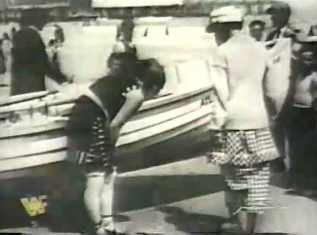 In an unusual move for a show competing head-to-head with Nitro, Raw airs more seventy-year-old silent footage of Atlantic City. This time, it's a bathing suit inspector policing the flappers.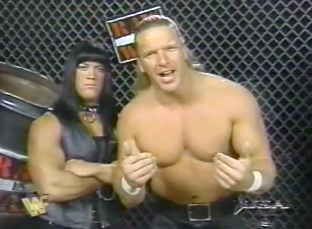 Hunter Hearst Helmsley complains that he is being punished for something Shawn Michaels did — "again". His accent has disappeared almost entirely.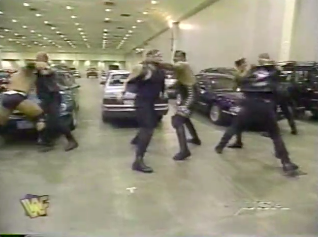 Vince interrupts the interview to cut to the parking lot, where the Black and white factions clash. Chainz throws Kama onto Jim Cornette's car, shattering the windshield. The fight abruptly ends when the Boricuas ride off with the DOA's bikes. Jesús, take the wheel! Uh, handlebars.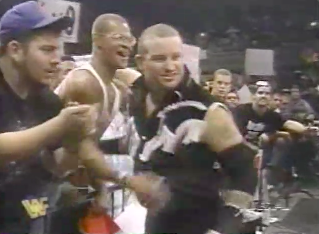 Jesse Jammes arrives, hugs Vladimir, and enters the ring for his match against "Mrs. Brian Pillman" — not Melanie, but Brian in a dress. Pillman's atonal theme music stands in stark contrast to Jesse Jammes's theme, which is still "With My Baby Tonight".
Pillman comes to the ring in a lacy gold dress, leading Lawler to compliment his cleavage. Vince chuckles. Last week, Brian wore a dress that Vince calls, "a plain Gianni Versace". "A dress to kill for", adds Jim Ross, in reference to Versace's assassination a month earlier. When the match begins, Jammes puts Pillman in a hammerlock, but gets fresh. He then lifts up Pillman's dress to reveal his boxers. Jim Ross says it's "deplorable" to make Pillman wear a dress, but Vince says it's about time that wrestlers get held to their word (although, strictly speaking, Pillman said he'd wear the dress only once, not every week). Pillman avoids a flying nothing from Jesse, then DDTs him for what looks like an easy victory. Goldust then walks to the ring and elbows Jesse Jammes, causing Pillman to lose by disqualification.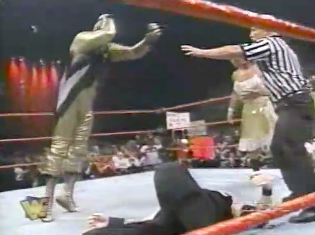 Michael Cole has a word with Goldust, who says he just wanted to see Pillman in a dress for another week. Pillman gets on the mic and challenges Goldust to a match at Ground Zero, wagering his WWF career against 30 days with Marlena as his 24/7 personal assistant. Goldust rightly refuses, although it seems Marlena should probably have some say in the matter. "Well, you may not be good at," says Pillman, halting abruptly before continuing in the middle of an entirely different sentence, "ever see me again". He then tells Goldust that his kid is in fact Brian Pillman's love child. Who does he think he's talking to, Bruce Hart?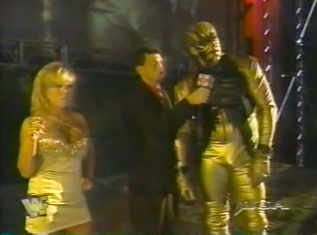 As Goldust chases after Pillman, Marlena accepts the challenge. Why should she have any say in the matter? Goldust chides Marlena for accepting.
Next up, Vader and The Patriot face off. Vader claims that tonight, The Patriot's colors won't be red, white, and blue, but black and blue. I can't believe Vince isn't pushing the big man based on his promo work alone!
Too much buds, and not enough guys! It's time for the War Zone! The fans are here to have fun and express their approval or disapproval, says Vince, who every night sounds like he's trying to stick it to one-time WCW co-promoter Kim Jong-Il.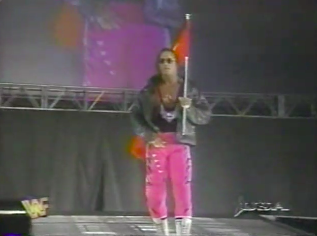 "The Mastodon" Vader, entering with Paul Bearer, hopes to extend the three-match un-pinned streak that only I seem to have noticed. The Patriot is out next, followed by Bret Hart, who strolls out on stage with a Canadian flag. The two wave their flags aggressively at each other until Vader attacks Patriot from behind. That's got to be a violation of the US Flag Code. The Patriot backs his fellow WCW alum into the corner and throws some weak left hands, then tries to baseball-slide under the ropes. Unfortunately, he gets stuck, perhaps due to the presence of the cameraman on the ring steps. Eventually, he manages to wriggle out of the ring and crotch Vader on the ring post. Vince points out that The Patriot is far from alone in his bending of the rules.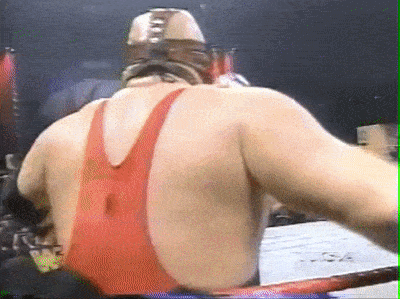 The Mastodon squashes the Patriot to counter a sunset flip, then splashes him for a two-count. The Patriot then endures a kick to the chest-area as Lawler imagines him getting flattened like a pancake by a hypothetical Vader Bomb. "I know that's right", says Vince. Vader tries to make this a reality, but bounces so many times on the second rope that Wilkes manages to gets his knees up. Vader persists, leveling Patriot with a standing avalanche splash for a two-count, until he falls victim to Patriot's full nelson slam, which Vince dubs, "Uncle Slam". "Uncle Slam?" asks Lawler. Patriot wins, but Vader takes advantage of a distraction by Bret Hart to knock him off the apron.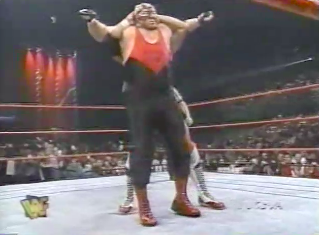 Vader sets up Patriot for the Vader Bomb, but steps off the ropes when Hart drapes the Canadian flag over Wilkes. Vader, who won't squash the maple leaf flag, instead snaps the flagpole in half and throws it at the Hitman. That is one patriotic mastodon.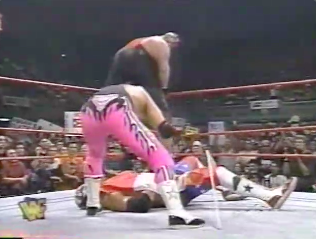 The Hart Foundation triple-teams Vader until the Patriot helps out his opponent. Wilkes chases Bret out of the ring but gets stuck in the ropes again, tearing at the ring skirt to reveal the Shotgun logo underneath. Commissioner Slaughter orders Hart away.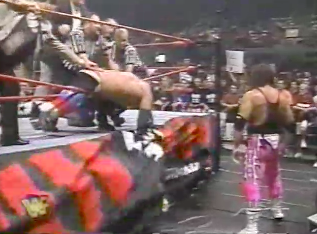 Jim Ross offers a scoop on the WWF Superstar line about "who's really pulling Rick Rude's strings", a "possible managerial shake-up", Austin/Ahmed/Mark Henry updates, and a possible alliance between Shawn Michaels and Brakus. Maybe those two could feud with Hunter Hearst Helmsley and Chyna.
In a preview of the upcoming Austin interview, Stone Cold admits to operating his four-wheeler under the influence.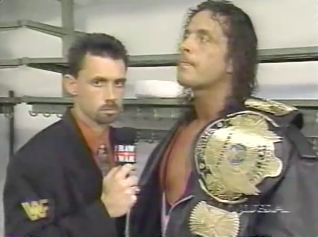 Raw returns with a replay of The Patriot's Patented Maneuver (#6 – Uncle Slam) and the subsequent brawl. Backstage, a skinny Michael Cole interviews Bret Hart, who offers an open challenge to Vader.
The Stridex Triple Action replay is an Owen Hart victory over Goldust, with a distraction by Brian Pillman, on Shotgun (where Pillman is not required to wear a dress).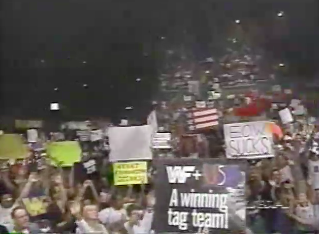 Some pathetic fan, in a blatant attempt to get featured on TV, holds up a sign reading "WWF + USA: A winning tag team". He appears to have covered up a different logo with a piece of construction paper with "USA" written by hand. The guy made that sign and held it up all night just so it, and his hand, could be shown on screen for a few seconds.
A replay of Austin's neck injury airs, as well as (for some reason) the embarrassing kayfabe-shattering pin he made while semi-paralyzed. Stone Cold suffered spinal shock syndrome, which is not, it turns out, that thing you get from super-absorbent tampons, but instead a stinger. In a voice-over, Vince puts over Austin's "intestinal fortitude".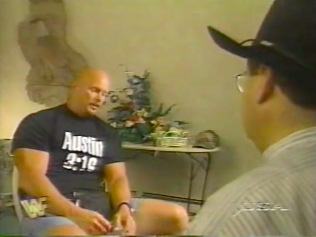 In the much-anticipated interview with Jim Ross, Steve Austin says no one asked how he was after his neck injury (like, say, Owen Hart), and now the WWF has put him up in a cheap hotel room. In short, Austin is pissed off, especially at Owen Hart, but that's better than being pissed on. Who would have thought that in five years' time, Austin would repeat that same phrase before urinating on Arn Anderson, beating Ric Flair, and walking out of the company? One doctor tells Austin he should do something else (like host a podcast or craft is own beer), but Steve won't hear of it. As for his future, Stone Cold says he'll take "a few weeks" off, but he still expects to wrestle at Ground Zero in the Fatal Four-Way match, or as he describes it, "some kind of little… four tag teams or some s**t like that". "Oh my goodness!" says McMahon after the interview. "Stone Cold is something else!"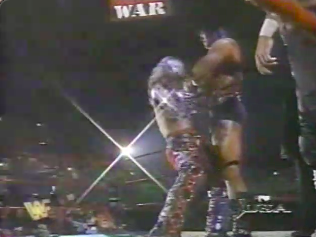 Hunter Hearst Helmsley is already out as Shawn Michaels shambles to the ring for their tag match. Michaels even grinds right in front of Chyna, who's having none of it. Also having none of it is the camera man as Shawn offers to switch duties for the night during Taker's entrance.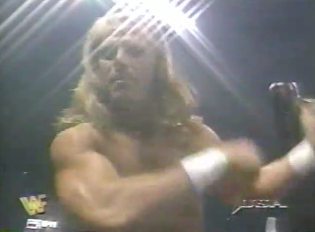 At the outset of the match, Mankind holds off both Michaels and Helmsley single-handedly (in the metaphorical sense; in fact, he uses both hands). Undertaker tags in and back body-drops Helmsley over the top rope and onto HBK. Frequent tags do little to fend off the Phenom, so Shawn takes a powder and motions for Rick Rude to come down.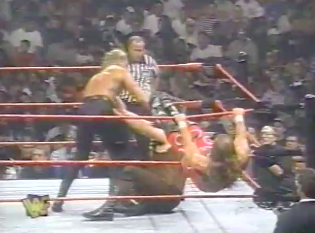 After the commercial break, Mankind catches Helmsley as he attempts a flying nothing, but Chyna trips and crotches the Deranged One on the ring post. That's a popular move tonight. Shawn tags in, then tags out while running the ropes. He slides through Mankind's legs with some Beautiful Maneuvering (#7), then double-teams Mankind with a combination clothesline and chop block. Vince reiterates what a Beautiful Maneuver (#8) it was. In his corner, Michaels sits on the second rope and leans back like he's on a swing set, but Mankind throws Hunter outside before he can perform a double-team. Helmsley rams Mankind into the steps and throws him back into the ring as Vince comments on the blond contingent's tag team cohesion.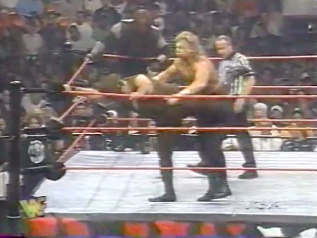 Mankind attempts to low-blow Hunter with a mule kick, but misses the goal post entirely. Hunter still sells it a little. Shawn tags in and lands the flying elbow on Mankind, then signals for Sweet Chin Music. He tags out to hunter before trying the superkick, which Mankind blocks before Helmsley steps in. Mankind tries to catapult Helmsley into the corner but gets kicked to the corner, where he falls over and headbutts Hunter's groin. Mankind makes the hot tag to Taker, who cleans house. Undertaker holds up Michaels by the throat on the outside, then turns around before Rick Rude can sneak up on him with a chair. Taker stalks Rude into the ring, then chokeslams Hunter. "Helmsley has been goozled!" declares McMahon.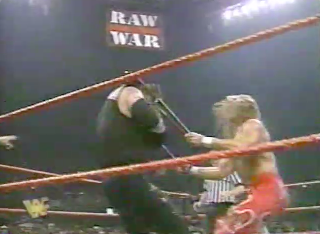 Shawn then hits Taker right over the head with a chair, denting it and drawing a disqualification. Undertaker, bleeding from the forehead, struggles to sit up, then gets hit by another chair shot. Taker sits up once more, causing his opponents to flee.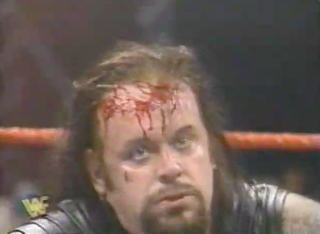 Vince narrates a close-up of the dented chair, noting that those chair shots, unlike the one at Summerslam, were intentional.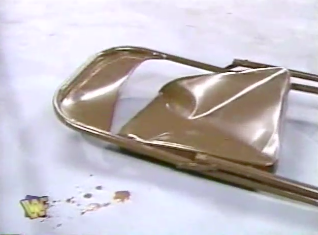 At Ground Zero, he says, "there will be hell to pay". Hell and $29.95, as it is the first full-priced, three-hour In Your House. Although no one mentions it, this is the last Raw before the pay-per-view, as US Open tennis will pre-empt it for the next two weeks on USA. In its place will be two special editions of Friday Night's Main Event, which will air from 11 PM to 1 AM. Why bother changing nights at all if tennis is still going to push it out of a decent time slot? I suppose this way, WCW can't say they beat Monday Night Raw in the ratings yet again.
Final Tally:
8 Maneuvers (Year total: 106)