Note from Art: Way back in 2012, before I'd written word one on WrestleCrap, I started a blog called How Much Does This Guy Weigh? where, among other things, I reviewed every episode of Monday Night Raw from the beginning. It's been nearly six years, but I'm happy to say that the reviews are back and will appear right here on WrestleCrap every other Sunday (at least). Whenever possible, I use copies of the original airing, rather than the edited versions of Raw on the WWE Network and Peacock. I will, however, include a Peacock link to the featured episode. You won't find any match ratings here, but you will find a running count of the number of times Vince McMahon says, "Maneuver".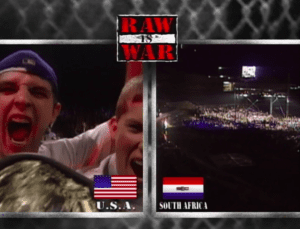 Tonight's Raw is simulcast from the USA and South Africa. Since there's a seven hour time difference between Muncie, Indiana and Johannesburg, that means the South African card is taking place at 3 am local time. Either that or it was *gasp* taped in advance. I'd guess at least three years in advance, as the WWF is using the old apartheid-era flag on their graphics. Further contributing to the time warp theme of this episode is a promo by Bret Hart from Kuwait, which is eight hours ahead of Muncie. Vince and Jim Cornette are commentating the American portion of Raw is War, while in South Africa, announcers Jim Ross and the Honky Tonky Man have what Cornette calls "a whore of their own". I think he means "war".
The Legion of Doom take on the Godwinns in the opener after the hillbillies accidentally slopped the Road Warriors. Henry demonstrably tips over his empty slop bucket before entering the ring. Cornette nervously shoos away Henry for fear of being slopped because he was obviously not paying attention to his monitor. Early on, Hawk no-sells a Phineas Godwinn piledriver before both men tag out, but shortly thereafter tag back in. Phineas spits in the air, catches it, and slicks his hair back with it, so Hawk spits in the air, catches it in, and slaps Phineas. Henry tags in and Hawk charges at him in the corner, missing by a mile and smashes his shoulder into the post.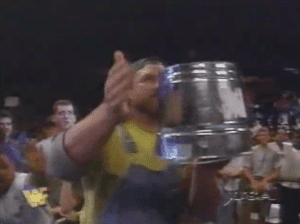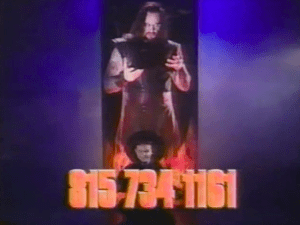 The Toddster tries to sell us a full-sized banner of the Undertaker, warning us that it will be a grave mistake not to order it. Hillbilly Phineas scientifically works over Hawk's arm before Bulldog and Owen come to ringside. Bulldog lands a cheap shot on Animal with the belt, allowing Henry to pick up the victory.
Over in South Africa, Honky Tonk Man is still bitter over Jesse Jammes's rejection of Honky's offer and destruction of his guitar. HTM will reveal his new protege this Sunday at In Your House. Hunter Hearst Helmsley comes to the ring with Chyna to take on his future DX brother (or "brethren", as Michael Cole would probably call him). Honky says he can't wait to get back to the States, and of course Double J can't wait to be alone with his baby tonight, if you haven't heard.
The announcers in the US start some banter with the ones in South Africa, during which time Honky accuses Vince McMahon of being from New Jersey, not Connecticut. In fact, he's from North Carolina, a fact he will seldom bring up. And amid all of this, there's a match going on. Hunter curtsies leading into the commercial.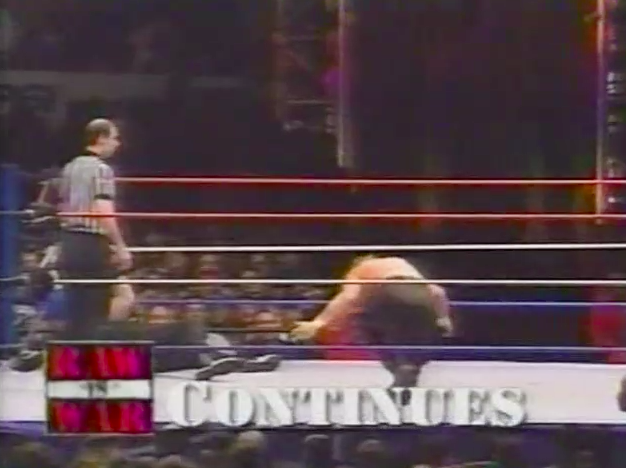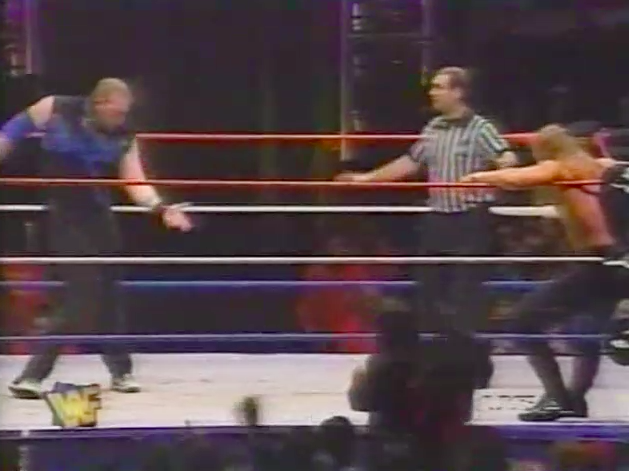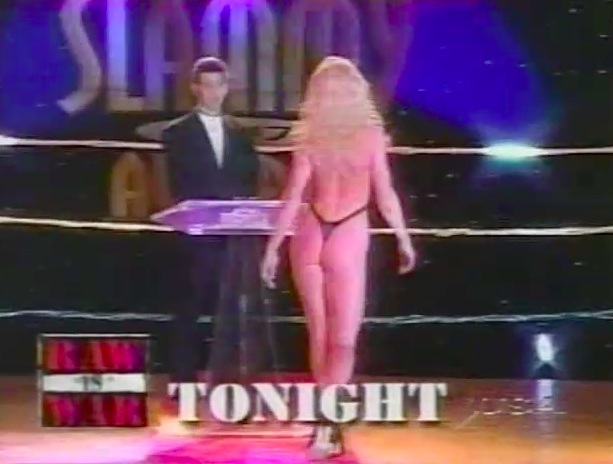 As if the three locations for tonight's episode weren't confusing enough already, Jim Ross rattles off a list of upcoming events in other cities, including two weeks from tonight in Omaha, where Raw will be War. That's right; they're still treating the phrase, "Raw is War" as a statement, not the title of their show.
In South Africa, Jim Ross and Honky Tonk Man argue about the merits of monkey burgers, while Jim Cornette chimes in across the Atlantic to recycle that Groucho Marx joke about shooting an elephant in his pajamas. What a great use of satellite technology.
Jesse Jammes pops his collar and dances before delivering a clothesline; JR thinks he's being cheeky and imitating Honky Tonk Man instead of, you know, Elvis. Honky gets out of his chair and trips and punches Jammes, allowing Helmsley to win with the Pedigree. The Real Double J challenges Honky to shake, rattle, and roll his butt into the ring; Honky Tonk Man ultimately backs down, declining to shake his butt or whatever Jesse told him to do. Up next, the most glamorous lady Sable gets raw, says Vince.
Earlier today, dancers in traditional costumes greeted WWF Superstars including IC Champion Rocky Maivia, whom JR calls the Tiger Woods of the WWF. Is it because he's multiracial? Rocky faces Savio Vega in a non-title match. For some reason, they will wrestle again in six days on pay-per-view for the title.
Ahmed Johnson cuts an inset promo, prompting Jim Cornette to recommend Hooked on Ebonics. Johnson will face Crush in what Jim Ross promises will not be a "love fest". In face, there will be a 2×4 involved, so I really do hope it won't be a love fest.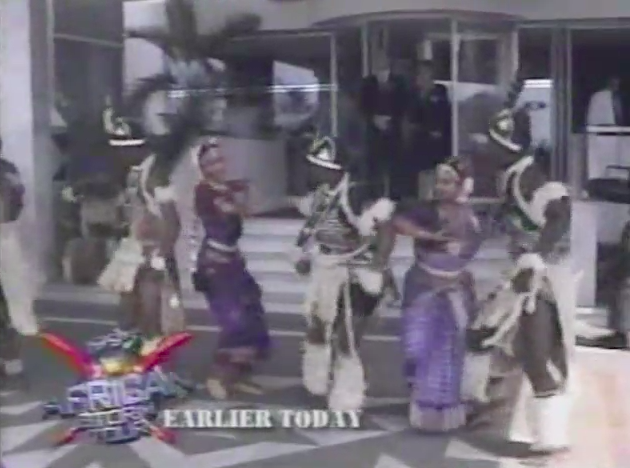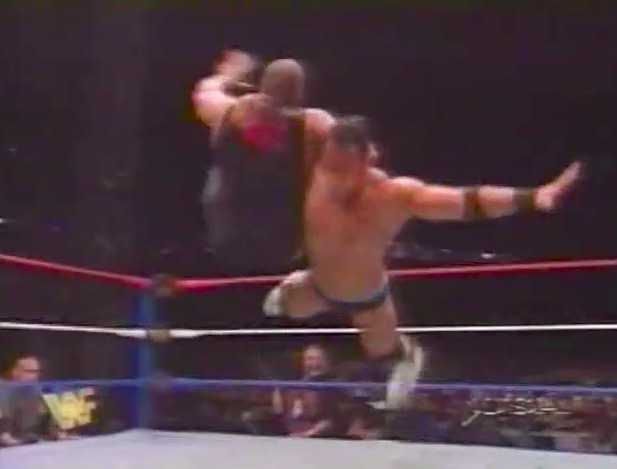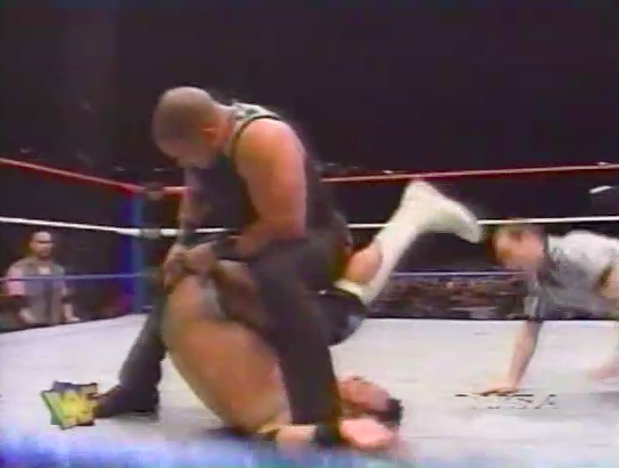 Savio Vega, says Ross, is tougher than shoe leather, perhaps of the bowling variety. Honky Tonk Man thinks Savio will deflate Rocky's big fat ego this Sunday. He won't, but a surgeon will deflate Rocky's big fat pectorals in late 1998. Savio applies a Kwang-like nerve hold to Maivia, whom WWF Magazine speculates could have a "sophomore jinx" in 1997. Does everyone chanting that you suck count as a sophomore jinx?
Jim Ross promotes the WWF Hotline, teasing a story about a WWF superstar being detained in Kuwait. He's referring to Vader, who is set to wrestle "tonight" in South Africa alongside Mankind against the Headbangers. The Rock hits Savio with the yet-unnamed Rock Bottom, which Vega kicks out of. It's not his finishing move yet, you see. Rocky hits a flying cross body and signals for his finisher, the shoulder breaker, but Savio wriggles free and pins Maivia with an O'Connor Roll and a handful of tights.
Faarooq, who is in a sling, whips Rocky with a strap before Ahmed Johnson clears the ring with his 2×4. Sunny is supposed to be on later in the show, but appears to be only footage from last month's Slammy Awards.
The theme music and intro video play again, and more pyro goes off as Vince welcomes us to Raw is War… again. Over in Johannesburg, the announcers are very chilly. Steve Austin, who is replacing Sid at In Your House against Bret Hart, comes to the ring to be interviewed by Vince. The repeated censorship of the word, "ass" betrays the pre-taped nature of this interview and this episode.
In the audience, a fan holds up a disaster of a sign reading "Stone 3:16 Loves Brett". Who is Stone? Does he mean Stone Cold, or is that the fan's name? Why is the T in Stone capitalized? Why is "Loves" in such small letters? Why does Bret have two t's? Why is the S in Stone drawn like that? Okay, that last one's easy – because it's the 90s, and that S is super cool.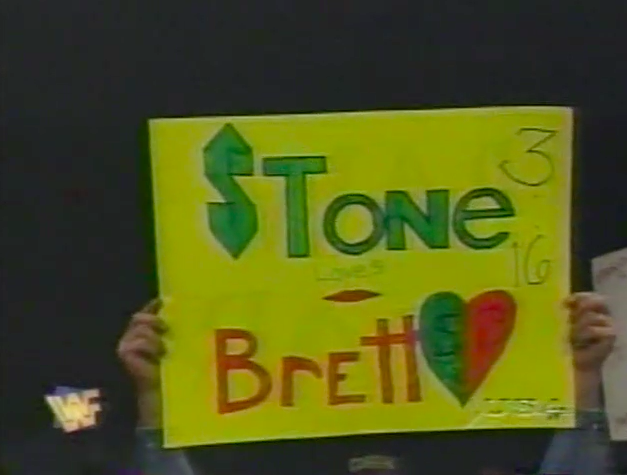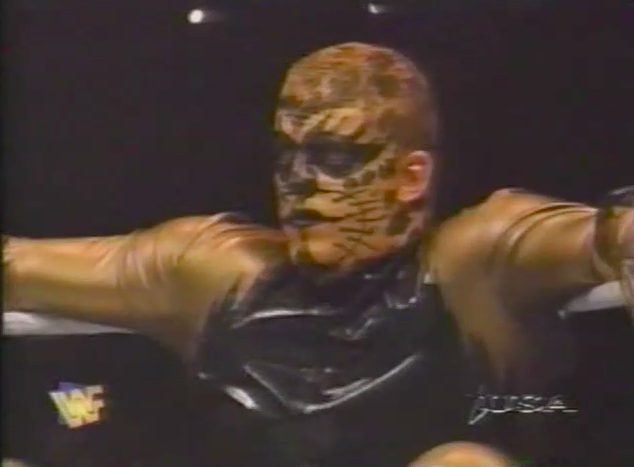 In South Africa, Goldust is painted up like a cat. "Gentlemen, I'm not so certain that that E. boli virus isn't running rampant down there. He must mean ebola. Or E. Coli. Vince nearly retches after Goldust rakes off his wig and reveals leopard-spotted hair.
Goldust takes on the Sultan in a pre-taped match with bad production values, so to keep viewers hooked, Marlena is promised for later tonight. Since the announcers have already made it clear that she is at home recuperating from injured ribs, we can conclude that it's just going to be recycled footage.
Goldust is on the offensive as Raw returns from break, hitting Sultan with a series of punches and a kiss on the lips. The Sultan will top Goldust in the psychological tactics years later via the Stinkface. For now, Sultan hits a vicious piledriver that Goldust takes without even cushioning the blow with his hands.
Jim Ross promotes Sunday Night Heat – that is, Pacific blue, Silk Stalkings, and The Big Easy on the USA Network. Helmsley and Chyna run into the ring to rough up Goldust, drawing a disqualification. They then team up with the Sultan to deliver a spike piledriver to the Bizarre One.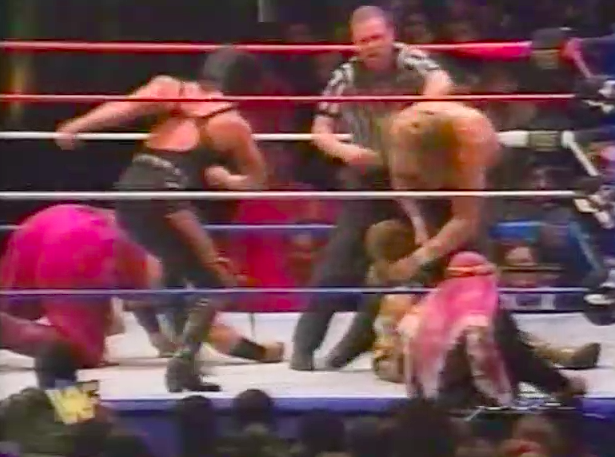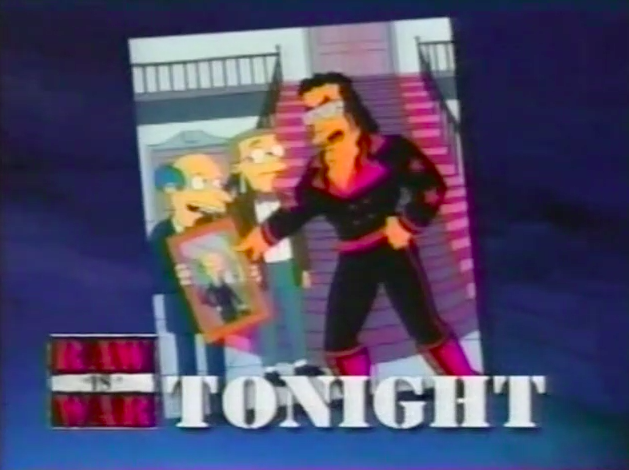 Bret Hart cuts a montage of promos in Kuwait lambasting Steve Austin and the American fans and drawing cheers for it. Not only have the American fans turned on Bret, but Shawn Michaels, "this little [expletive]", has been telling lies about him. I think he said, "fruit", but it's been censored, perhaps to suggest he said, "f*g".
The Headbangers, who won their guaranteed title shot a few weeks ago, but by disqualification, take off their piercings in preparation for their match against Mankind and Vader. A replay shows Mankind and Vader brawling at the end of last week's Raw, which Cornette blames on an "inadvertent maneuver".
Vince himself has been all quiet on the maneuver front, but he does promise footage of the Funkettes getting "funky at the Slammys" – plus, La Femme Nikita!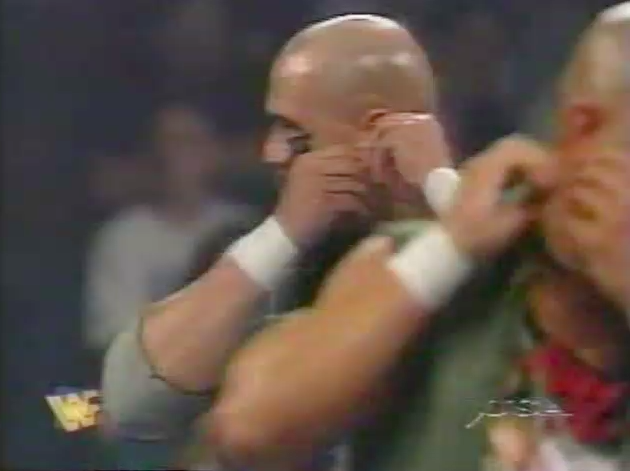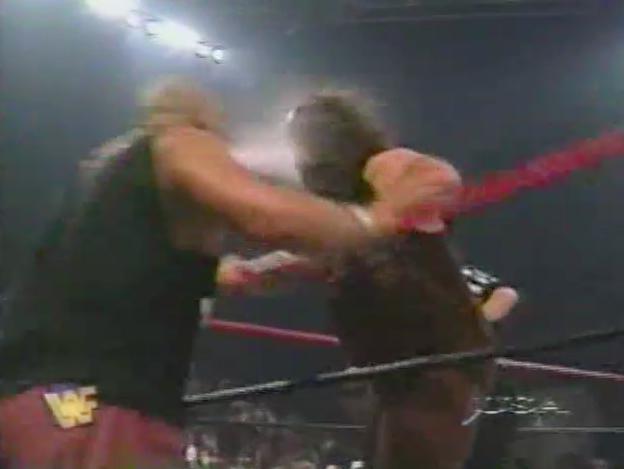 The action in the tag match spills to the outside as Mankind brawls with both Headbangers, with Vader trailing behind to deliver an avalanche to the Bangers. The action then spills back into the ring, or whatever the opposite of "spills" is.
The announcers and I largely ignore the in-ring action until one of the Headbangers spits something (water?) into Mankind's eyes, causing a DQ for the Headbangers and a "visual impairment" for Mankind. Blinded, Mankind applies the mandible claw to Vader by mistake. Mankind must be wondering right about now why Thrasher is wearing a mask.
In South Africa, the lights flicker and The Undertaker cuts a disembodied promo on Mankind (who is currently on a different continent and not watching Raw on a monitor) via the PA.
Vince tells us about the spread of Sable, the very "glamorous lady", in Raw magazine, which he uses as an excuse to fill up time and show footage of the Slammy swimsuit competition. Sexy sax music plays over top clips of Sable, Sunny, Marlena, and the Funkettes.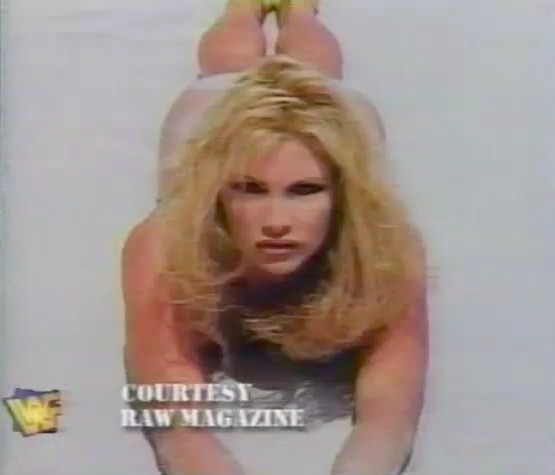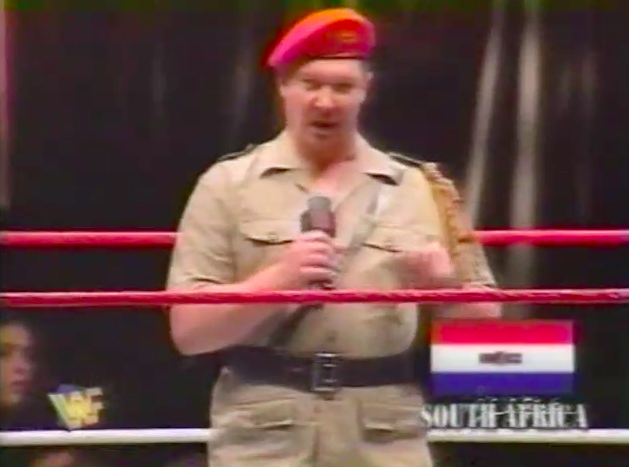 In South Africa, The Commandant cuts another boring promo about his still-unseen Truth Commission. Hey, buddy, the era of apartheid is over (despite what the flag in the corner of the screen suggests).
Ahmed Johnson faces Crush, who comes to the ring with D'Lo Brown and Faarooq. "This is not going to be a technical masterpiece", says Jim Ross. Hey, do you think Ross is trying to earn a spot in the Truth Commission as Captain Obvious? Ahmed pump-kicks Crush over the top rope, but when it's Ahmed's turn to tumble to the outside, he gets hammered by D'Lo.
Crush delivers three leg drops, each time lifting his leg up with his hand for added height. Ahmed kicks out, but Savio strolls down to the ring. Will Vega interfere? Will Crush continue the punishment? Will Ahmed pick out his wedgie? Find out after Raw's last commercial break.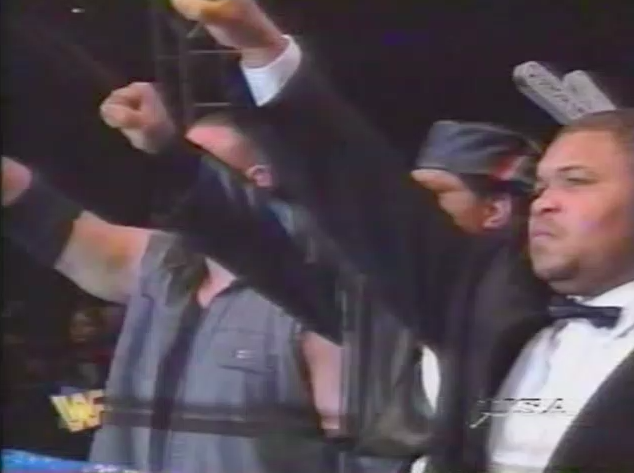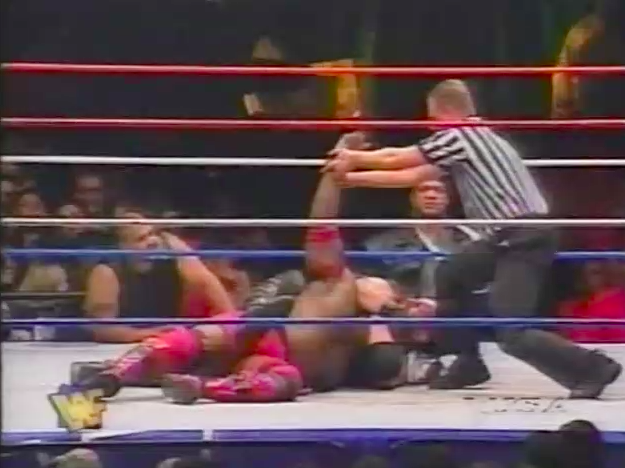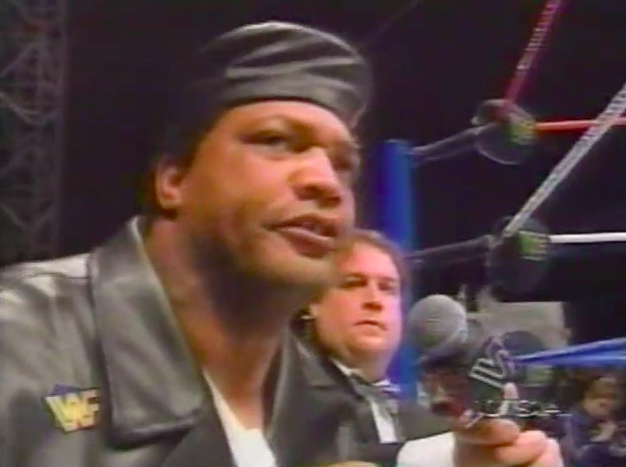 Crush uses the same maneuver (in Jim Ross's words) that Savio did to Rocky Maivia, a claw hold to the trapezius. Honky Tonk Man can't tell Rocky Maivia from father Rocky Johnson because, he says, they look so much alike. They really don't. Unable to distinguish two Black guys, it's no wonder he's called, "Honky".
Crush tries to put us – I mean Ahmed Johnson – asleep with a chinlock, during which time he sneaks in a belt to choke the life out of Ahmed. The referee tests to see if Ahmed is unconscious, because if he is, the match needs to be stopped immediately to prevent permanent brain damage. And yet he takes his sweet time doing the three drops of the arm, which Ahmed survives at the very last moment. Such were the days before MMA was popular and everyone knew what a real fight looked like. Ahmed wins with a schoolboy.
Faarooq gets on the mic and issues a challenge on Ahmed's "charcoal butt", offering to disband the Nation of Domination if Ahmed can kick the "butts" of Savio Vega, Crush, and Faarooq in consecutive matches. In the US of A, as Vince has repeatedly called his country during this broadcast, he and Jim Cornette run down the card for this Sunday's In your House to close another stitched-together edition of Raw.
Final tally:
0 Maneuvers (Year total: 58)