I was reading this page on the Torch website about trading cards in WWF Magazine (see the rest of the cards here) when I saw this picture he put up on the site of some of the cards.
There's a lot of WrestleCrap gimmicks there, but what I want to focus on is that huge The Undertaker balloon and Funeral Coach.
If you went to a WWF house show in 1995, odds are you saw the balloon, or the Funeral Coach, or both outside the arena.
I wonder if the balloon is still in the WWE warehouse somewhere?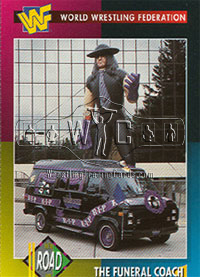 You can view the cards on the Wrestling Trading Card website.