From Sunny's eBay description: "Due to popular demand, I have wrapped Hershey brand chocolate bars with my image!! This is a great collectors item, as well as a delicious one!"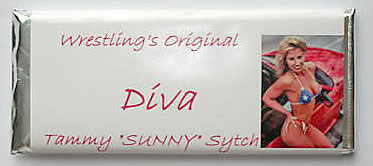 Brilliant idea, Ms.Sytch!! After a decade of making her male fans wonk their willies, "due to popular demand," she's embarked on a new side-venture of being a Willy Wonka-wannabe by hawking chocolate online. She even ripped off Wonka's Golden Ticket scheme – "One in every 5 bars contains a ticket for a FREE 8 x 10 photo."
A free 8×10 photo? That's it? Bah, I want to win a Sunny Golden Ticket, so I can gain access to the factory where she makes all her candy. Heck, it's almost Easter, my favorite candy season. I'd love to go behind the scenes as she readies her batch of marshmallow peeps, and most importantly, my favorite holiday treat – the Cadbury Egg.
Why, I can just picture Tammy hard at work right now, whipping up the yolks to go inside that delicious chocolate egg…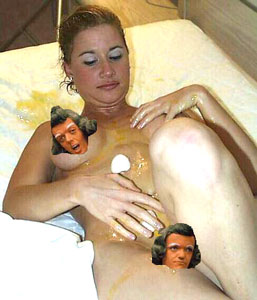 Oompa-Loompa-Salmonella!!!!