It's a talking referee figure. I'll just let the company that made it describe it…
Three Counting and Talking Referee Action Figure by Figures Toy Company. Squeeze his legs together and he will throw his arm up and say five different sayings! This goes great with your other wrestling action figures and accessories. Takes 3 LR44 watch batteries (included). Figure measures 7 inches tall and comes in clamshell packaging. A WrestlingSuperstore.com exclusive!

Here are the five sayings that the referee says when you squeeze his legs together:

"Get rid of the foreign object! 1, 2, 3, 4"

"Hey, get back in the ring! 1, 2, 3, 4"

"1, 2, 3! (bell rings) And the winner is!)

"Alright, that's it, you're disqualified! (bell rings)"

"Alright now, break the hold, he's on the ropes! Come on, break it!"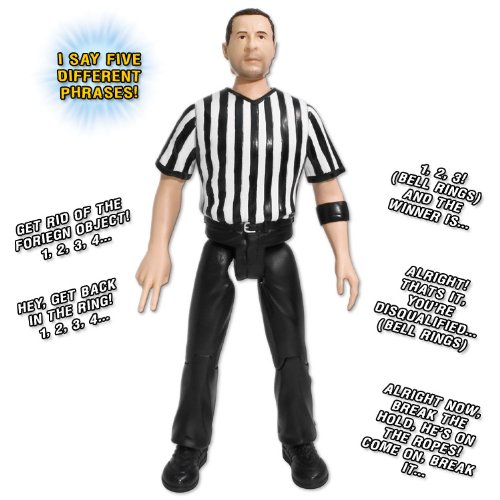 I don't know why, but those phrases crack me up! They're all fine, but it just seems weird hearing a referee say them loud enough for an audience to hear them.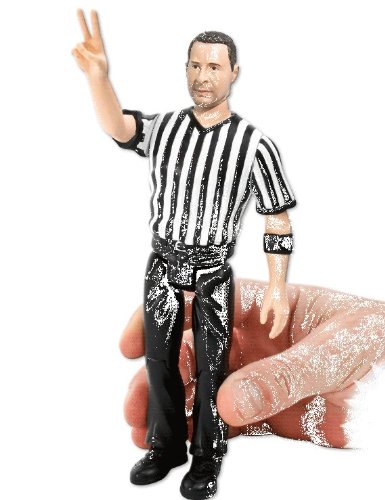 You can get the referee figure on Amazon or directly from The Wrestling Superstore.
I would have loved to have had this when I was a kid!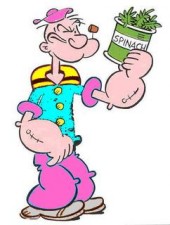 "Ooo! I can make him talk by givingsk him a gentle little squeeze? UG-GUG-GUG-GUG!"
GET OUTTA HERE, GAY POPEYE!