My Partner In Crap Art0Donnell submitted this and writes:
Art0Donnell here again!

Here's a series of items in WWE's new Superfan Showdown Facebook app: pictures of autographs. Well, not just pictures, but moving pictures! For only $3 a pop! Yes, in order to advance in WWE's new app, one must buy fictitious merchandise such as virtual autographs, foreign objects, and championship belts with "WWE Cash" (at an exchange rate of $1 per 10 WWE Cash).

To paraphrase The Simpsons, it's money that's made just for WWE's Facebook app. It works just like regular money, but it's, uh, fun.

All the doo-dads you buy with your credit card are yours to keep (and by "keep," I mean, "look at in the app and only in the app").

The app is found here.
I did a write-up of it here.

Attached is a Sin Cara autograph that, fortunately, can be purchased with "WWE coins" (which are earned in-game and not bought with real money).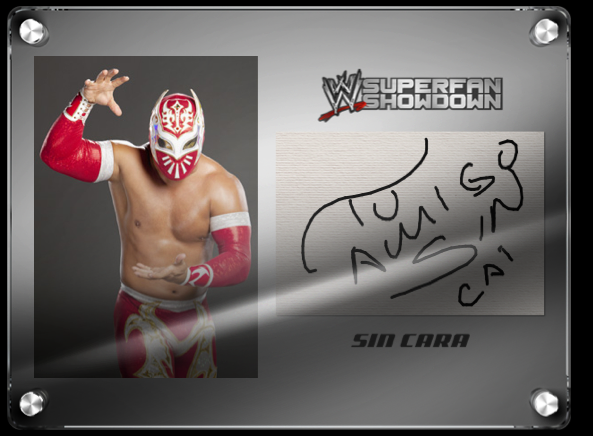 I'll never understand why anyone would spend real money on virtual "prizes" that will go away the instant the WWE shuts this App down in a few years.
Anyway, thanks for the submission, Art!