All right! It's an action figure of Skinner!
I just love that someone at WWE and someone at Hasbro came together and collectively decided that "Yes! We need to make an action figure of Steve Kern as swamp-dwelling Skinner! The kids will love it!".
In case you're wondering, the "Gator Breaker" move they so proudly advertise on the package is where you lift up his spring-loaded arm and it comes down hard, smacking the other figure on the head, sending it crashing to the mat (or your bedroom floor if you don't have the Official WWF Hasbro Ring).
It's truly an innovative and intense technical manoeuvre that won Skinner plenty of matches throughout his storied career.
Or perhaps not…
At least he does come with non-removable hat as illustrated.
But the best thing about Skinner and his figure is that he reminds me of Torgo from the horror classic "Manos: The Hands Of Fate".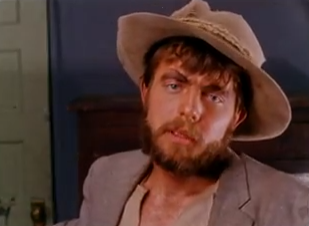 The resemblance is uncanny!