"Ah! A lovely cheese pizza, just for me". -Kevin McCallister in "Home Alone".
This is a WWE Pizza Print. It's an edible decoration that you put on top of your pizza after it's cooked and sliced.
Here's the thing…
I like WWE (most of the time).
I like pizza (nearly all of the time!)
I just don't think I want those two things combined.
Something about putting The Undertaker in my mouth makes me lose my appetite…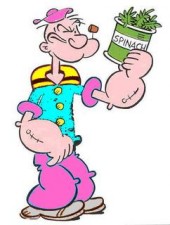 "Well, actually Paul, that doesn't sound too bad to ol' Popeye… UG-GUG-GUG!"
Oh shush, you! GET OUTTA HERE, POPEYE!
Anyway, I'm sure this is a big hit at kids' birthday parties and I'd have loved this idea when I was 7.