Someone on the WrestlingFigs forum posted a bunch of 12-inch bootleg wrestling figures including this Not Iron Sheik one.
He looks more like Bald Bull from Mike Tyson's Punch-Out…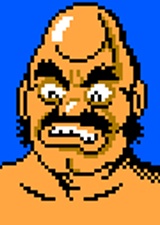 …which only makes me want it that much more.
I bet Nintendo John has one of these bad boys up on his shelf right next to his Punch-Out trophies!