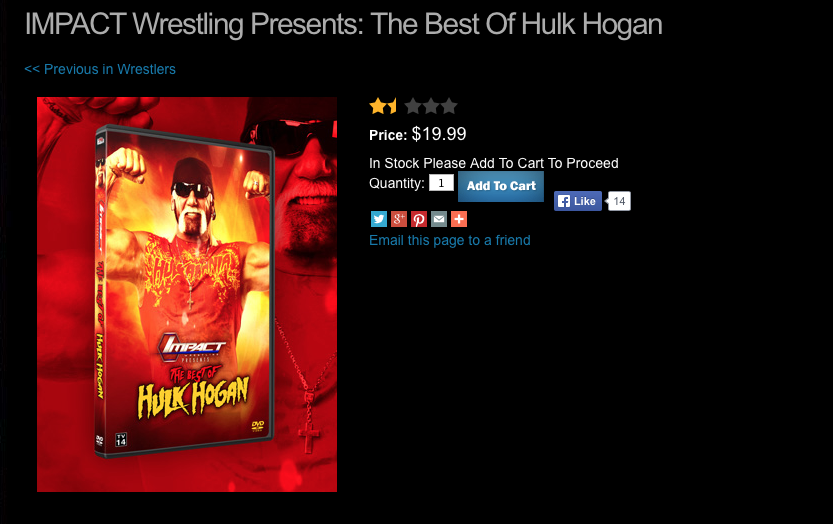 There's now a TNA Best Of Hulk Hogan DVD…  
Yes, really.
Here's what's on it straight from the Dixie's mouth:
IMPACT WRESTLING PRESENTS:
THE BEST OF HULK HOGAN

"The Immortal" Hulk Hogan is known around the world as one of the biggest names in the history of pro wrestling! Hogan made history in 2009 when he joined TNA Wrestling and unleashed Hulkamania! On this special DVD, you'll witness the best of "The Immortal" Hulk Hogan in TNA and IMPACT Wrestling, including his epic arrival, matches against "The Nature Boy" Ric Flair and "The Icon" Sting, the formation of his Immortal Alliance, never-before-seen footage, an exclusive bonus match and much more!

– Hulk Hogan arrives: The Historic Press Conference
– Hulk Hogan's debut on IMPACT Wrestling
– Hulk Hogan and Abyss vs. Ric Flair and AJ Styles
– Lockdown Steel Cage Match: Team Hogan vs. Team Flair
– Hulkamania runs wild at Wembley Arena in London
– Hulk Hogan forms the "Immortal" Alliance
– Hulk Hogan brawls with Bully Ray / Aces & 8s
– Hulk Hogan vs. "The Icon" Sting at Bound For Glory 2011
– Bonus Match (Never Televised): Hulk Hogan, Sting and James Storm vs. Kurt Angle, Bobby Roode and Bully Ray
– Plus, an interview with Hulk Hogan, Before The Bell: Sting vs. Hogan and more Bonus Material
So you get three matches (only two of which aired on TV) and a bunch of filler and interviews for $19.99 (plus shipping and handling).
What a great value!
Also, you may know that Hulk left TNA some time ago for the greener pastures of WWE.
What was the last image of Hulk we saw in TNA?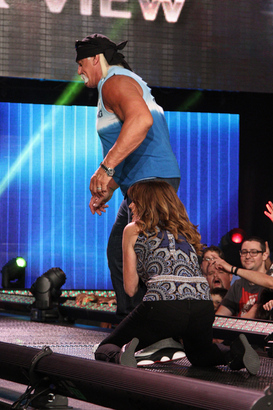 Yup.
Great timing, TNA- way to promote your own talent!
Anyway, if you want to re-live the colossal failure that was Hulk Hogan's TNA run, then this is the DVD for you!