Blade: I'm sure that most Crappers have at one time in their life owned a wrestling action figure. But what's a fan to do if Jakks decides to never make one of your favorite wrestler? Well, then it's time to break out the clay and paint and customize one. For instance, RD has a custom-made Gooker figure on his shelf, matched by my wonderful Black Scorpion from Starrcade '90 I have sitting on my desk.
Much like RD and I made our dreams come true by having the Scorpy and the Gooker come to life, some guy on eBay decided to erect his ultimate WWE fantasy figure.
Yes, I said erect.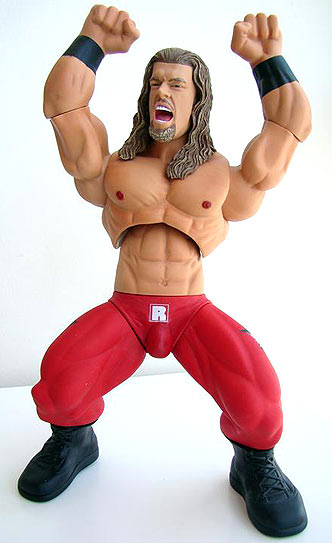 Apparently, this eBay user was so dissatisfied by Jakks' somewhat limp version of Edge, he decided to attach a custom Secretariat-sized cock and balls to Adam Copeland's crotch.