Ok, as a Disney Geek (listen to this week's WrestleCrap Radio for more on that), I have to say this is incredibly cool.
From the eBay description: "This is a World Championship Wrestling "crew" shirt. It was issued to members of the production staff during matches that were televised from the Disney/MGM studios in Florida.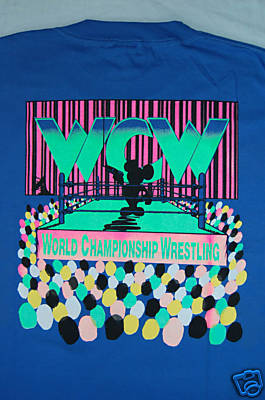 The shirt is approx. 10 years old, and has never been worn. The size is an XL, and it is 100% (pre-shrunk cotton). If it matters to anyone, the shirt is made by Murina, USA. The logo on the front says "WCW" in the familiar "mouse ears" graphic, and it says "Disney Crew" underneath that. On the back of the shirt, there's a silhouette of Mickey Mouse as the ringmaster, and the banner on the stage reads…"World Championship Wrestling".
Oh, and whatever you do kids – do NOT bid on this. That high bidder, WrestleCrap? That's your old buddy and your old pal!