Apparently Sean "1-2-3 Kid/Syxx/X-Pac' Waltman has released a combination D-Generation X/New World Order" shirt!
This is the ultimate shirt for the indecisive, wishy-washy wrestling fan who can't decide who he wants to pledge his allegiance to!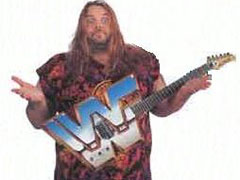 Yeah! Just like you, dude! P.S- Sorry you weren't picked as the third NWO member… I know you had your heart set on that.