Crapper Barry Wilson writes:
Well, I'm presuming someone bought this. How about a TNA Impact jigsaw featuring everyone's favourite TNA wrestler, John Cena!
I just love it when bootleggers get sloppy.
But wait! There's more!
Thanks to Crapper Paul Rudoff at Spook Central: The Ghostbusters Companion we have more pictures of the bootleg TNA puzzle to look at!
Paul writes:
I was at the mall the other day and there was a store that, well, I'm not really sure how to describe it. I think the name of the store was "Souvenirs". They sold a lot of New York City souvenirs (though the store/mall is on Long Island!), lots of MTA toy buses and subway cars, some I Love New York stuff, and a bunch of other assorted stuff that was either clearly bootleg or seemed a few years old and probably didn't sell well somewhere else.

On a shelf near the floor, I found two bootleg wrestling jigsaw puzzles for $4.99 each (plus tax). One used a SummerSlam promo image of Randy Orton vs. Rey Mysterio (I think) with Rey featured on the box. I don't really care for Orton, and $4.99 is a bit pricey for what is really a Dollar Store item. The other puzzle was definitely worth the $4.99 and then some!

It was a TNA Impact Wrestling puzzle with none other than the face of WWE, John Cena, featured on the box! Yeah, it's not official, but it's TNA merch with freakin' John Cena on it!!! I had to buy it just for that reason alone 🙂

My first thought when I saw the puzzle was, "how cool to have TNA merch with Cena on it". My second though was, "this would make a great Someone Bought This for Wrestlecrap" (like those bootleg WWE coloring books I submitted years ago).

Sadly, John's not on the puzzle itself. It's the smaller Impact promo image with Samoa Joe, Kurt Angle, Sting, and (in the top background) Booker T and AJ Styles. You'll notice that my puzzle is a tiny bit off-printed (unless they're all like that), leaving Joe with only one eye.

As I was looking at this thing, it dawned on me that everyone on the box has now wrestled for WWE, but Cena's the only one that hasn't been in TNA. Not like *that* would ever happen, but never say never – right?!?

If anyone's interested in owning this puzzle, the store is in Green Acres Mall in Valley Stream (behind the escalator on the first floor, opposite GameStop), and they have a few of these puzzles left. They're on a shelf by the floor – how appros for TNA 🙂 – in the back right behind the display that has the Buddah statue on it.

I knew that the Impact promo image used for this puzzle looked familiar. It's an early version of the TNA Impact video game cover art from 2008:

As I looked closer at the puzzle, it seems that the crowd image at the bottom is from a WWE PPV. The entrance ramp and stage looks like their high-quality production, and I see ladders at the bottom of the ramp, which they are wont to do. There seem to be "DX" glowsticks in the crowd, and I think that's CM Punk on the side of the ring. Whomever put this bootleg together did a convincing job with this image, as they matched the color pallette of the TNA image above it, which made me think it was all one original image.

I also couldn't tell in the puzzle that those were CGI Booker T and AJ Styles at the top.
Paul also found a WWE bootleg puzzle at the same place:
I went back to the mall today, and figured that I'd check out that *other* wrestling jigsaw puzzle. I was half right about the image. It's for a Summerslam 2007 WWE title match between Randy Orton and John Cena, with Rey Mysterio as the box cover model. A quick check online, and I found that the image was a fan wallpaper "stolen" for the puzzle.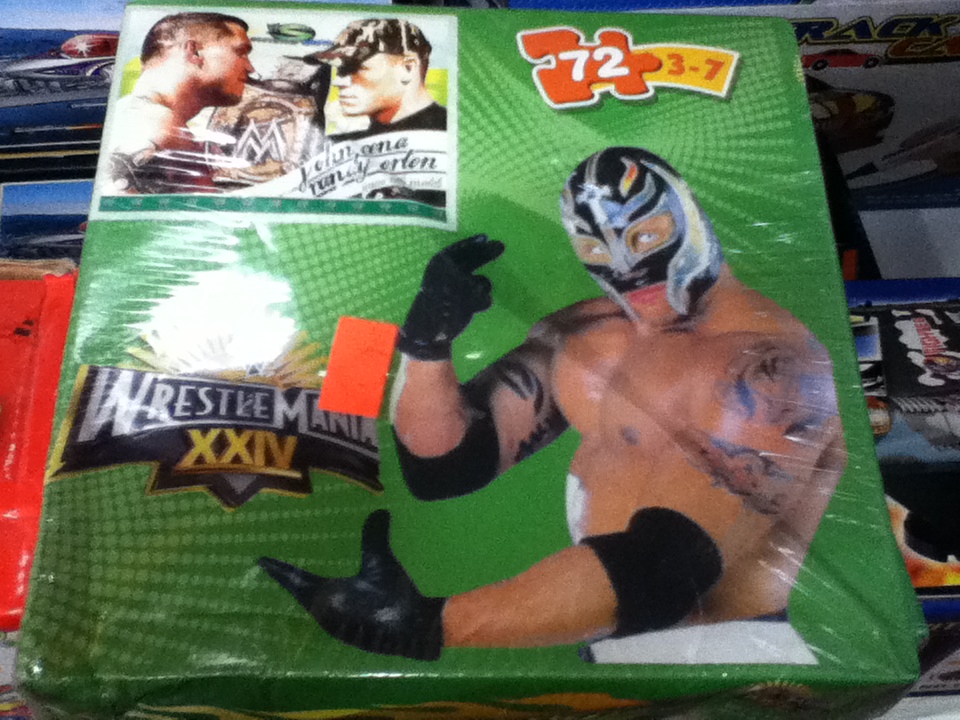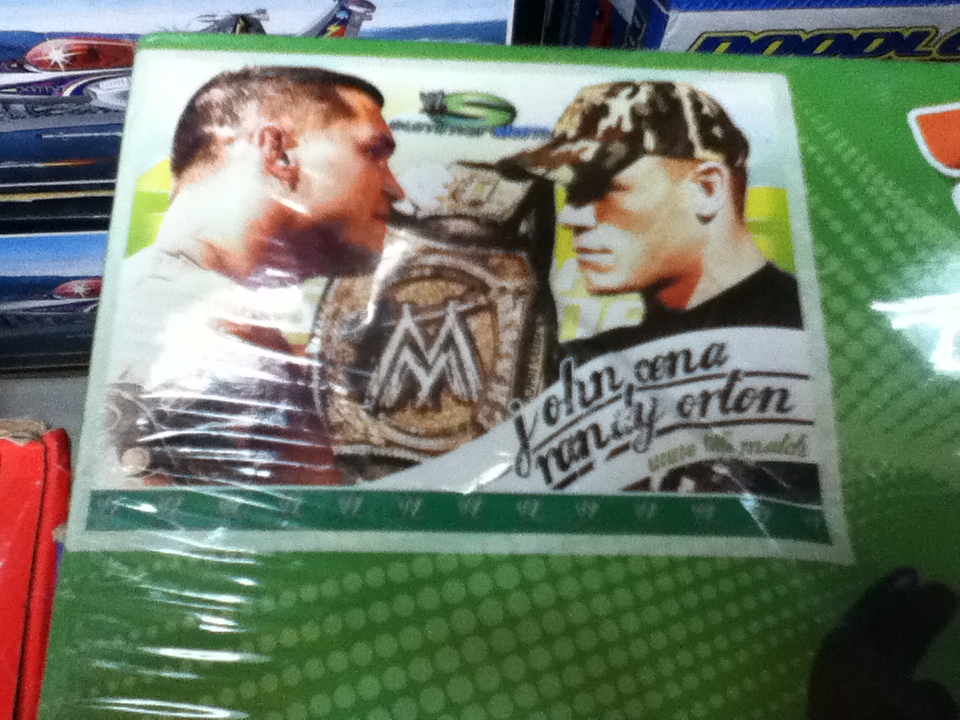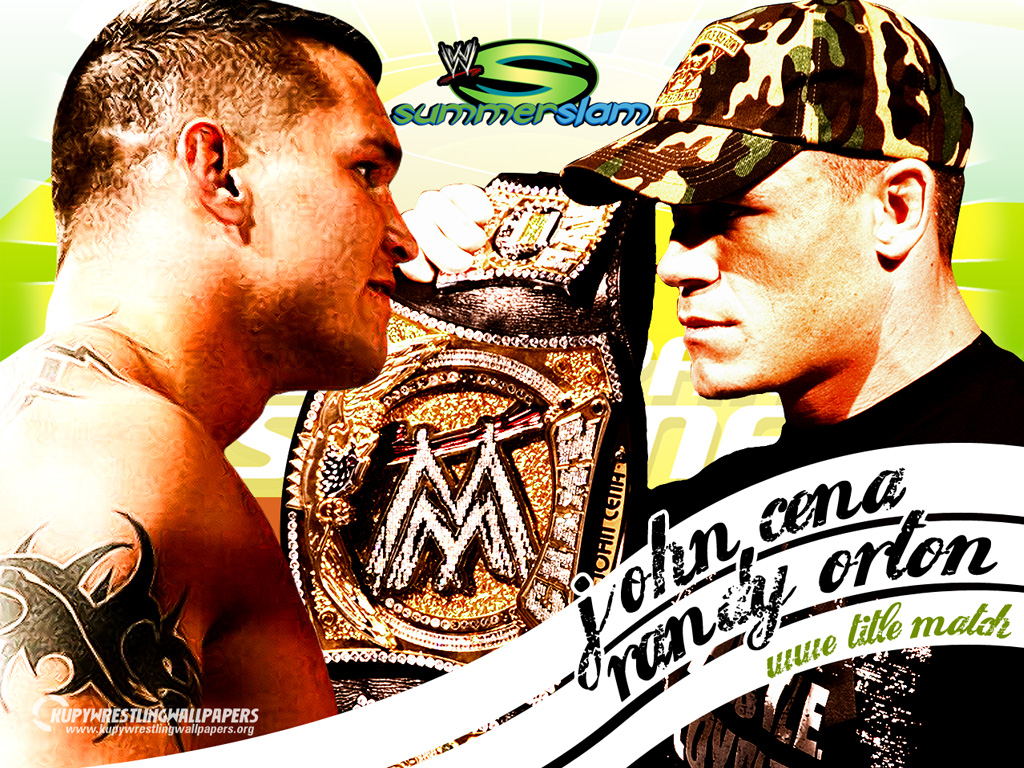 You'll notice that the puzzle image cuts off just above the wallpaper watermark in the lower left corner.
So, yeah, Orton AND Cena…that's a "no sell" for me 🙂
Oh, and the store's name is "The Depot: Toys * Gifts * Souvenirs". I want to make a comment on the generic nature of the name, but it's such a bland name, that I can't think of anything clever.
Thanks, Paul! You found some really weird puzzles! Be sure to check out Paul's Ghostbusters page for all your Ecto-Plasmic needs.
Now if you'll excuse me, I have a Slinky to go straighten.