We all know there's only one New World Order in wrestling.
Uh well, okay that isn't quite true, but when you think of the NWO logo, you think of this: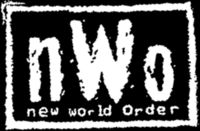 Not that lame logo up there.
You could buy this fake NWO shirt and… well, I don't know why you'd want to buy it (except to support WrestleCrap.com thru Amazon, of course!).
What a cheesy, stupid attempt to cash-in on the success of the real NWO.
Or maybe they just want to sell this to people who like conspiracy theories?