As the world's biggest Black Scorpion fan, you have no idea how much I geeked out when I read this email from a fellow Crapper…
Hey man,
I finally got around to taking a picture of the mask. Ron Thompson of Wrestling Wear Galore (www.wrestlingweargalore.com) actually made the mask in record time, after I told him I needed a Black Scorpion replica for "The Nature Boy" to sign at Signamania 3. The look that Flair gave me when I handed him the mask to sign was a mixture of surprise and disgust. "Really, man?" he asked, rolling his eyes. "You want me to sign this?" When I explained that I had the mask made especially for the event, he rolled his eyes and autographed it. His manager/PR person actually asked him if he still had his mask from the angle and he said he "threw the piece of shit in the trash as soon as the Starrcade was over."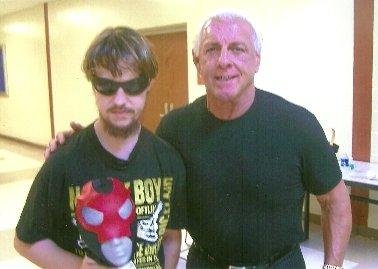 I'm actually going to try to get Ole Anderson to sign this mask at NWA Legends Fanfest in August.
Wish me luck! 😀
Fellow Fan of WrestleCrap Angles,
Rob Riemensnyder