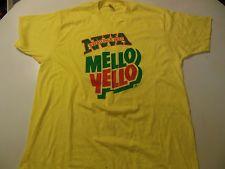 It's an NWA Mello Yello shirt in blindingly bright yellow!
This beautiful piece of apparel was released to promote the NWA Mello Yello cans which you'll remember from the commercial with Dusty Rhodes!
Now I want both a cold, refreshing Mello Yello and some old school NWA on my TV again.