Holy guacamole, there's a ton of wrestling this weekend. I am kinda blown away and I think y'all have to be as well – we're getting NXT Battleground, a big WWE main roster show in Saudi, and Double or Nothing from AEW, which has historically been one of their best shows of the year (and guessing BCC vs. Elite will more than make up for a pretty lackluster build for the main event four way). It truly is a golden era for wrestling, with great stuff for everyone. We should all appreciate this time in our lives, as it used to be far worse. For example…
QFB asks…"What if the 24/7 WWE title was active by the 90s, previous to the Attitude era? (1990-1997) Who do you think would have held the championship on more ocassions? Let's think of guys like Bastion Booger, Damien Demento, Kamala, The Berzerker, El Matador, Virgil, Jim Duggan, Doink, Waylon Mercy, Bushwhackers…"
See? Combining the worst of two eras I see, very clever! Although I do have to admit without that idiotic belt we would have never gotten Crash Holly defending his championship in a ball pit.
I'm not the only one that remembers that right? So yeah, that may not have been the worst idea. Couldn't have been worse than another Dino Bravo versus Hercules snoozefest.
Aaron M wants to know…"Who was a more valuable accessory brought to the ring, Mine or Rocco?"
I was going to theorize that the WWF likely sold at least one of those Mine dolls, while Rocco never generated the company any money but then I remembered you could construct a Rocco if you bought like five action figures containing his parts (!!!) a few years back. On the other hand, he basically killed the careers of the Road Warriors.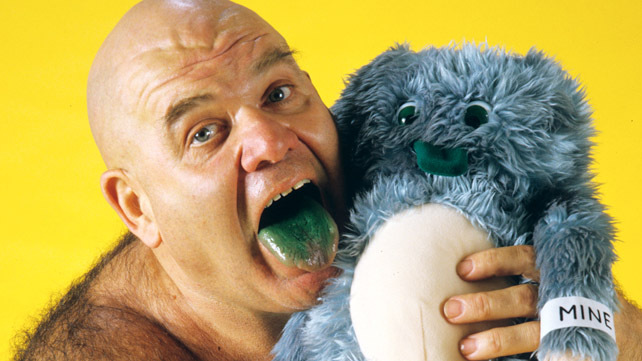 I guess this dumb thing wins by default.
Dustin N writes in…"If "Iron" Mike Sharpe was the world's loudest jobber, does that make Lex Luger the world's loudest main eventer? I've been watching a lot of Monday Nitro lately, and I had forgotten how Luger practically screamed on every move."
I've grown to absolutely love Luger over the past few years, and this is a great part of that. I have to believe these days he'd literally laugh at that as much as we do. The real question is…did Luger and Sharpe ever have a match together? MRS. DEAL! GET DAVE MELTZER ON THE LINE!
Arya W wants to know…"Do you watch Impact? Who are your favorites on the show?"
Yep, we now have a running gag of playing my favorite theme in the Mailbag. Who would ever stoop to such tactics on a website?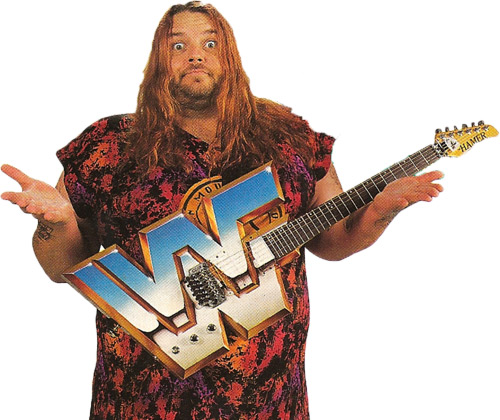 Yeah, I don't know either, dude.
Jim C ponders…"Better commentator, art Donovan or Mike adamle?"
I always felt kinda bad for Adamle, as he was essentially thrown into his job with zero training and exposed on a national stage. Would be like someone hiring me to start calling lacrosse games or something. I'd have no idea what I was talking about. And considering Art only lasted one show – one that still makes me laugh to this day, mind you – I'm going with him.
Mike M asks…"If they made a sequel to No Holds Barred, what do you think it should be about?"
A mysterious network executive attempts to tear apart the Thomas family by convincing Randy that Rip has been holding him back his whole life and that he, not Rip, should be WWF champion. Thanksgiving dinner is ruined and the only way to settle the issue is to bring back BATTLE OF THE TOUGH GUYS. Midway through the film, we learn the network executive is actually the illegitimate nephew of Mr. Brell, whose ghost has told him he needs to finish what he started: the utter destruction of Rip. Joan Severance makes a cameo and reveals she had bastard triplets after Rip left her at the altar. Kleenex is sold at the concession stand as the theater business has a new renaissance.
I can't top that one, so I'll see y'all on my old man social for running commentary for the Double or Nothing show. And keep sending in those questions rightchere!