Joey, you like movies about Gladiators?
Joey, would you like a Jobber of The Week column about a Gladiator?
Good, because today we're going to look back at perhaps the greatest technical enhancement wrestler to hail from Parts Unknown. In the late 80's to early 90's, the Gladiator was a mainstay on all the WWF telecasts. Yeah, his short and stocky physique may not resemble that of Russell Crowe, but the infamous grappler always put in a respectable performance in his numerous losing efforts. Possessing an impressive amateur wrestling style reminiscent of Kurt Angle, surely the Gladiator had to have won at least ONE match while in the WWF.
(Note from RD: He never won a match. And don't call any of the Crappers Shirley!!)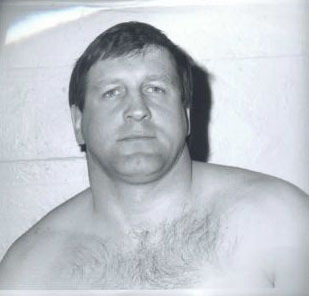 OK, so the Gladiator never won a match in the late 80's/early 90's. But there was a time when things were a bit more serious, and his won/loss record didn't resemble that of an athlete whose pre-show meal was a poisonous fish dinner. Ricky Hunter, the man behind the mask, was a longtime veteran who started his wrestling career in the early 60's. Wrestling as himself, and also under the hood as the Gladiator, he actually won numerous championships in his early career, such as the Florida Tag Team championship, and also the Georgia TV and Tag Team belts. Like a lot of his contemporaries of the time, guys like Rene Goulet, Tony Garea, and Omar Atlas, when the flashy WWF Rock 'N Wrestling Connection era came around in 1984, it pretty much signaled the end of their winning years, and became full-time enhancement talent guys. The always underrated Rick left the sport in the early '90's, retiring to his home in Clearwater, Florida.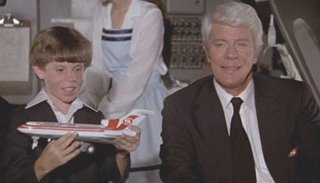 Say Joey, you ever seen a grown man naked?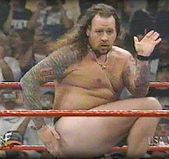 Damn, do I love the movie Airplane!!!!