With the Halloween season right around the corner, what a more perfect time to look back at one of the more devilish masked jobbers of all-time. Decked out in all red, this obviously Satan-spawned grappler looked to make it Devil's Night 365 days a year. He would soon realize the only thing that was going to hell, was his win – loss record.
The mid-to-late 80's WWF saw a lot of masked buffoons. Tons of executioners, assassins, and gladiators, but this guy was different. He was no mere man – he was a DEMON. You always hear wrestlers talking about "personal demons," well, here was a demon – live and in your face. Thankfully for those superstars who were "flying high" behind the scenes, this real-life demon would prove the easiest to defeat.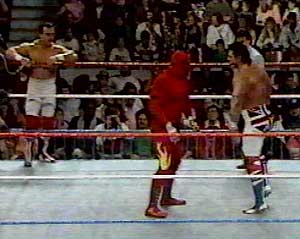 With flames on the side of his trunks, it reeked of irony that the Red Demon's flame was easily put out. After a series of ass-kickings in 1988, the man behind the mask – enhancement talent extraordinaire, Jose Luis Rivera – quickly put the Demon suit in mothballs, and became Conquistador #1 for the remainder of his WWF tenure.
It must be noted that Jose was not the only Red Demon in the late-80's WWF. In 1986, it was Bob Bradley who donned the crimson mask, for an extended stint as the hellraising jobber from Parts Unknown. Bradley, as you well know, went on to more masked fun, as he later became this infamous piece of Wrestlecrap – Battlekat…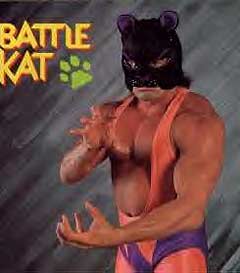 I truly think the real "red demon" – SATAN – is responsible for unleashing that upon the wrestling world.