TNA normally isn't one to actually reflect what's going on in the world today, but sometimes real life problems actually do come to this organization. Back in early 2006, Konnan got fed up with the way the Latino Nation has been treated in the news and in the United States in general. So, he recruited Apolo, Homicide and Machete and started LAX. TNA, leery of this new batch of spicy heels, decided they needed to export these 3 back to Mexico. Enter La Migra.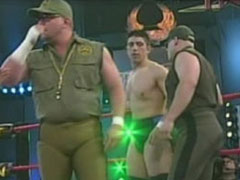 La Migra was made up of Donovan Morgan, Michael Modest and Ryan Drago. Just by looking at them, they look like State Patrol in green outfits. Ryan Drago looked
like his uniform didn't come back from the cleaners in time for the match. Mike Tenay eloquently pointed out that La Migra translates to Immigration or Border
Patrol. TNA hoped that these 3 outstanding U.S. citizens would defeat the menace that was LAX and send them back to Mexico. Their luck started out fine as Apolo no-showed the Against All Odds PPV and was promptly axed from the company and Konnan had to take their place.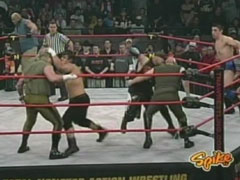 Unfortunately for them, they were like the actual U.S. Border Patrol. Meaning they did pretty much nothing to stop LAX. Just as the bell rang, Machete and Homicide promptly beat up Morgan and Modest. Ryan Drago, no relation to Ivan Drago, just stood there until he ran up to Konnan and got blasted for his efforts.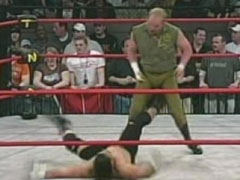 To further insult the Border Patrol folks some more, they went "South of the Border" on Donovan Morgan and broke his little bottle of Captain Morgan that he had stashed after the match to forget that this horrific occurrence ever happened.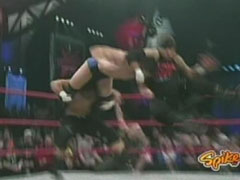 After they got bored with that, they grabbed Ryan Drago for a Top Rope Bulldog for the 3-Count. So, La Migra did nothing to stop Konnan and his cronies that day. For even more embarrassment to the Border Patrol, Konnan decided to steal a page from Stevie Ray.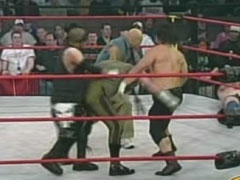 That's right, whapping his fallen foes with a slapjack. But unlike Stevie's slapjack, this one basically looks like a black sock with a rock in it. In the aftermath, LAX would continue to run roughshot all over TNA, including winning the Tag Team Titles a couple of times with Hotstuff Hernandez replacing Machete, who lost to Bullet Bob Armstrong at Destination X. Currently, they are still around TNA but with Hector Guererro leading them as a face tag team.
As for La Migra, well, they're deader than the corpses Mike Modest lugged around in Beyond The Mat.