One of my top 10 favorite wrestlers of all time was the sick, sadistic Kevin Sullivan. He may not have been the biggest or the strongest, but The Devil of Pro Wresling always captivating in either of his runs in WCW or originally in Florida.
And one of his victims was young, unsuspecting Jim Backlund.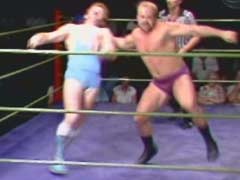 Jim Backlund was a former Florida State Amateur Wrestling Champion. But you know what? All the amateur accolades in the world pale in comparison to Jim's greatest attributes: namely, the single sweetest red mullet / moustaches combos in history. Amateur wrestling champion? I dare say he could have been a champion in amateur porn in the 80s.
Armed with a powder blue singlet, complete with lightning bolt, he was set to meet Kevin Sullivan and his co-hort Bob Roop.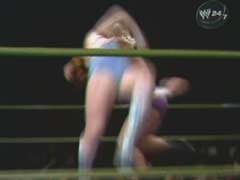 Well, for those that know Kevin Sullivan, he loves to jump opponents before the bell rings. And this was no exception. Jim just got the ever loving crap chopped out of him, eventually being thrown from the ring. Just when it looked like things couldn't get worse, in came Bob Roop to deliver…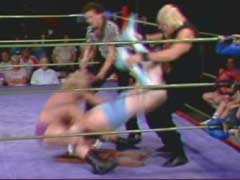 …a devilish Spike Piledriver to a chair!
Afterwards, Kevin left and cut a promo against Blackjack Mulligan, who he was feuding with at the time. Anyways, Kevin was also bouncing in between Florida and the Crocketts and settled in WCW when Florida shut down in the late 80s.
Jim Backlund didn't do too bad for himself also. There are two ways you could look at Jim Backlund's career after this. You can take the Glass Half Full approach and you see him as this….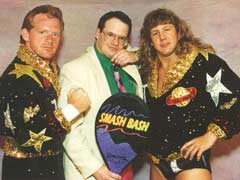 Yup, becoming "Gigilo" Jimmy Del Rey and teaming up with "The Doctor of Desire" Tom Pritchard and becoming the Heavenly Bodies. These two, along with Jim Cornette, became multiple Smoky Mountain Wrestling Tag Team Champions and had regular roles in the WWF in 1993-1995. Now, if you want to look at it as the Glass Half Empty, then….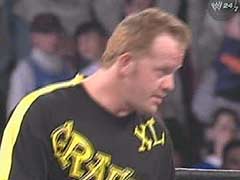 Yeah, he was Jimmy Graffiti. Sadly, he did little in WCW and would soon fade into oblivion.
I bet if he still had that mullet and pornstache, he'd have leap frogged Goldberg and become WCW champion.
Eh, or maybe not.