They're baaaack!
Three years ago, you may recall that I inducted a WWF float that somehow, for some reason, appeared during the 1994 Macy's Thanksgiving Day Parade. It was like a Nyquil-fueled fever dream, and the sight of Paul Bearer yukking it up with Doink the Clown, having the times of their lives, will forever be etched into my own personal turkey day lore.
Some people fondly recall their mother's homemade dressing. But me?
Thanksgiving is all about pro wrestling morticians and clowns.
Which is probably more a curse than a blessing, but I digress.
With my undying love for that particular event, you can imagine the joy when I discovered that what I believed to be a one and done appearance for the company at the parade was incorrect. For you see, in 2001, the WWF was back at the parade one more time!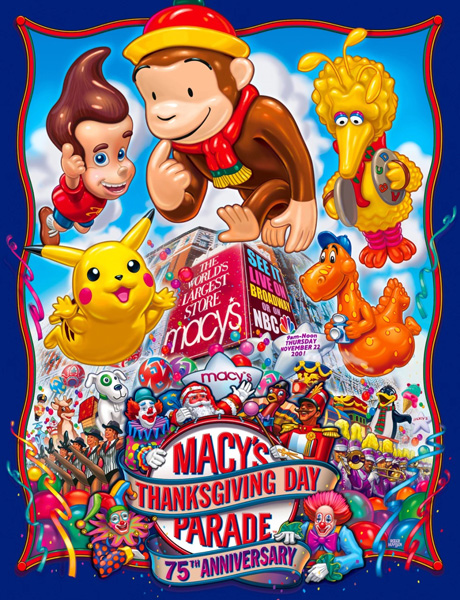 Look at that poster!
Jimmy Neutron! Pikachu! Curious George for some reason! That there is 2001 in a nutshell.
Rest assured, this wasn't just any old parade, it was the 75th Anniversary of the whole hootenanny. Much larger than that, however, was the fact it was taking place just a couple months following the September 11 terrorist attacks in this very same town of New York City. It was in many ways very eerie – the entire country somewhat held its breath as balloons and marching bands started to make their way through the streets.
The parade itself was trumpeting the USA as best it could. Nearly every float was adorned with an American flag as the country attempted to pick itself back up.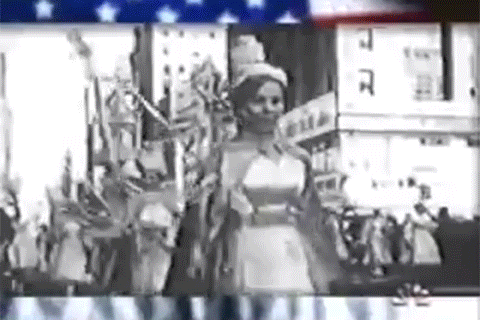 The telecast of the parade opened with a historical video of the parade over the years and man were some of those balloons downright creepy. No idea what the one right before the girl in the red jacket is supposed to be, but it's gonna keep me up at night I tells ya that.
This is what the Macy's Parade is all about. Marching bands, weird floats, weirder balloons, and of course Santa Claus showing up at the end to trumpet in the holiday season.
In many ways, this parade IS America, delightfully bloated and absurd.
SPEAKING OF BLOATED AND ABSURD…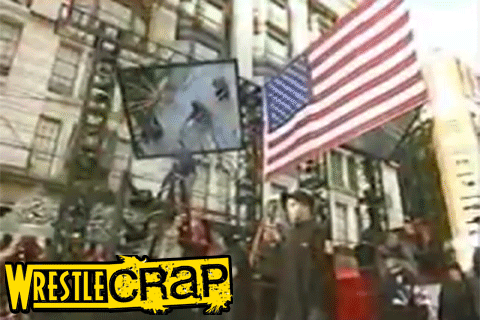 …here comes the WWF "Get Real" float, featuring a kinda sorta ring with a giant mirror so the folks on the street don't miss any of the action. At least I think it's a mirror. Maybe it's a TV. Actually I bet it's a TV, as you can see some of the WWF folks in the ring standing beside it, looking at it from a completely awkward angle.
That's a Kevin Dunn production right there!
We are told that this float isn't just about wrestling, but a social program the company is doing where WWF Superstars™ go to middle and high schools to "talk to at risk students about becoming successful later in life" by way of "respect, education, achievement, and leadership."
Get it?
The first letters of each of those words spell REAL!
And just like you, the first person I think of when I hear of such inspirational things is naturally…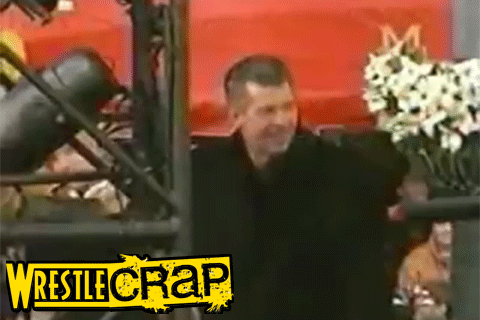 Vince McMahon!
Look at him, just kinda shucking and jiving. By golly, he's almost SMILING! Good for him!
As Kane's music blares, the announcers read verbiage clearly written by the WWF, explaining to the folks at home that the company is telecast in 117 countries in eleven languages. And what has made all this possible?
Why the "first family of sports entertainment" of course!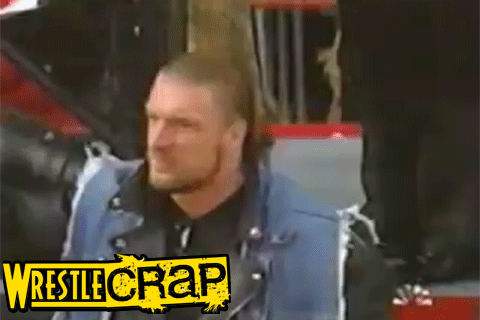 Vince and LINDA (!!!!) are mentioned by name, as well as Triple H, who is shown waving to the crowd.
Wait, where are the other wresters?
Shouldn't they be here on this float promoting the World Wrestling Federation?
I mean, yeah, that would make sense but sorry kid, you is outta luck.
Instead we get luminaries such as…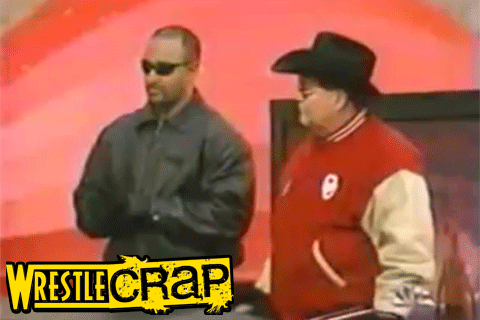 …Jonathan Coachman and Good Ol' JR!
Some awesome comedy here as the announcers note we are seeing "Michael Cole" as Coach is clearly the one featured on screen. Coach is a total doofus, but ain't no one should be dissed that bad.
As for Ross, shockingly he looks like he'd rather be anywhere else on planet earth than in the middle of all these happy people. As ever, I remain sad Blade is gone, as I totally see Angry Jim showing up on WrestleCrap Radio to tell us how much he "hated that damn parade!" Probably took time away from barbecuing turkeys, you know.
I am actually smiling and laughing right just envisioning it.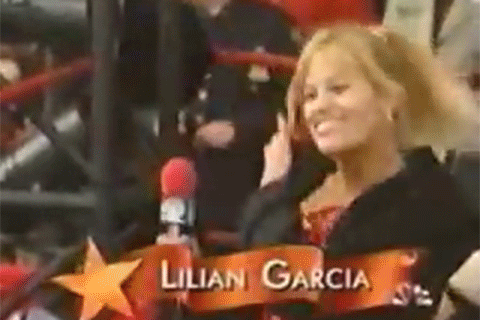 Why I'd probably be dancing around like Lillian Garcia as she appears here, belting out her rendition of the James Brown classic Living in America. Holy crap look at her go! I don't think I ever truly appreciated her during her wrestling stint.
In the background you will also see Stacy Keibler bee bopping a bit. At first I thought the other woman was Torrie Wilson (since they were seemingly inseparable at that time), but upon further examination that would be on Molly Holly.
But again, I ask – where's Rock?
Where's Austin?
Undertaker, Kane, Chris Jericho?
Nowhere to be found.
In fact, the only male wrestler to be seen aside from Hunter would be Kurt Angle…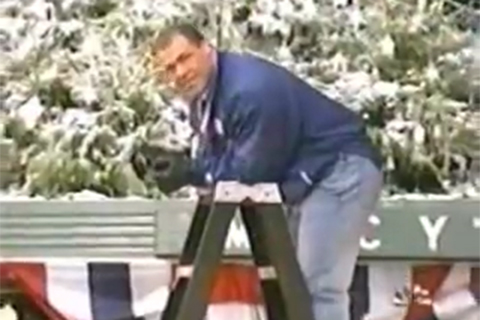 …who was stuck on the top of the ladder, bent over and looking for all the world like he was a turkey about to be stuffed. Eh, it was Thanksgiving.
And with that in mind, I should also take leave. But before I do, in the spirit of the holiday I want to say THANK YOU to everyone still reading this silly site. It still boggles my mind to have been so blessed all these years.
Happy Thanksgiving, everyone!