Newer WWF fans are likely unaware of the horrible musical projects the WWF has been involved with over the years. Indeed, today's WWF entrance themes are generally great, with a few exceptions (The Big Show's music, anyone?). So it may come as a shock to them that prior to, say, 1996, almost all WWF music stunk.
Case in point: Wrestlemania: The Album. Show of hands – who wanted to hear the Undertaker sing? Anyone up for a touching Bret Hart ballad? Or a rap by Jim Duggan? Well, the hits just kept a comin' in this fiasco on plastic, released in 1993.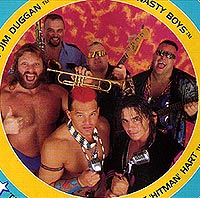 Things go wrong within the first ten seconds of the very first song. On the title track, the wrong event is identified. An announcer (who sounds vaguely like Roddy Piper) asks if we're ready for the Survivor Series. The rest of the song (complete with 'singing' by the WWF Superstars) is about Wrestlemania. HUH?!
Next up is the track Summerslam Jam, which is more or less identical to the first track, but this one is about SummerSlam, which is entitled Summerslam Jam. Yeah, it sucks, but any tune with a singing Undertaker is cool with me. The only problem is the background singers seem to be singing "Slim Jim", not "Slam Jam". Subliminal message, anyone?
Just when you think things can't possibly get worse, here comes Hacksaw Jim Duggan with the rousing USA. In this clip, Hacksaw properly pronounces the word "apprehensive" (well, more or less) and pledges allegiance in his own special way to America.
Then there's the Janet Jackson ripoff Nasty Boys Stomp, in which Brian Knobbs yells at the listener.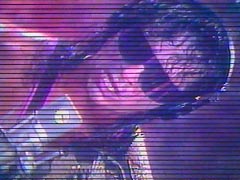 Every album needs a heartbreaker ballad, and who better to deliver it than Bret Hart? Well, just about anyone, as I'm sure you'll agree after listening to Hart serenade us with Never Been a Right Time to Say Goodbye. In what must be the lowlight of his career, the Hitman proves himself the excellence of ear execution.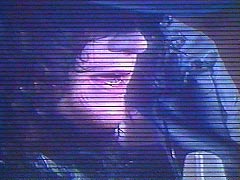 Things come around, though, as the Undertaker sings again. Again, any song where Mark Calloway implores me to "dance the Taker" deserves a spot in my CD collection. Heck, even throws in a nice message for the kiddies listening to the album.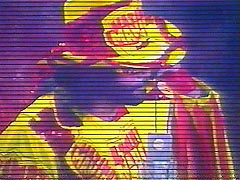 Randy Savage then shows up to recite the planet order of the solar system. Or something. Speaking from the Heart is great not only because of Savage's nonsensical ramblings, but also because the background singers call him MATCH-O man, as in a book of Blue Tip Matches.
No WWF album would be complete without some stereotypical tuneage, and old Chris Chavis is the target in Tatanka Native America. Listen it to it once, and you won't be able to stop yelling "TATANKA! BUFFALO!", I guarantee.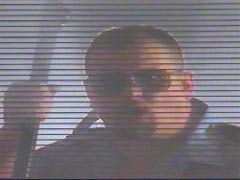 The UK version of the album contains a heart warming ditty from Crush (Bryan Adams) which sounds as though it was performed by Herbie Nocock. In the song, Crush warns kids to stay away from drugs. Maybe it's just me, but that seems kinda hypocritical coming from a guy who'd go on to form a tag team named Kronik (you know, slang for marijuana) whose finisher was known as the High Times.
The album wraps up with remixes of Mr. Perfect's & Big Bossman's old themes.
It's hard for me not to recommend this album. It is so bad that it is almost funny. Almost. It's no Hulk Rules, but if you see it in the cutout bin at the local Village Pantry, you should pick it up.
Roddy Piper (or a Roddy Piper soundalike): "Are you ready…for the Survivor Series?"

Gene Okerlund: "Who will survive?"

Emain'tem: "It's like this, it's time for Wrestlemania! Pump it up pump it up!"

Big Bossman: "HEY! Ever since I was a little bitty (boss) boy, I wanted to be one thing – and that's a law enforcement officer! Treatin' other people like you'd want to be treated! Walk the straight and narrow! Cause that's the only way you're gonna survive in this life!"

Gene: "Who will survive?"

Davey Boy Smith: "I'm the British Bulldog – and you're going down!"

Undertaker: "The Undertaker says SLAM!"

Worst backup singers since the Jordanaires: "If you want to eat some ham ham, it's a ham jam, oh oh oh oh!"

Hacksaw Duggan, waxing philosophical: "A lot of times you're getting ready to wrestle and you're lacing up your boots and you're thinking that this guy I'm going to be wrestling is gonna be awfully tough. (RD: Jeez, Jim lay off the run on sentences.) That guy's over in the other dressing room and he's young and he's big and he's strong and he wants to make his name beating up ol' Hacksaw (RD: Show of hands – does anyone NOT want to beat up Hacksaw Duggan?) So sometimes I do get a little apprehensive. But then, right before I go through the curtain, I got the American flag over my shoulder, HOO! HO! USA U U U U USA! U U U USA! HO! HO!"

Not Janet Jackson: "NASTY! NASTY!"
Brian Knobbs: "LET ME TELL YOU SOMETHING!"

Bret Hart: "So I'd rather turn away, cause things you're gonna say are gonna break her heart and make her cry. There's never been a right time to say goodbye…say goodbye."

Starland Vocal Band: "Never gonna say, never gonna stray, break her heart and make her cry, never been a right time, to say goodbye"

Undertaker: "The man in black has a tombstone waiting just for you! Dance with the Taker!"

Undertaker: "The most powerful entity in the World Wrestling Federation…SLAM JAM DEATH!"

Randy Savage: "Wherever you go, whatever you do, I will always be with you. The moon, the stars, Pluto, Venus, Saturn, lookin' down, covering all bases!"

Gene Okerlund: "Macho Man Randy Savage!"

Shabba: "He gets your heart a pumpin, he gets the party jumpin' – he's the MATCH-O Man!"

Singers from the Jim Duggan song: "HO!"

Some Generic Injun Tribe: "AIAIAIAIAIAIAAIIIEEEE! TATANKA! BUFFALO! TATANKA! BUFFALO! TATANKA! BUFFALO! TATANKA! BUFFALO! TATANKA! BUFFALO! TATANKA! BUFFALO! TATANKA! BUFFALO! TATANKA! BUFFALO! TATANKA! BUFFALO! TATANKA! BUFFALO! TATANKA! BUFFALO! TATANKA! BUFFALO! TATANKA! BUFFALO! TATANKA! BUFFALO! TATANKA! BUFFALO! TATANKA! BUFFALO! TATANKA! BUFFALO! TATANKA! BUFFALO! TATANKA! BUFFALO! TATANKA! BUFFALO! TATANKA! BUFFALO! TATANKA! BUFFALO!"

Crush: "Do brah Crush a favor and stay away from drugs. Life is hard enough and you need all the help you can get, and drugs is a dead end road!"

Mr. (Don't Call Me Max Headroom) Perfect: "Mr. Mr. Mr. Mr. Perfect. Mr. Perfect. Mr. Perfect. I'm Perfect!"

Some Generic Singer: "If you ever take a trip down to Cobb County, Georgia – Better read the sign "Respect the Law and Order" – You'll Serve Hard Time…"