By now we've all heard that Stuart "Wade Barrett" Bennett won't be renewing his WWE contract later this year. It's a shame, really, since Barrett was at one point, astoundingly, getting over with the fans with his "Bad News Barrett" gimmick — and as a babyface, no less.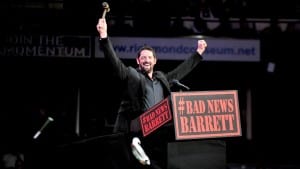 Then again, it's perfectly understandable why Barrett wouldn't care to continue in WWE if you recall how he spent 2015.
At least WWE Creative has a sense of irony, as I'm pretty sure this is how their meeting with Barrett went at the outset of 2015.
"Wade, you're going to be the new Intercontinental Champion…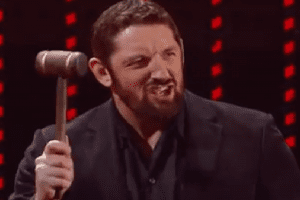 …but I'm afraid I've got some bad news!"
In this case, the bad news was that he would turn heel again, have the worst Intercontinental reign in history, and lose the title after one of the worst builds in WrestleMania history.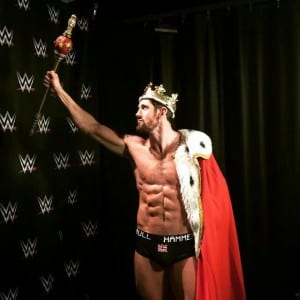 The year started out well for Wade Barrett, who beat Dolph Ziggler in a two-out-of-three falls match to win the Intercontinental title.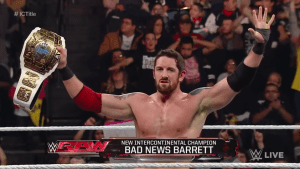 Now that Barrett had a title, the WWE Creative Team felt he no longer needed to win any matches, so he proceeded to — ahem —
…lose to Sin Cara…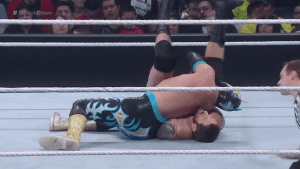 …lose to Dean Ambrose…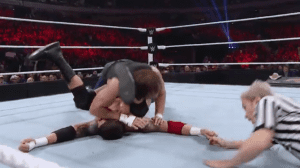 …lose to Dolph Ziggler…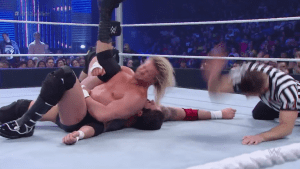 …lose to R-Truth…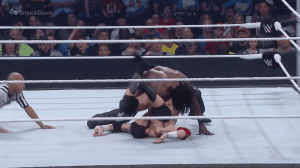 …lose to Dolph Ziggler again…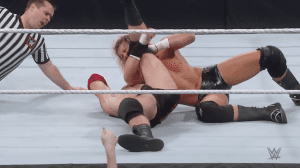 …lose to Daniel Bryan…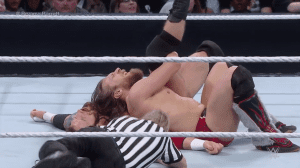 …lose to Dean Ambrose again…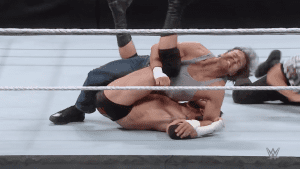 …lose to Daniel Bryan again…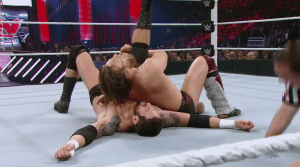 …and lose to Dean Ambrose yet again, this time in a six-man tag match.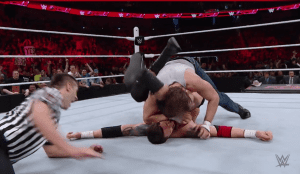 And along the way, he was on the losing team in a few tag matches as well.
Needless to say, the title wasn't on the line in any of these matches. The beauty of non-title matches is their unpredictability; since their outcomes seldom affect the story line, there's no way to guess who will win or lose based on how you think an angle will play out. Since the results don't matter, you never know who will win! Nor do you care!
Thus, every Tom, Dolph, and Harry was pinning poor Wade faster than Cole could say, "What a win this would be!"
It was as if WWE wanted to bring back the hot-shot, crash-TV paradigm of the Attitude Era, where hardly a week went by without one champion or another being beaten —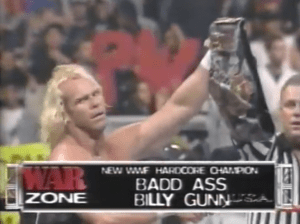 — except that in 2015, the champion somehow still got to keep his title.
All in all, Wade Barrett's one-on-one record (before finally dropping the IC title at WrestleMania) was 3-8; his only two pinfall victories came over Sin Cara on Smackdown (the B-show) and Main Event (for which the English alphabet is too short to convey its irrelevance).
His other "win" was a disqualification victory over Dean Ambrose when the challenger wouldn't stop beating up the champion.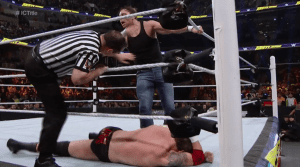 That cheap finish left Ambrose unsatisfied, so he stole Wade Barrett's belt…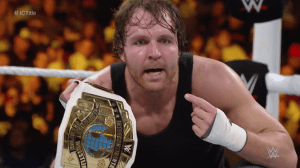 …and kicked off a game of hot-potato with the Intercontinental strap leading into WrestleMania, where Barrett would defend his title in a ladder match against "multiple competitors" to be determined later.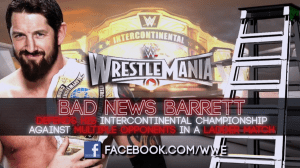 Seeing as how the Intercontinental title meant a future full of non-stop jobbing for whomever was unlucky enough to win the championship, fans should have been hoping for their favorite man in the ladder match to lose, not win.
In my case, that meant rooting against an IC title run for Daniel Bryan…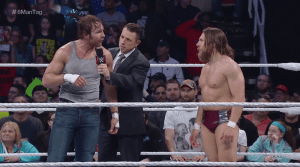 …but it turned out that I should have been rooting against him anyway, because he's a turd. Or so said Dean Ambrose after a six-man tag victory.
"Can you say that on TV?" asked The King. Well, you couldn't in 1978, when George Carlin updated his list of words you couldn't say on television, but, he said, "when you get right down to it, who wants to say it?"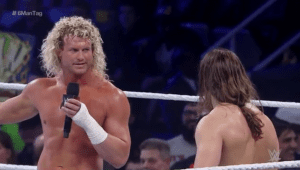 The answer: Dolph Ziggler, who cut off Ambrose's music just to reiterate that Daniel Bryan, popular as he may have been, was a turd.
Whether you thought the word, "turd" was filthy or just juvenile, it was certainly the first time anyone had ever used it on WWE programming…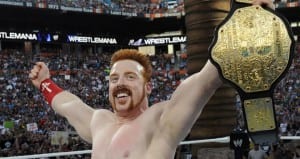 Michael Cole later weighed in on the Daniel Bryan turd debate and its implications for that night's main event.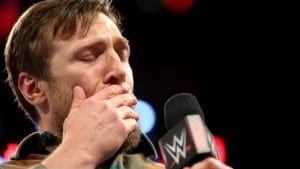 So with a ladder match on the horizon…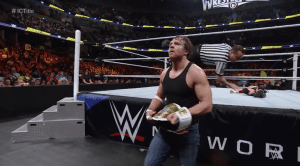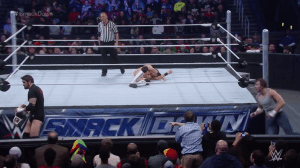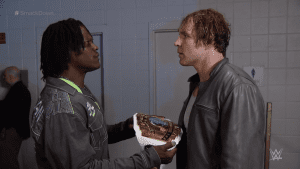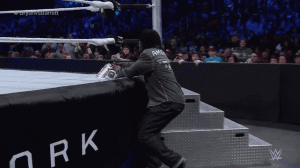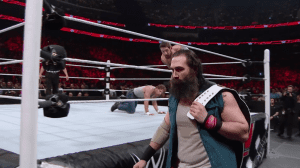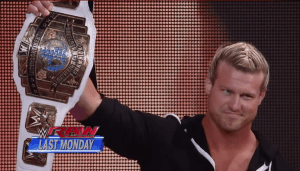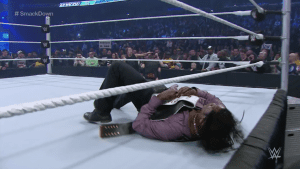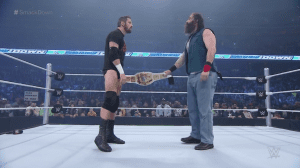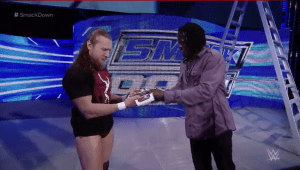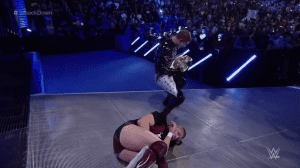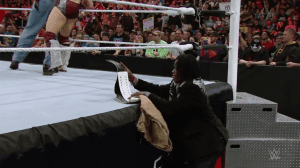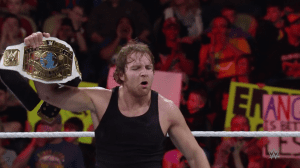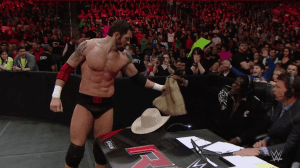 Truth then pretended to return it to Wade, but when Bad News opened the burlap bag, he was extremely disappointed to find…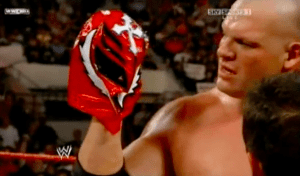 No, sorry. It was one of those flimsy kids' replica championships, which was apparently still heavy enough for Barrett to mistake it for the real thing.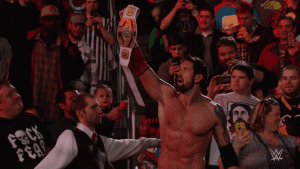 Leave it to WWE to both:
ban all references to a "belt" being the physical object a champion wears and
construct an entire WrestleMania program built around that very object.
Finally, in a single segment, the belt (or championship title) passed from Truth (who wore a special hook on his back to hold the belt)…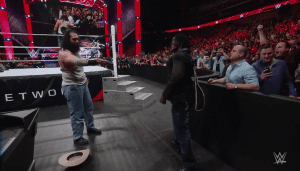 …to Dust…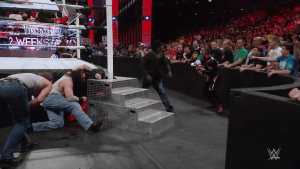 …to Dean…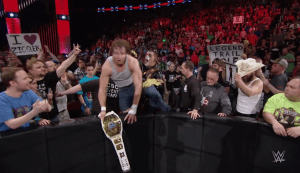 … to Truth…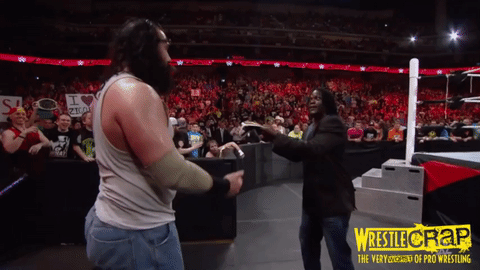 …to Dolph and Daniel…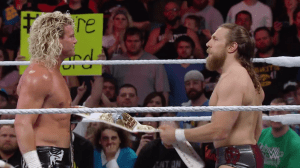 …and finally back to Wade Barrett, its rightful owner (well, "rightful" except for the part where he lost over and over again)…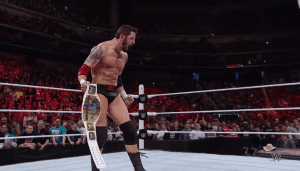 …at which point Michael Cole assured the naïve Booker T that Barrett's unprecedented losing streak was now moot. I mean, he may have lost all of his matches in the past month, but he also performed well in a brawl and got his trophy back. That put him ahead in Cole's book.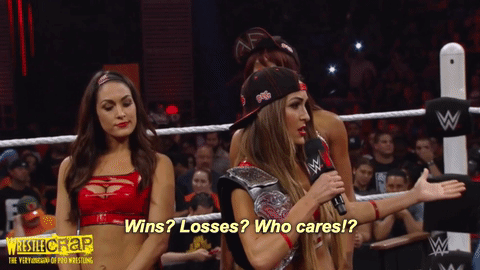 Of course, just because someone had the title didn't mean they had the title. Uh, by which I mean, just stealing the physical belt didn't make any of those men Intercontinental Champion. The only way to win the title officially, of course, was to beat the champion by pinfall or submission.
Which most of them did.
And the real kicker was that whoever ended up in possession of the belt by WrestleMania knew he would have to surrender it anyway for the ladder match.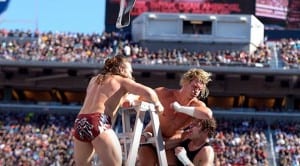 I don't understand why anyone would care about a title so meaningless that you could lose every match and still hold on to it, and I can't imagine why anyone would risk life and limb in a chaotic ladder match to win such a title. But seven of WWE's mid-carders felt differently.
So what was the big deal about this Intercontinental belt that everybody wanted so badly? Well, it was… shiny, and that white strap was pretty snappy, but you could always just buy a full-size replica from WWE Shop.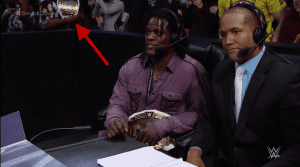 Cole had a different theory: "It's all about the prestige of the Intercontinental Championship."
Sorry, Maggil, but this angle, with its silly hot-potato antics and outright burial of the reigning champion, only brings to mind one word…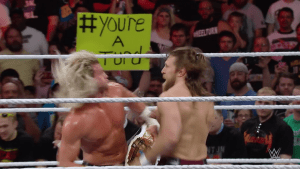 …and it ain't "prestige."