Wrestling has a long history of whodunnits:
Who ran over Austin?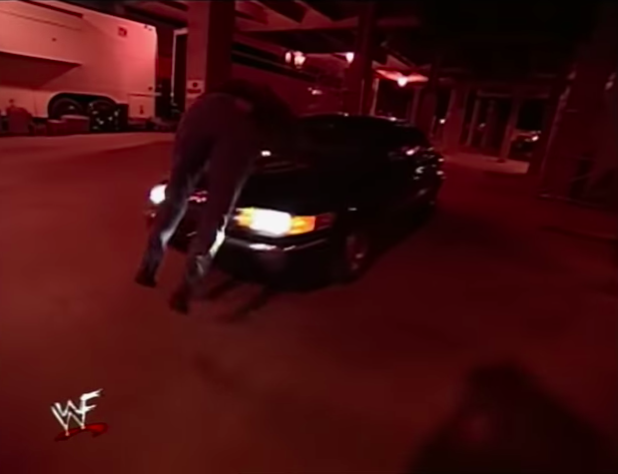 Who drove the white Hummer?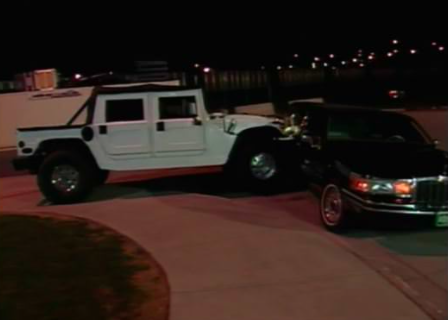 Who leaked those Paige sex videos?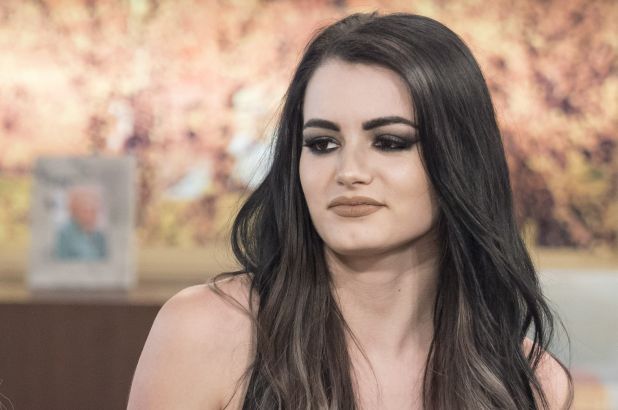 This week, we'll explore one of the more recent mystery storylines in WWE.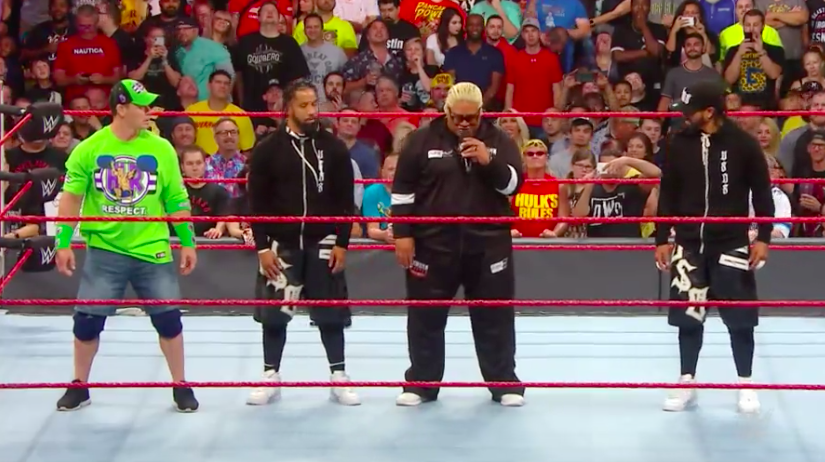 The story began at the 2019 Raw Reunion, a night of nostalgia held in honor of Raw's 1,365th episode. Among the attendees was WWE Hall of Famer Rikishi, who took the opportunity to get down with John Cena and the Usos. Apparently, Samoa Joe didn't think this was too cool, which led Roman Reigns to defend his family's honor.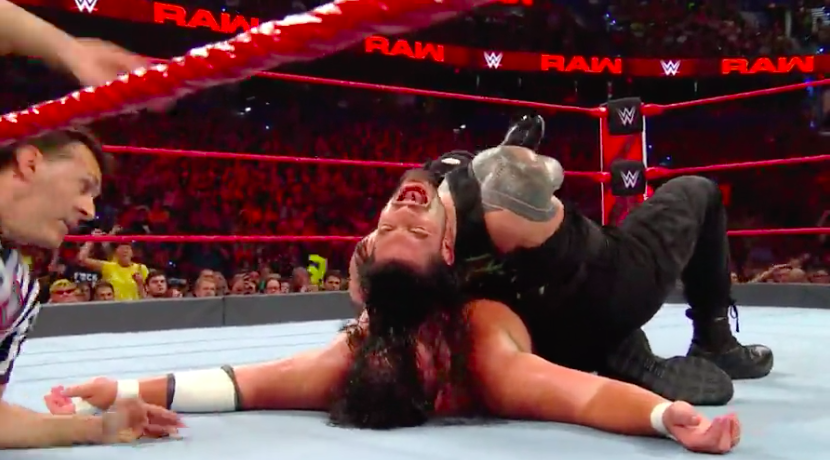 After a veeerry long brawl, the two had an actual match, which Roman won with a spear.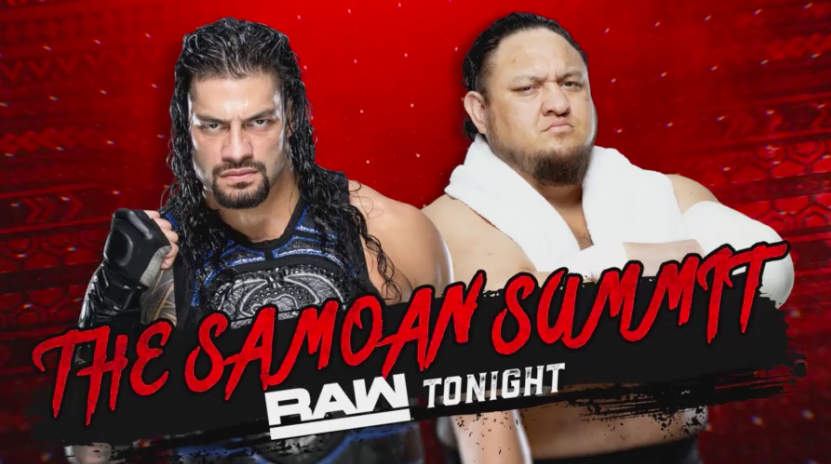 The following week, the two superstars from the Isle of Samoa were set to take part in a Samoan Summit to work out their differences verbally.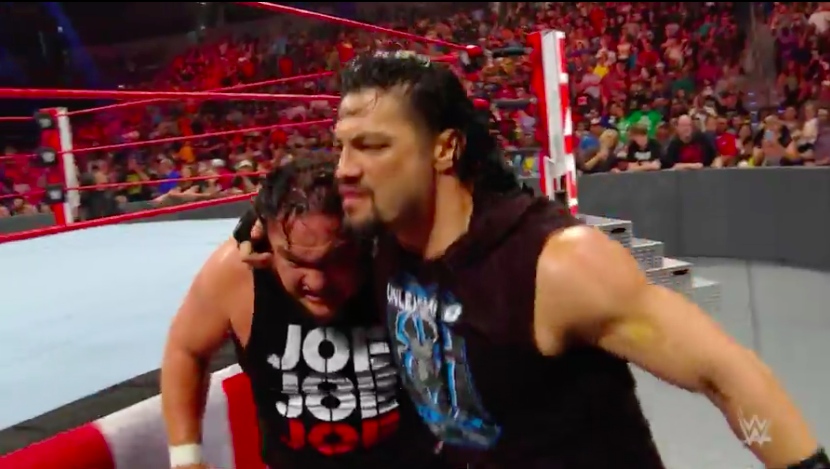 It was not surprising that their summit would descend into violence.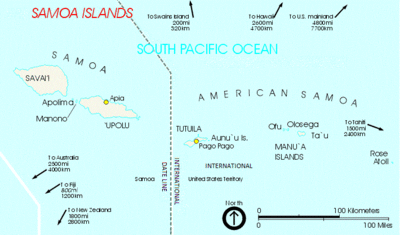 What was surprising is that, despite decades of statements by ring announcers, there is no "Isle of Samoa".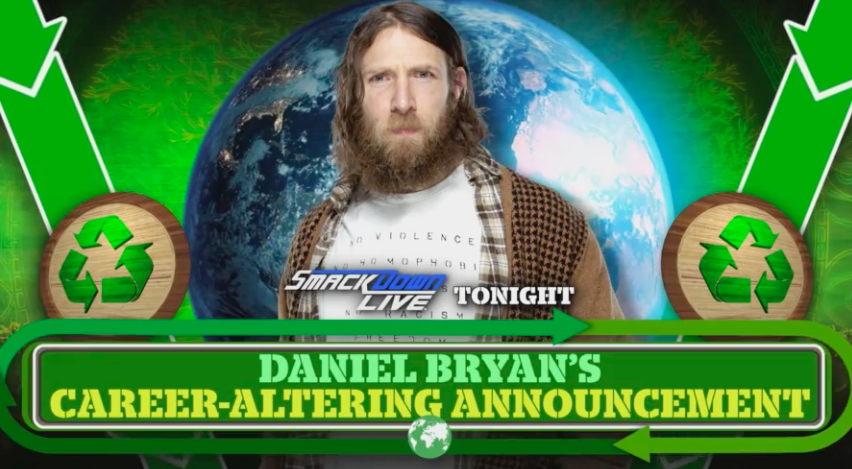 That was Raw. On Smackdown, Reigns's official WWE home, Daniel Bryan & Rowan's eco-friendly tag team had been feuding unsuccessfully with the New Day. Amid this feud, Bryan vowed to go somewhere he had never gone before.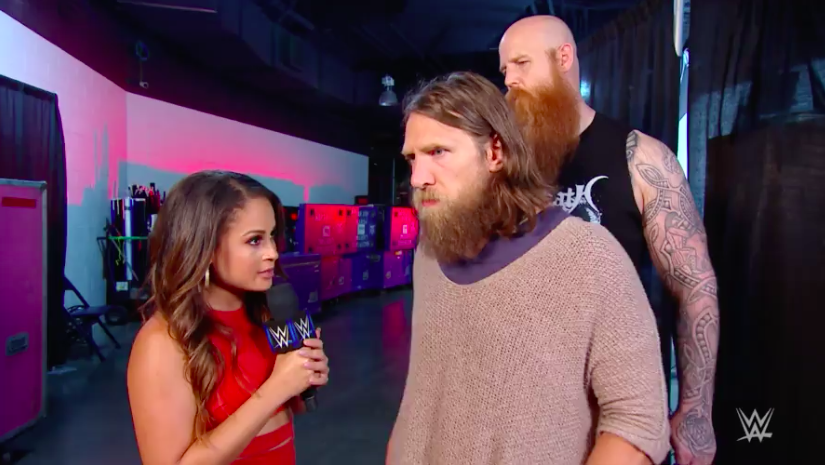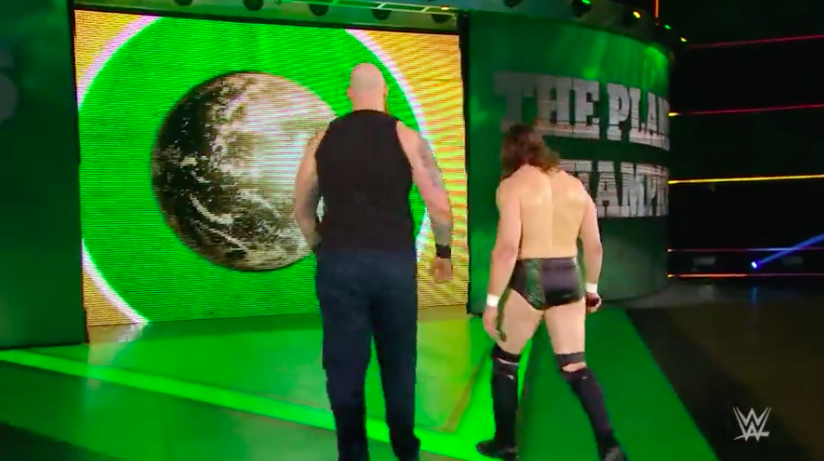 Daniel Bryan was given several opportunities to make his "career-altering announcement", but each time, he refused to speak and walked away.
---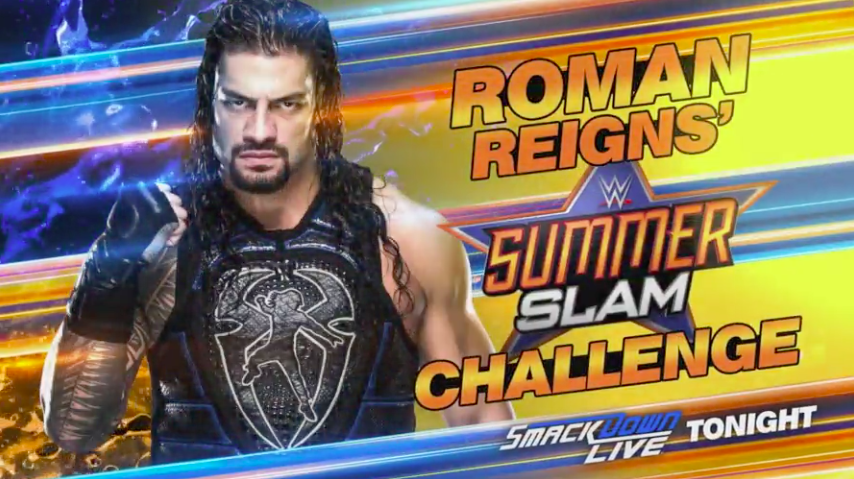 But in terms of questionable use of TV time, Roman Reigns was still Smackdown's leader. The night after the failed Samoan Summit, he was allowed to name his opponent for Summerslam. The commentators hyped this announcement all night, even though we all knew it would be Samoa Joe. Roman's important Summerslam challenge even got to close the show.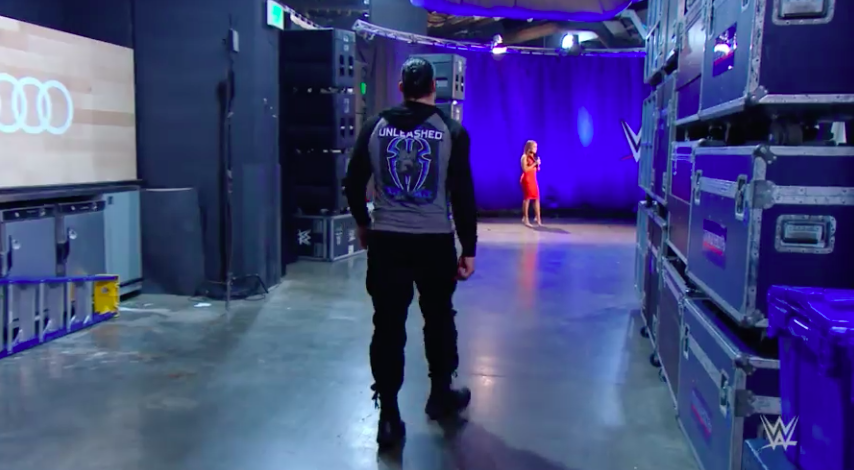 Such a big star was Roman that he could arrive late to his own main-event-worthy announcement, leading to this awkward mic work from Kayla Braxton as she killed time.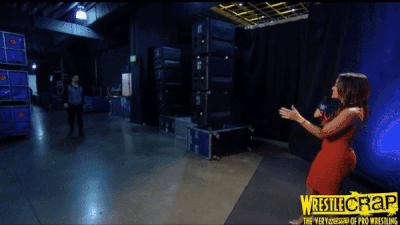 In a transparently phony scene, a series of crates, lighting rigs, and ridiculous camera cuts all dropped onto or around Reigns. Viewers feared the worst: Roman wouldn't get to make his Summerslam announcement.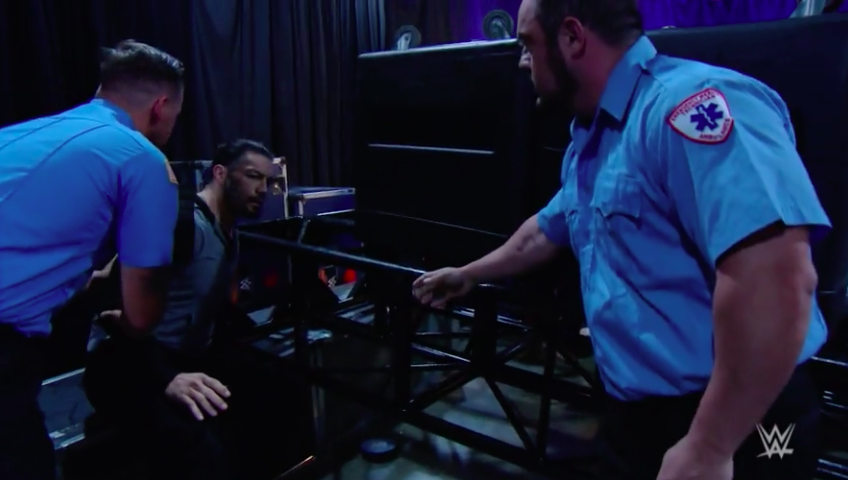 The Big Dog, it turned out, was unharmed but shaken. The announcers were shaken, too, not noticing Buddy Murphy walking away from the scene.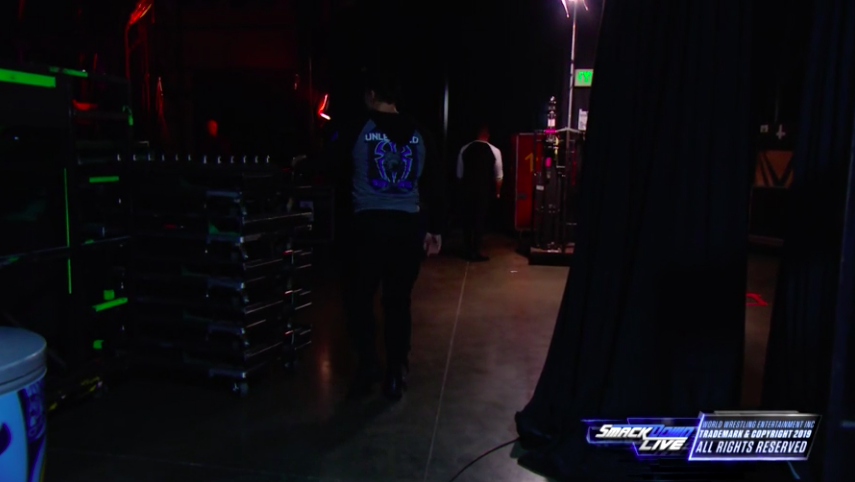 So was Murphy to blame? Or Roman's rival, Samoa Joe? Neither, said WWE's website, which declared the event was the result of a forklift accident. What a relief!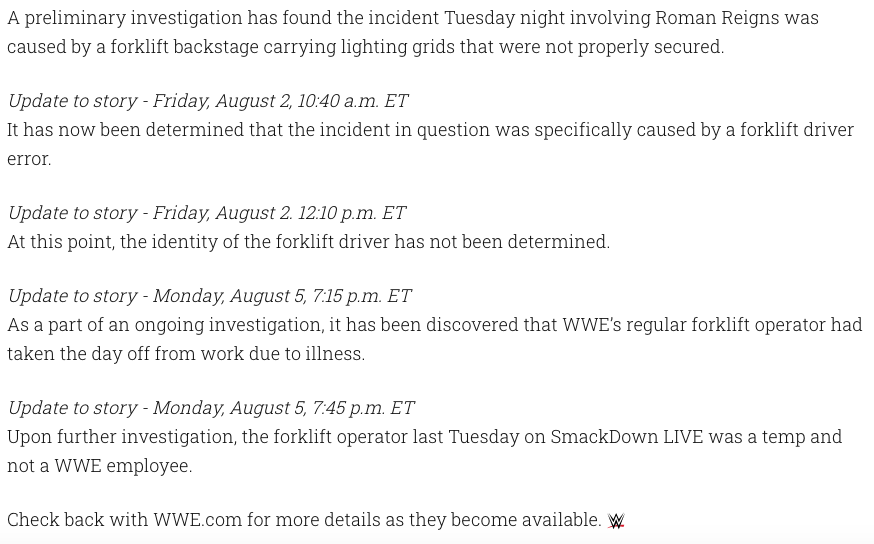 Updates revealed that the forklift accident was caused by driver error but soon after revealed that nobody knew who was actually, you know, driving the forklift. Nor could they determine why said forklift driver had attached a Go-Pro to his forklift and connected it to Kevin Dunn's production truck.
A few days later, WWE's investigation uncovered that a temp had been filling in for the regular forklift operator due to illness. Whether that temp was named Samoa Joe, the authorities apparently could not determine.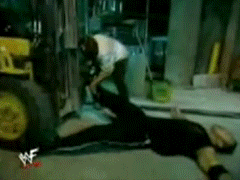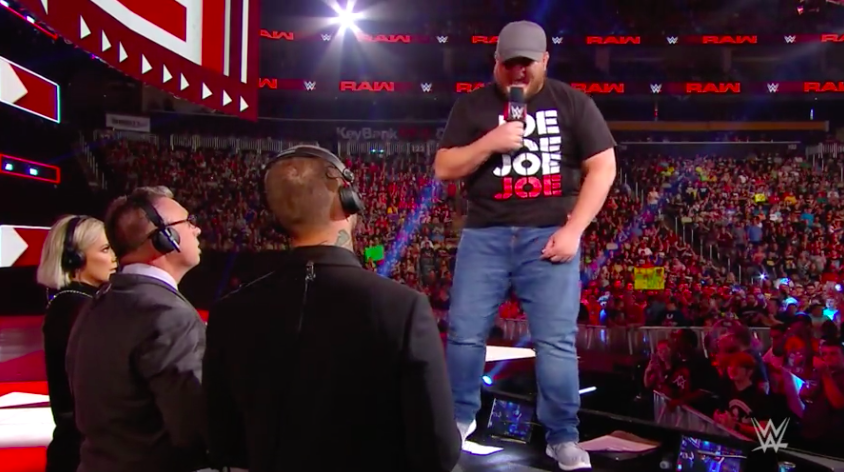 On the following Raw, an irate Samoa Joe interrupted the show to clear his name, which had been, in his words, "besmirched". He also ripped the announcers for speculating that he was responsible.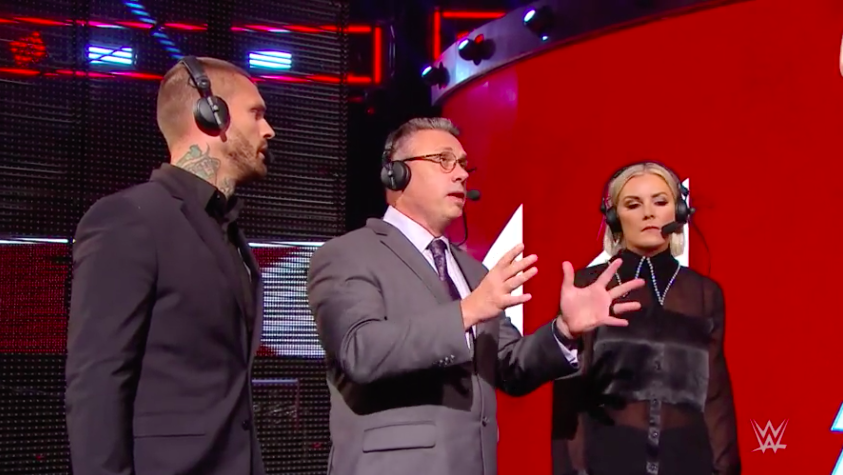 In his defense, Michael Cole cited a WWE dot com poll that found that 80% of the WWE Universe thought the Reigns incident was no accident. "80% of the WWE Universe are idiots," replied Joe.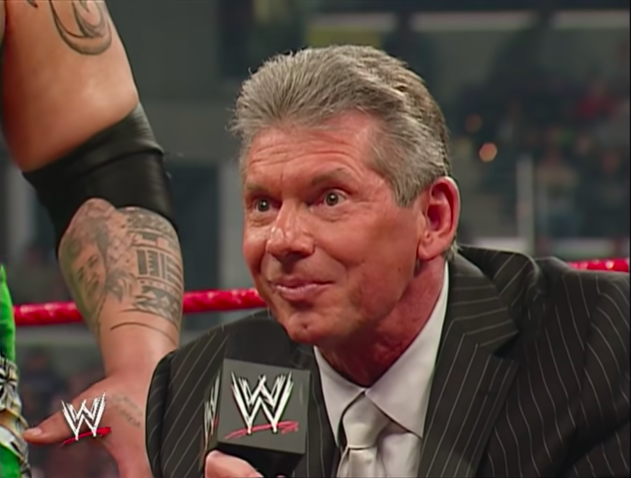 Joe promised to stay right where he was and hold up the show until Roman Reigns apologized. He was immediately interrupted by Becky Lynch's music.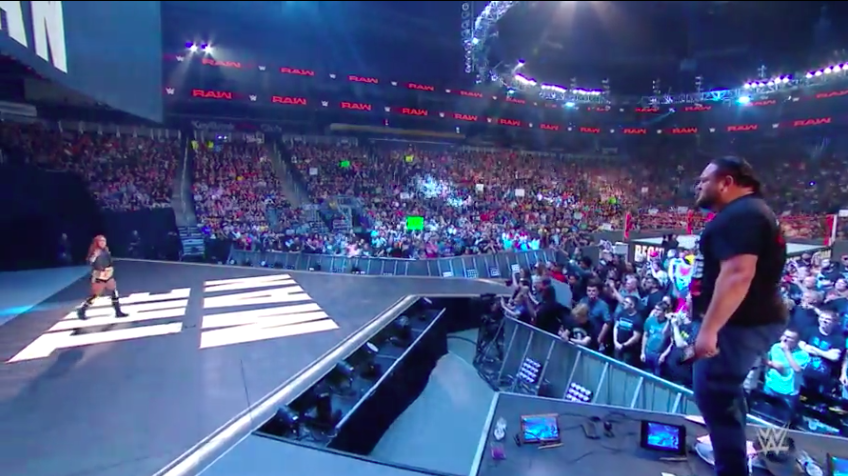 After a brief staredown, Becky wrestled, and Samoa Joe just sort of disappeared.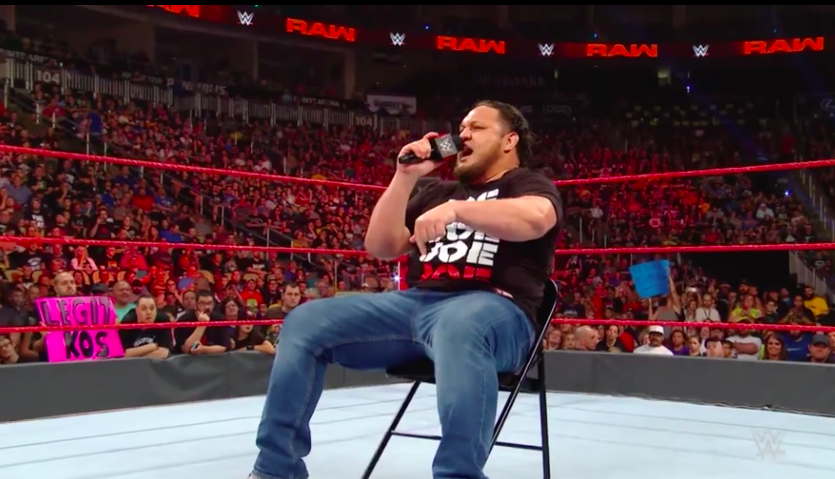 Hoping he'd have better luck this time, without any Manterruptions, Joe re-emerged two hours later to try a sit-down strike. *This* time he would hold up Raw until Roman appeared, doggonnit.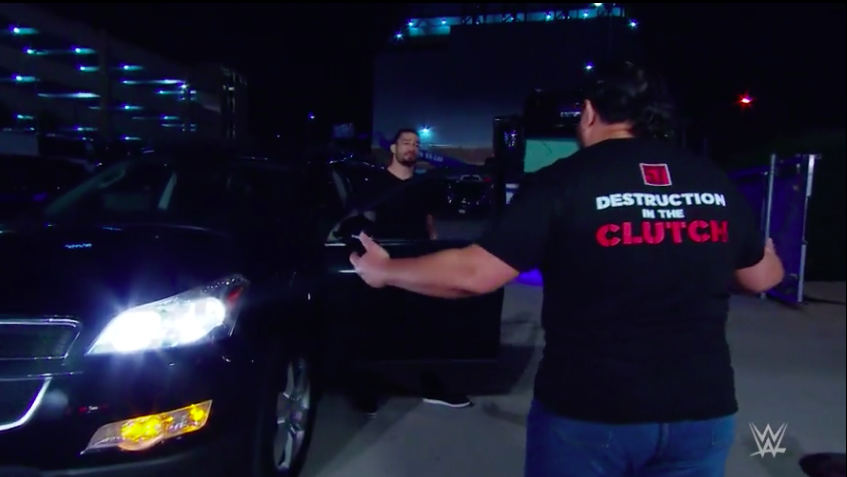 A few minutes later he got bored and marched to the parking lot, where Roman had just arrived. The two engaged in a brief argument before, as captured by a live WWE camera set up at exactly the right spot, a car collided with Roman's car.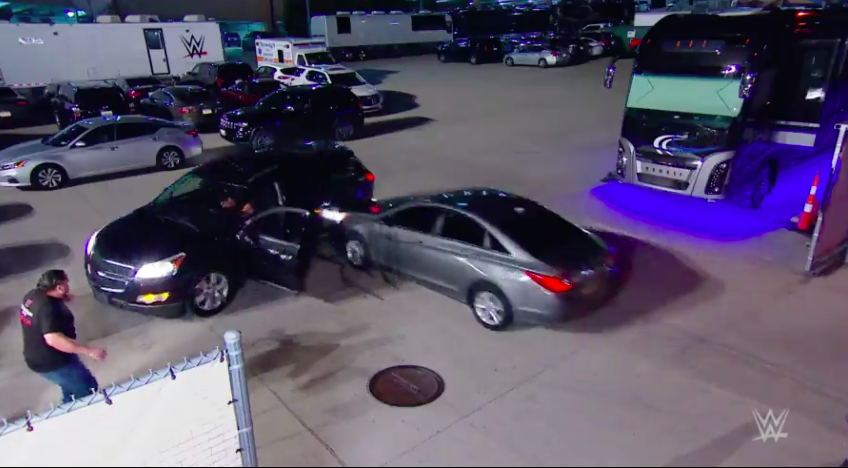 "Get a medic out here!" said Roman's presumptive Summerslam opponent.
---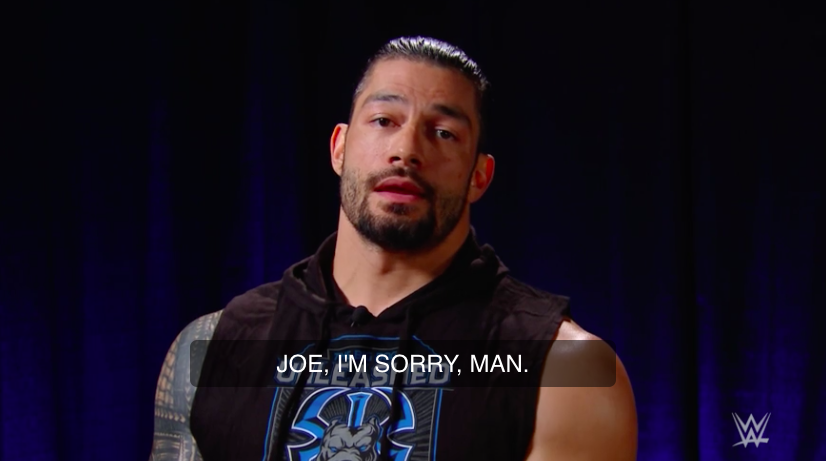 The next night on Smackdown, Roman sat down for an interview and did something quite unusual for the go-home show before a pay-per-view: he apologized to his would-be opponent for falsely accusing him. After all, Joe wasn't the one behind the wheel on Raw, so he couldn't have been involved.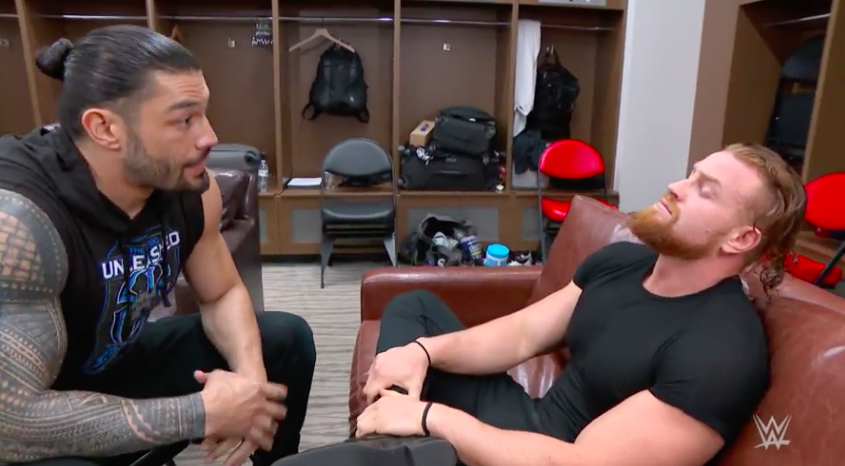 To close the show, Roman confronted Buddy Murphy, who was spotted near the scene of the crime the previous Tuesday. Reigns asked whether he did it, but Murphy denied having any idea what Roman was even talking about. Either Murphy was playing dumb (very likely), or he hadn't bothered to watch Raw or Smackdown (also very likely, but still not an excuse).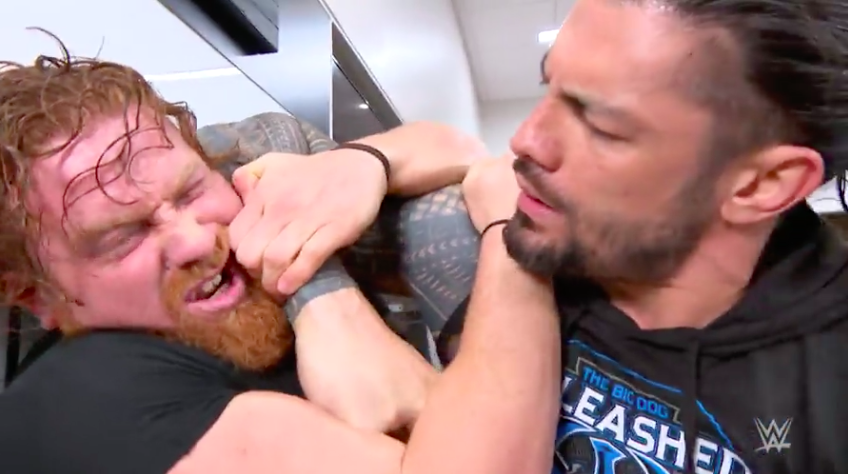 Roman roughed up Murphy until he spilled the beans: Roman's assailant was Rowan! (With a 'w', that is)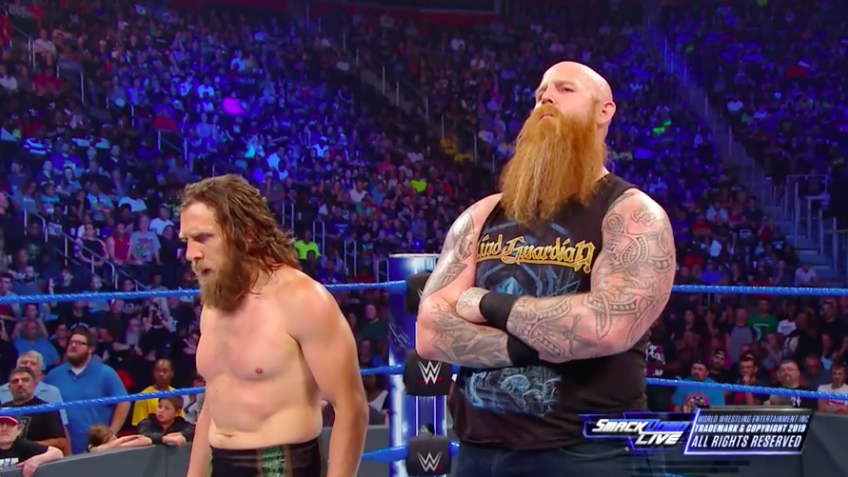 Rowan, I remind you, was tag team partners with Daniel Bryan. Perhaps Bryan's career-altering announcement had something to do with murdering Roman Reigns, and the place he'd never gone before was prison.
So would Roman Reigns's match at Summerslam now be against Rowan? Or would he and Samoa Joe team up against Rowan and Daniel Bryan? Or would it still be Reigns vs. Samoa Joe, as had been hinted at the past few weeks?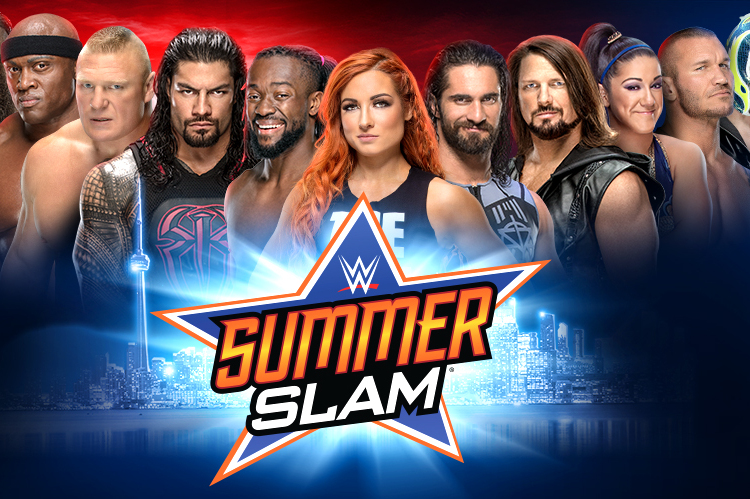 No, no, and no. Not only did none of these matches take place, but none of those four men competed at Summerslam at all. In fact, as far as this storyline was concerned, Samoa Joe just sort of disappeared (again).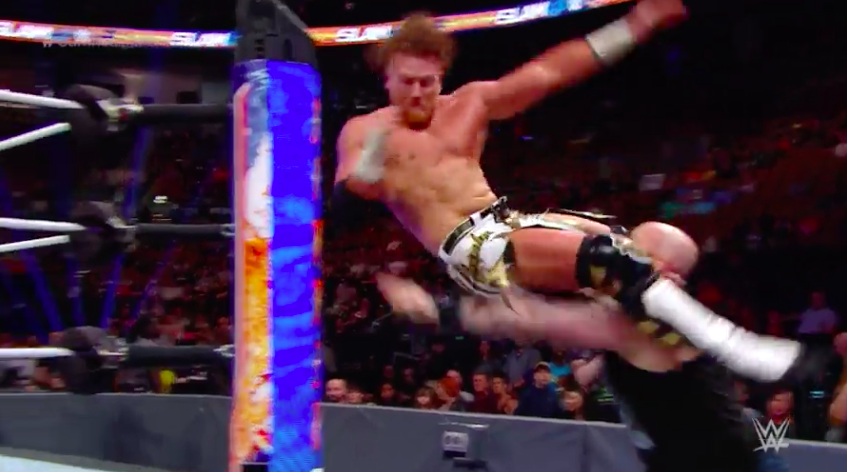 At least Buddy Murphy wrestled on the Summerslam pre-show, where he was attacked by Rowan. The former Wyatt family member told Murphy to keep Rowan's you-know-what out of his mouth (his name, that is).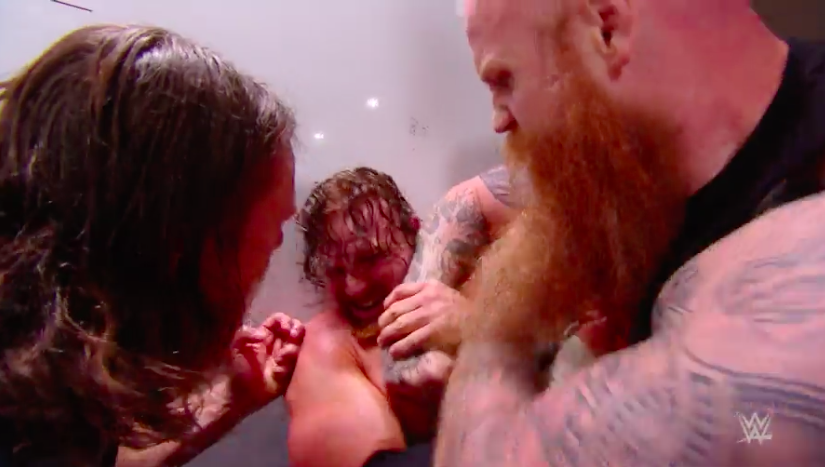 On Smackdown, Murphy lost to Roman in a surprisingly competitive match before getting another confession beaten out of him by Daniel Bryan and Rowan. Murphy confessed that he'd lied the previous week, proving that he was either lying last week or lying this week. What a plot twist!
So why involve Buddy Murphy in this angle in the first place? To make a statement about the unreliability of confessions made under duress?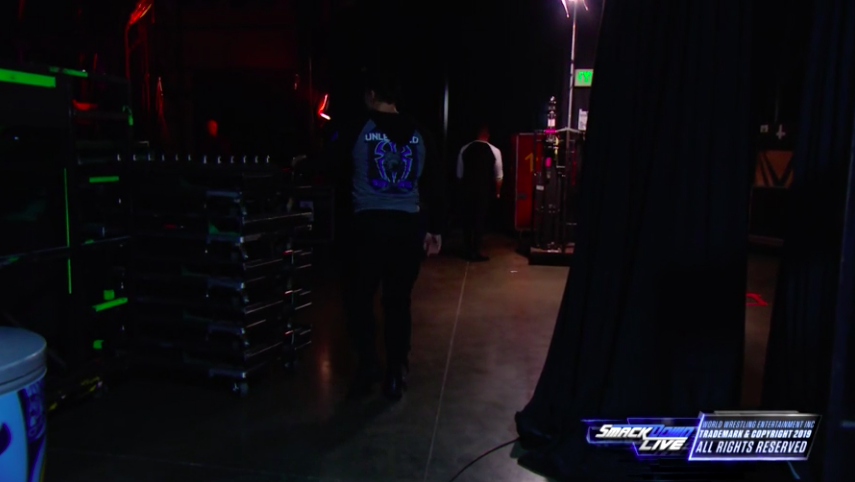 Actually, Murphy was only injected into the storyline because fans online had spotted him backstage after the first Roman Reigns incident. WWE originally had no plans to involve Murphy in this or any other storyline.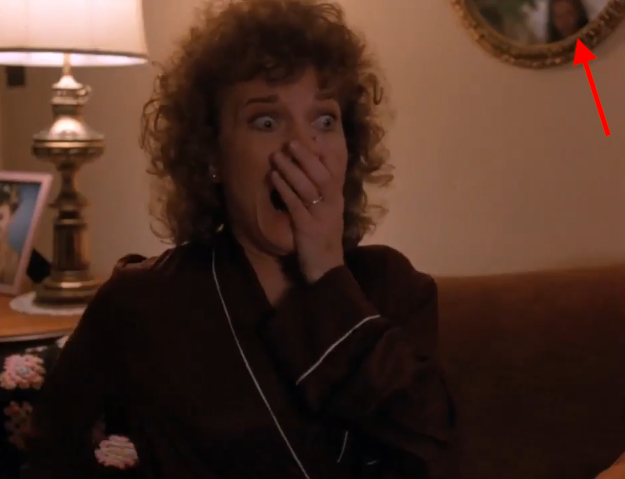 Not since Frank Silva was promoted from Twin Peaks set dresser to main villain had a performer so advanced his career by wandering into a shot.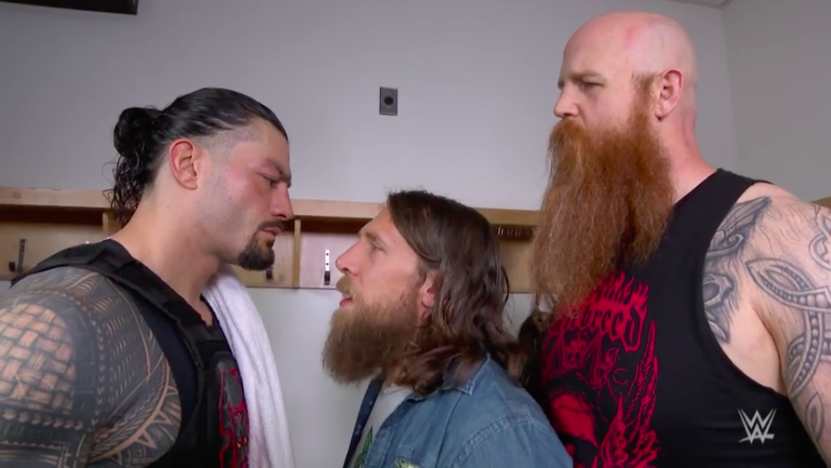 Despite Murphy's "confession", Reigns still wouldn't apologize to Rowan or Bryan, who promised to reveal the results of their own investigation the next week.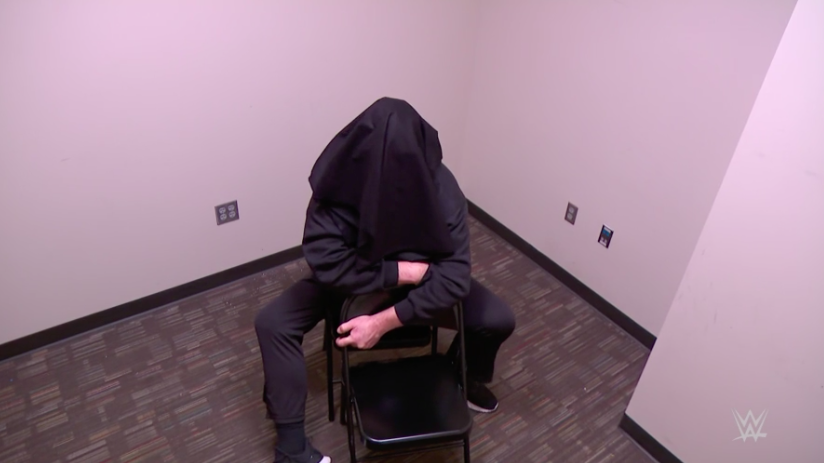 The following Tuesday, Bryan and Rowan locked the supposed mystery assailant into a room backstage…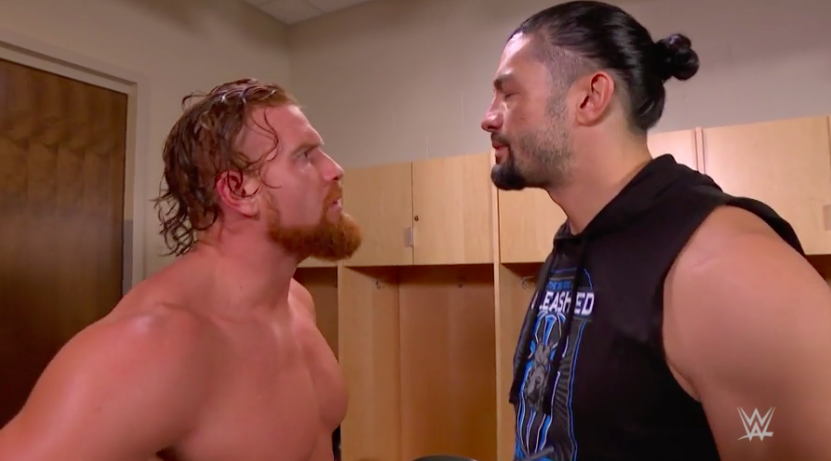 …while Buddy Murphy insisted to Roman Reigns that, despite Rowan rebutting his accusations with some very cogent beatings, he was still "pretty sure" he'd seen him at the scene of the crime…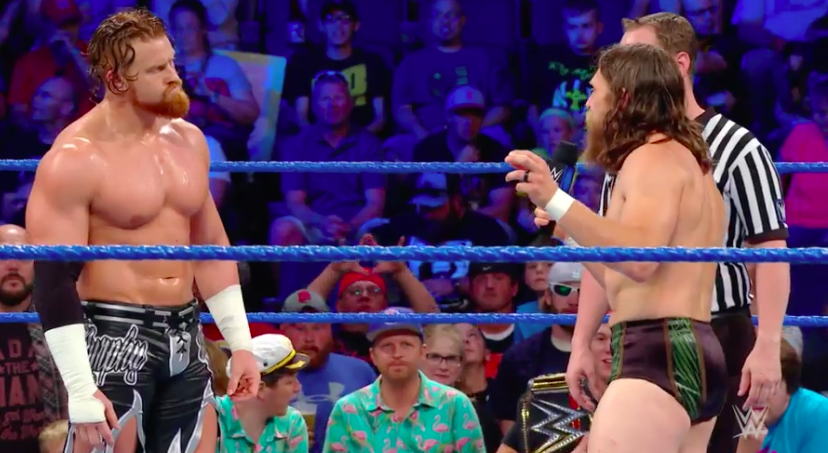 …which led Daniel Bryan to call Murphy a liar – a cowardly liar, in fact.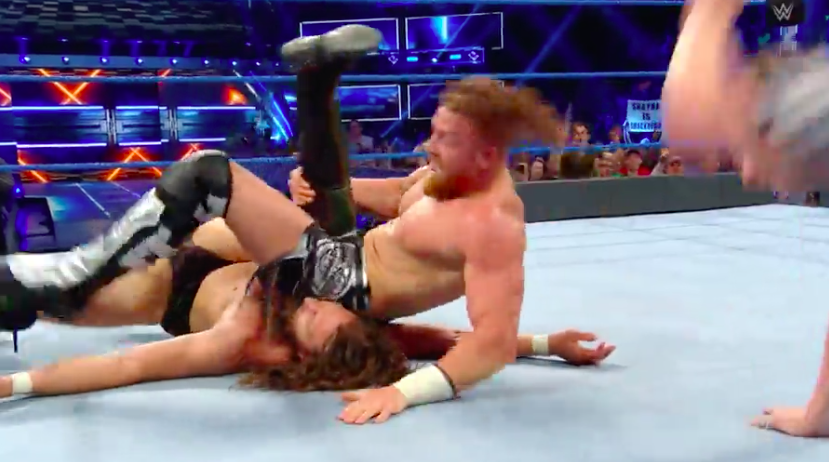 The cowardly liar then pulled off an upset win over Daniel Bryan, despite being cowardly (and a liar).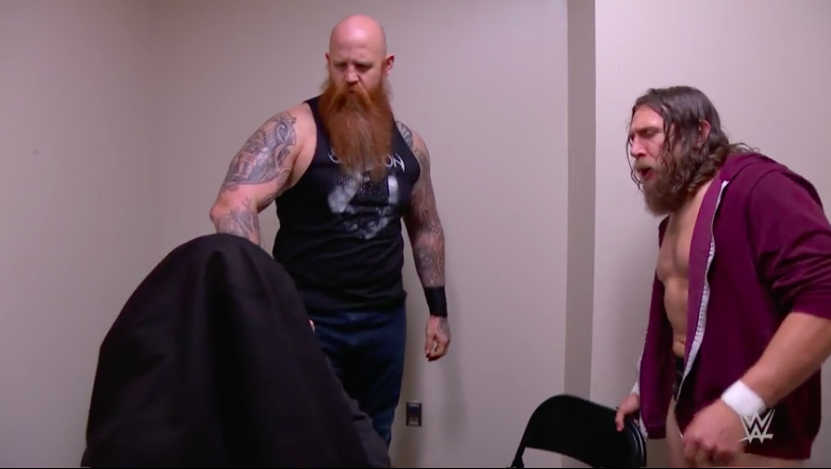 But Bryan didn't have time to stew over his loss to the cowardly liar – he had to reveal the findings of what David Otunga called an extensive forensic investigation. Under the hood was Roman Reign's attacker…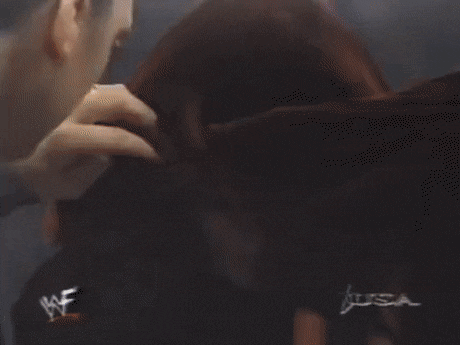 Kidding! The real answer was much stupider: a Rowan lookalike.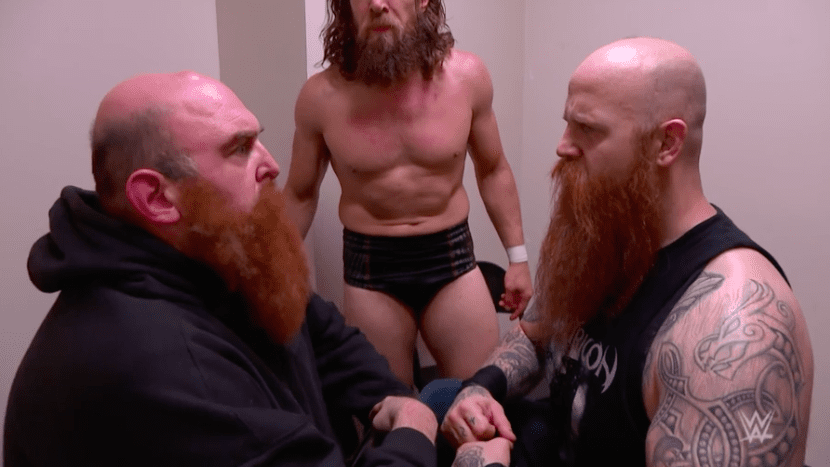 Who was this man? How did Daniel Bryan find him? How did he get backstage at Smackdown to operate the forklift? Why did he want to kill Roman Reigns? Did this mean Buddy Murphy had simply made an honest mistake by accusing Rowan?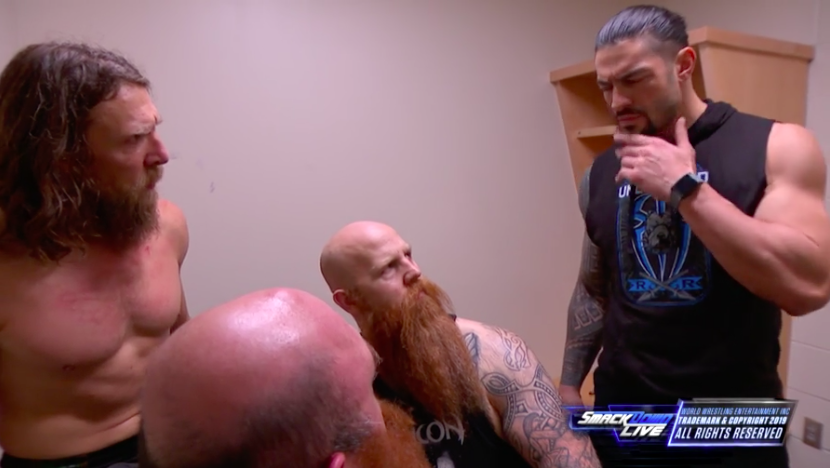 Or, more likely, was this all a ruse concocted by Daniel Bryan to protect the guilty party, Rowan?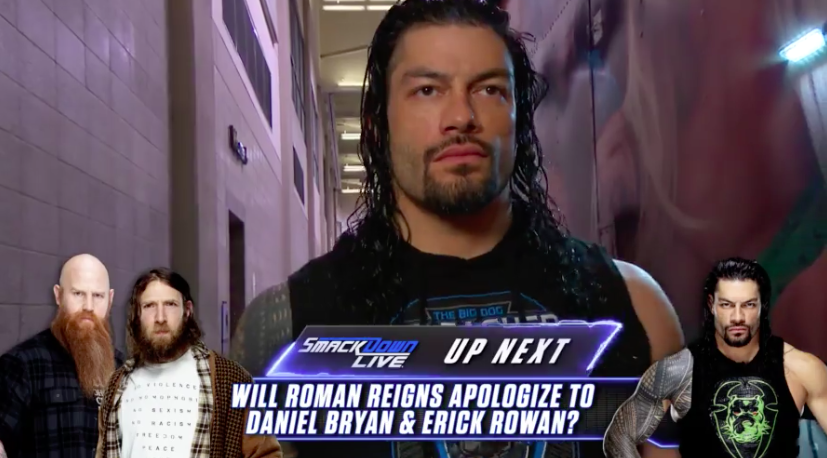 These questions and more would be ignored the following week.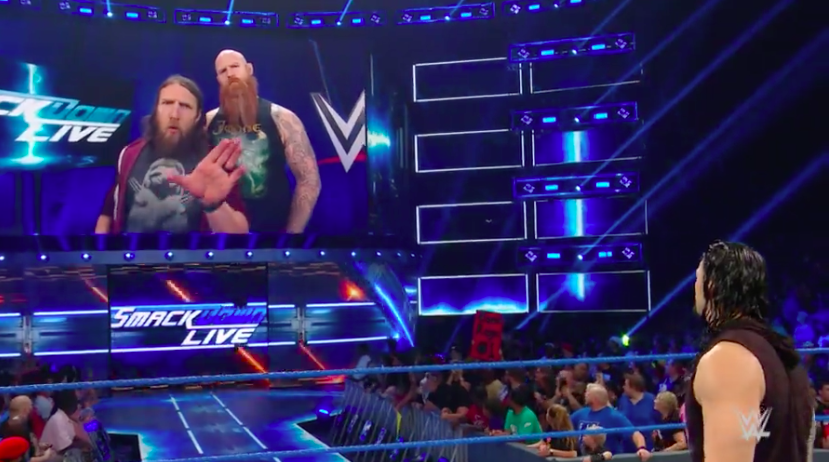 In yet another show-closing segment, Roman Reigns refused to apologize to Bryan and Rowan, instead showing some never-before-seen footage of the original backstage incident. In that footage, one could clearly see a large, cloaked figure with a big red beard.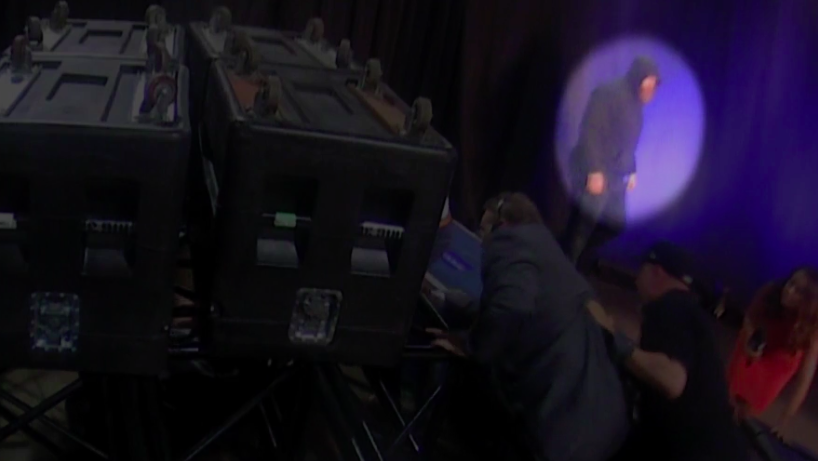 It could only be one man: Rowan!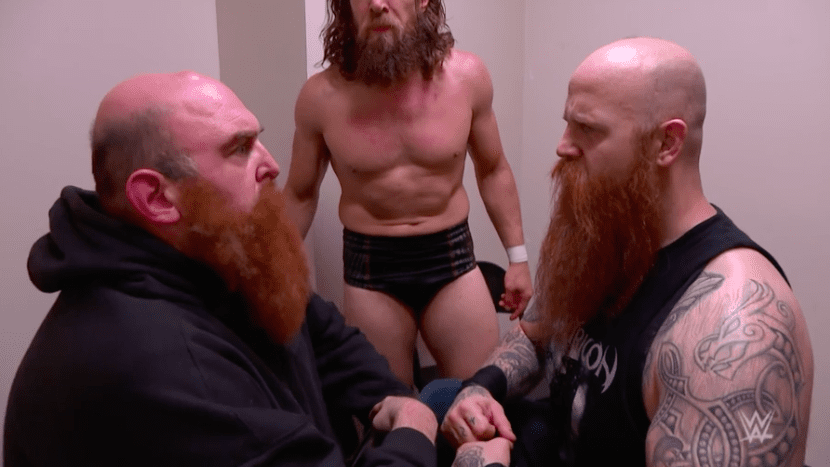 Or, if you were paying attention the week before, two men: either Rowan or the Rowan lookalike whom Daniel Bryan had produced. It's as if WWE had aired the two episodes in the wrong order.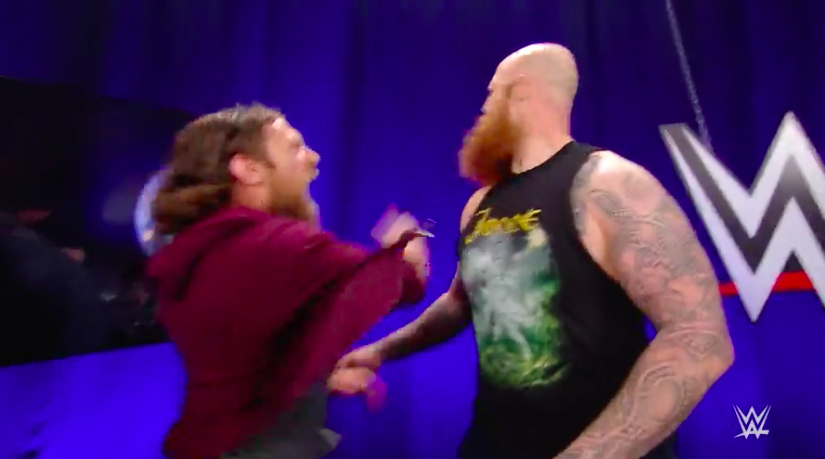 Forgetting his own cover story, Daniel Bryan slapped Rowan and denounced him as a liar…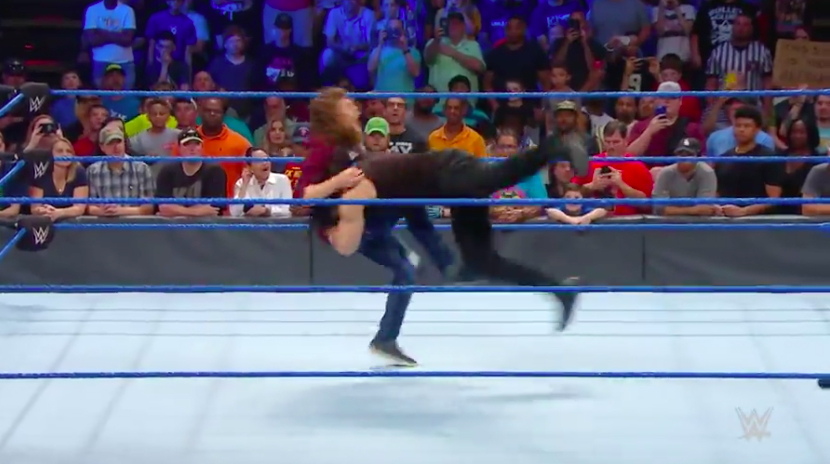 …then came to the ring to deny any involvement in the attacks, which earned him a spear from The Big Dog.
---
The next week, Bryan demanded an apology again from Roman Reigns for implying that he was a liar (which Daniel Bryan hates) who was in cahoots with Rowan (who was now conclusively the attacker, as shown in the inconclusive video aired the last week).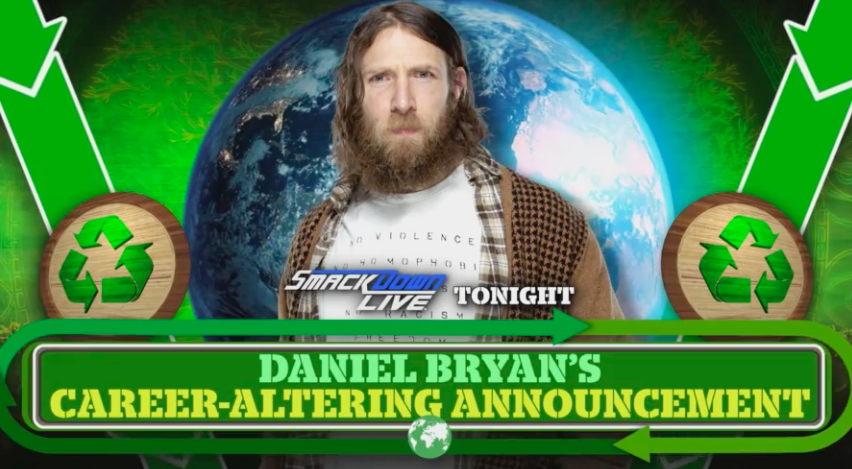 Now, remember how Daniel Bryan had promised a career-altering announcement? Well, nobody else in WWE seemed to, as that storyline was dropped weeks earlier. So forget it, because it's never coming up again.
---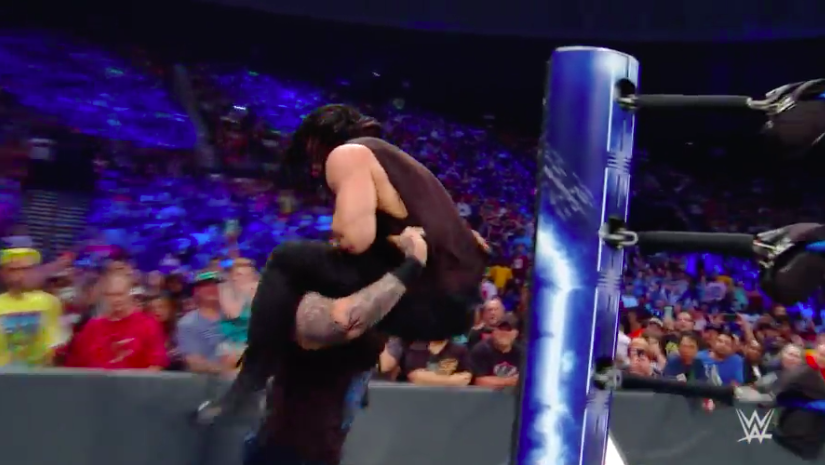 Anyway, before Roman could get to the ring, Rowan blindsided him, then pushed Daniel Bryan to the ground.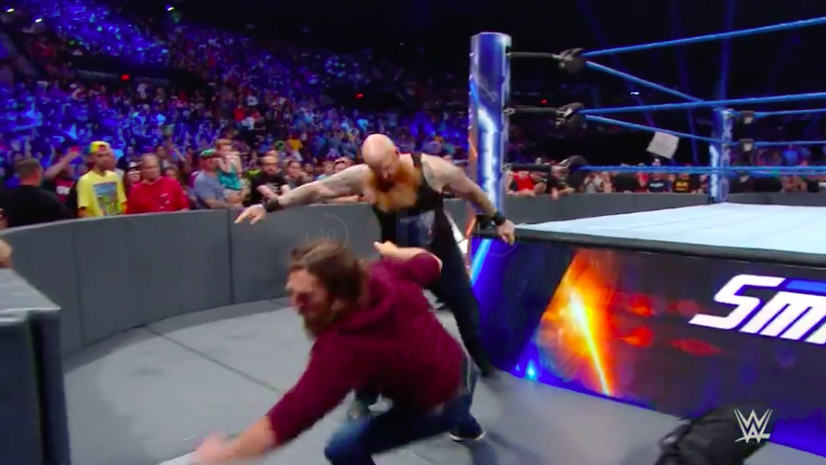 This savage attack on Roman Reigns and light rough-housing with Daniel Bryan was enough proof for Corey Graves: the disingenuous heel announcer ruled out a Bryan-Rowan conspiracy.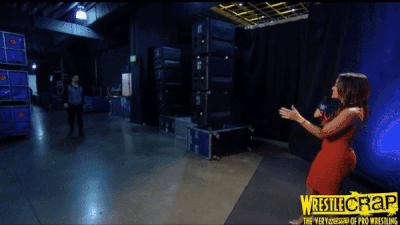 But it was also enough proof for the babyface announcers to assert Bryan's innocence, despite it taking at least two men to knock over all that equipment. And of course, those gullible announcers ended up being proven absolutely…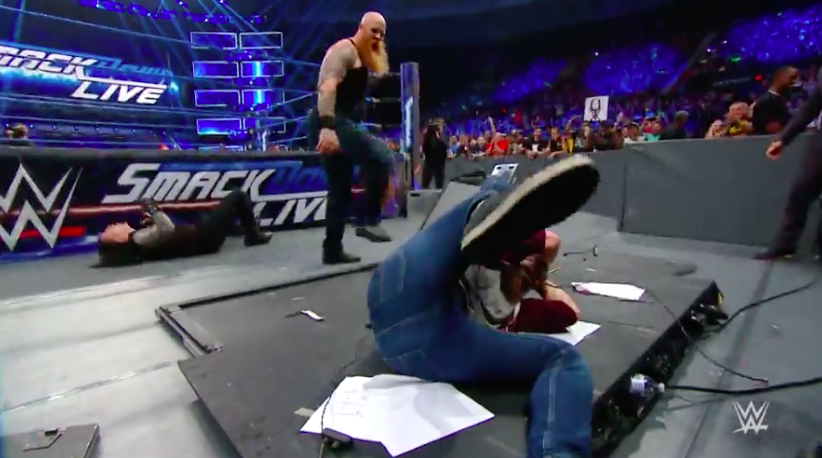 …correct? Yes, Rowan had acted alone, which he proved by putting Daniel Bryan through a table.
So, Daniel Bryan was telling the truth? Rowan really had acted alone (or perhaps in collusion with that temp forklift driver everybody had forgotten about)? And Daniel Bryan had actually believed his own stupid story about the Rowan lookalike?
Now officially too dumb to be a heel, Daniel Bryan turned babyface…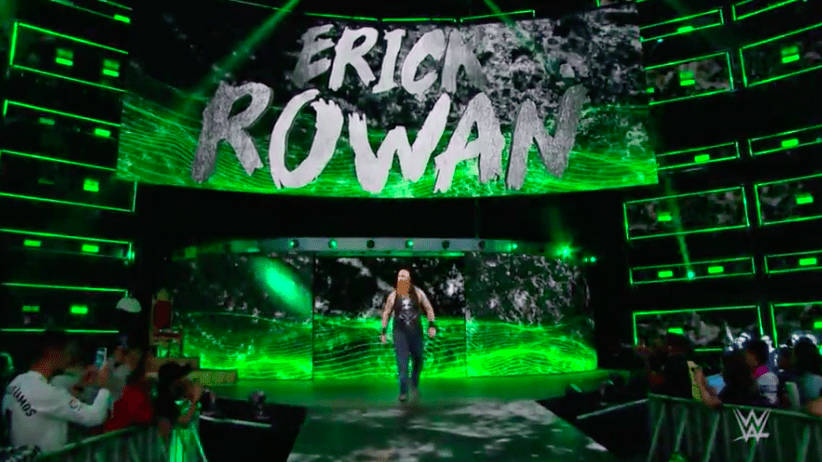 …while Erick Rowan celebrated his newfound independence by retrieving his first name. As would become rather obvious to me while writing this article, you can't have Rowan feud with Roman without confusing everybody.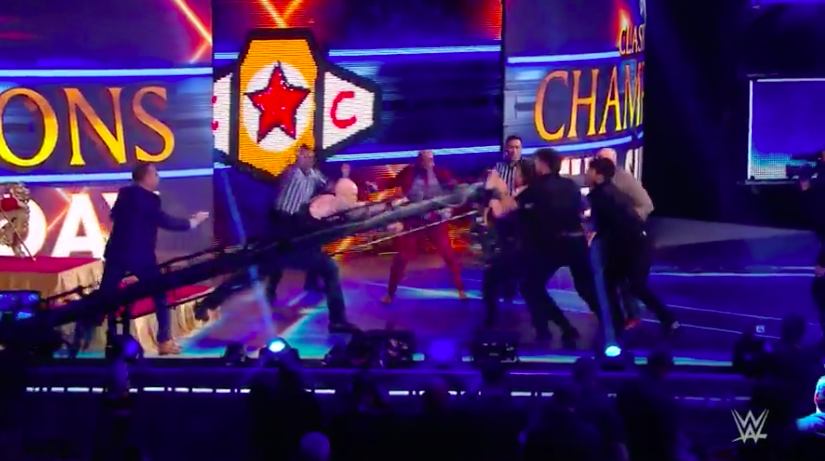 Erick Rowan further carved out an identity for himself by attacking Roman Reigns with a "camera jib". The Dudleys had their tables, Triple H had his sledgehammer, and Erick Rowan had his production equipment.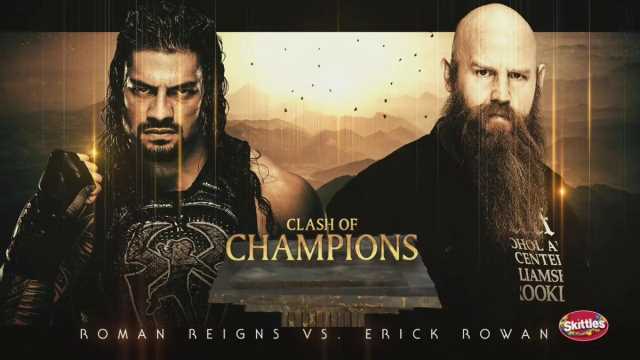 After six straight weeks of non-wrestling, main-event segments, Roman vs. Rowan became official for Clash of Champions. Ironically, as soon as the PPV match was announced, the angle stopped closing out the show every week.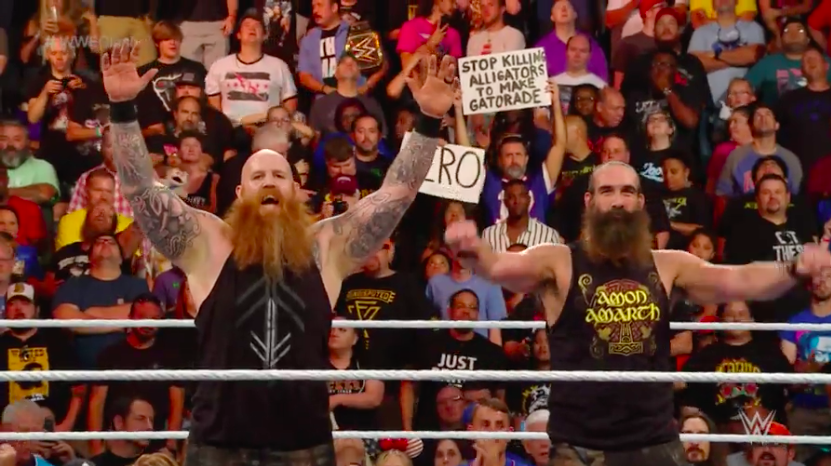 The former Bludgeon Brother defeated Reigns after interference from, well, the other former Bludgeon Brother. As Harper and Rowan stood reunited, the viewers at home were in shock. I didn't know the Gatorade people killed alligators!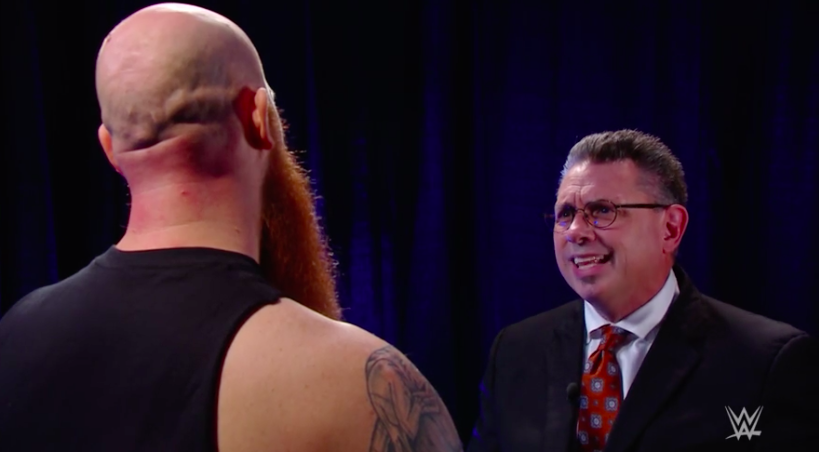 In an interview the next week on Smackdown, Michael Cole characterized Rowan's pre-meditated attacks on Roman Reigns as "attempted manslaughter". Stupid as it sounds, "attempted manslaughter" is a real thing, though it's not what Rowan did (which was attempted murder).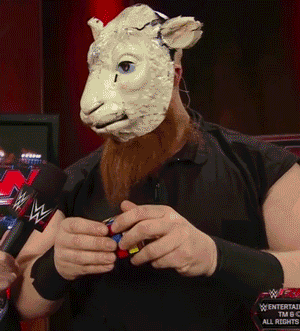 Rowan declared himself intellectually superior to Daniel Bryan, who, after all, had never solved a Rubik's Cube.
Harper & Rowan feuded with Reigns & Bryan…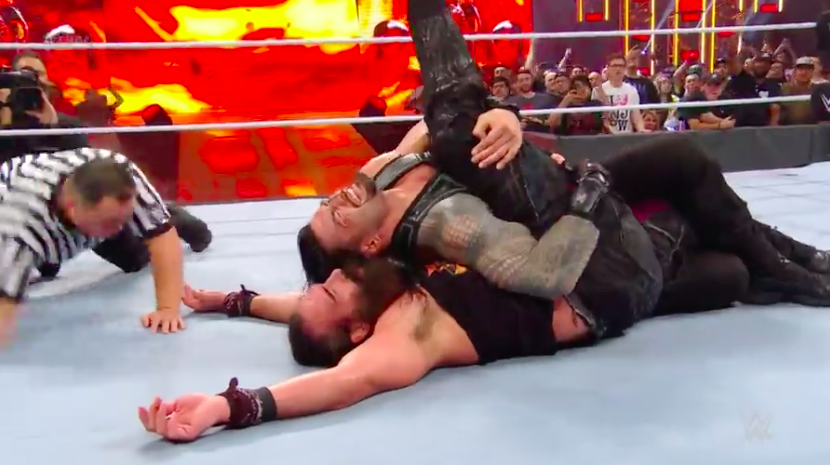 …who defeated the heels once and for all on the Hell in a Cell undercard…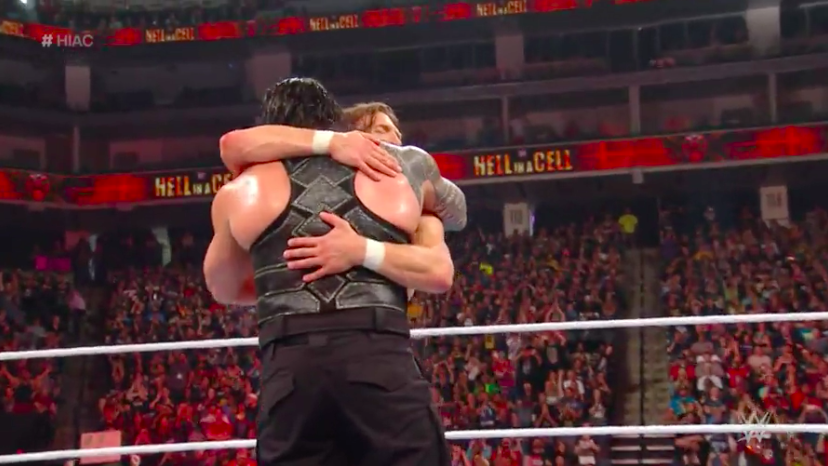 …and more importantly, hugged it out.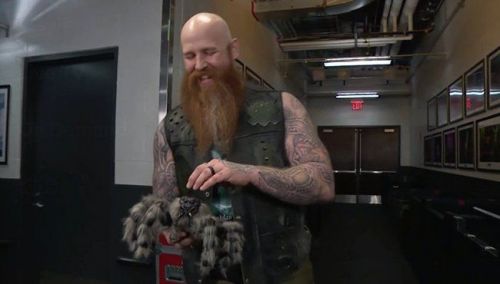 Harper & Rowan were split up by the USA/FOX Draft, and while Harper got released, Rowan went on to carry around a toy spider in a burlap sack…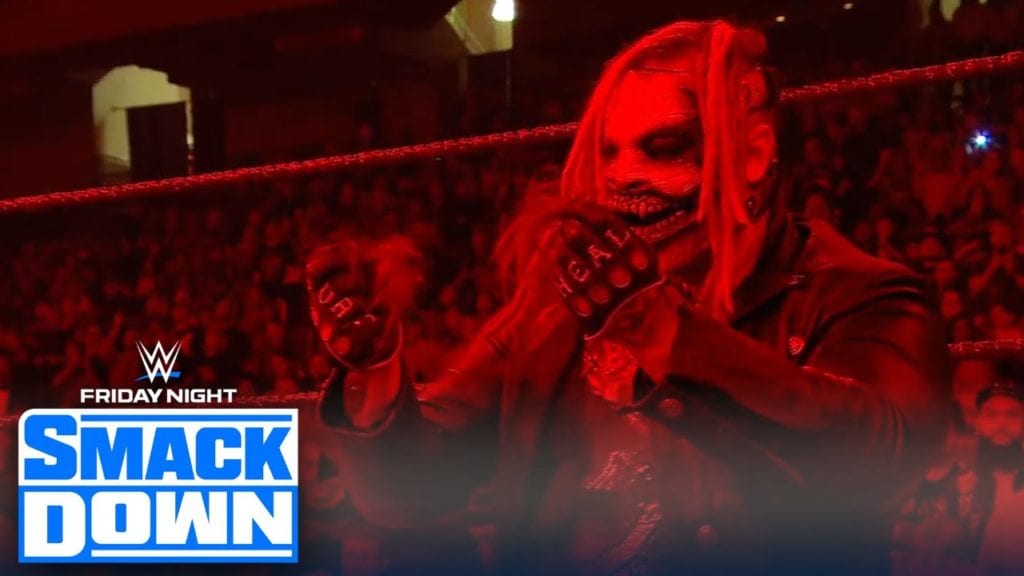 …while Daniel Bryan ended up getting all his hair pulled out by The Fiend…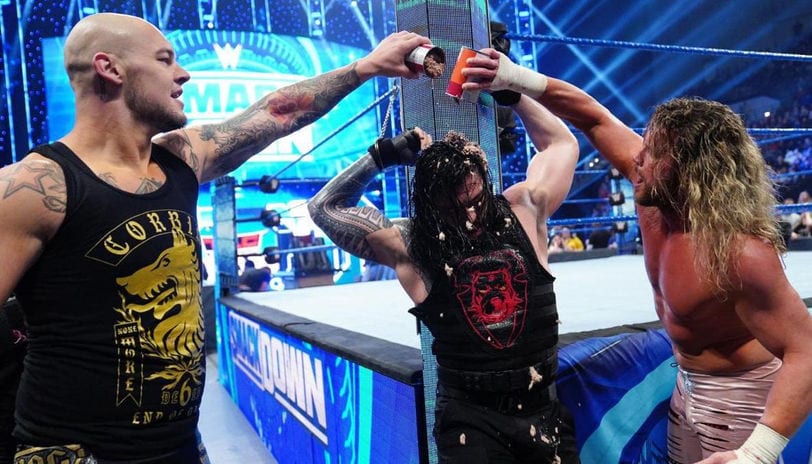 …and Roman moved on to feuding with Baron Corbin over dog food.
But that's a story for another induction (or four).