Today's induction deals with a touchy subject, but there's simply no way around this obvious truth:
WWE loves goofy trophies.
From the Royal Samovar "trophy" that was just a tea pot…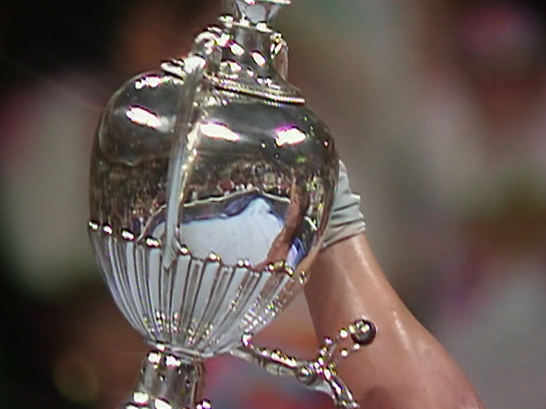 …to a Women's Battle Royal trophy straight out of Health Class…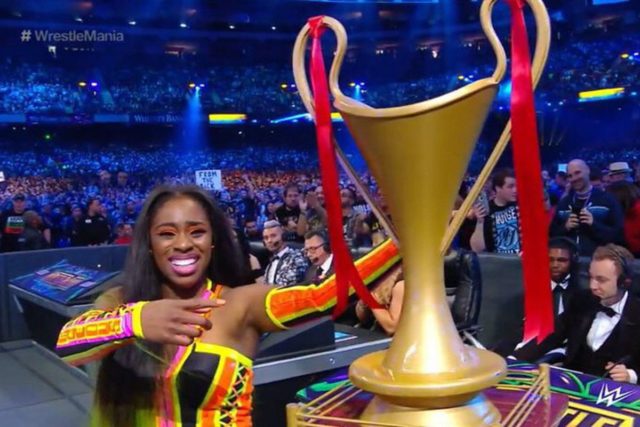 …the company has a well-documented history with funny prizes for novelty matches.
But one thing WWE loves even more than goofy trophies is Saudi money…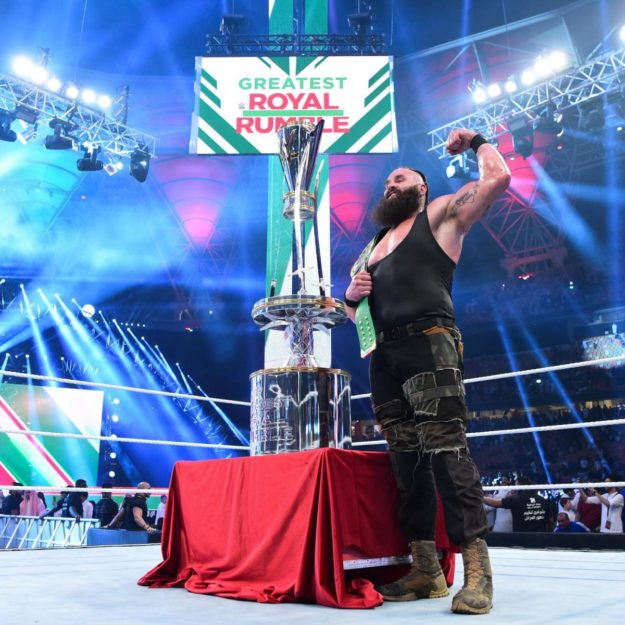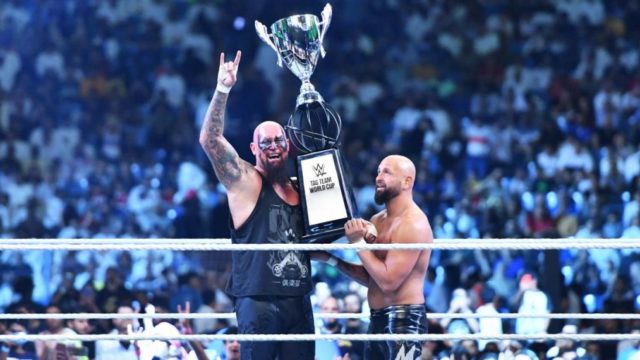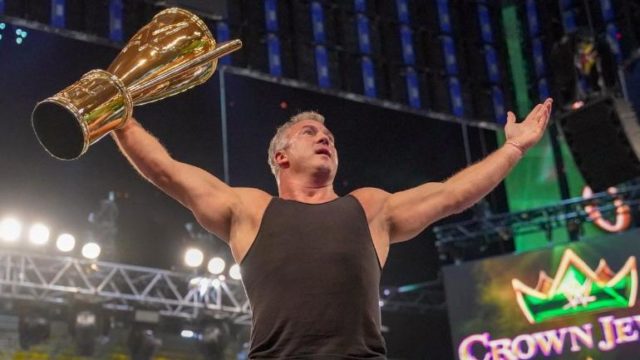 …which is why the company has gone all out with shiny, ornate awards whenever it holds events in the Kingdom.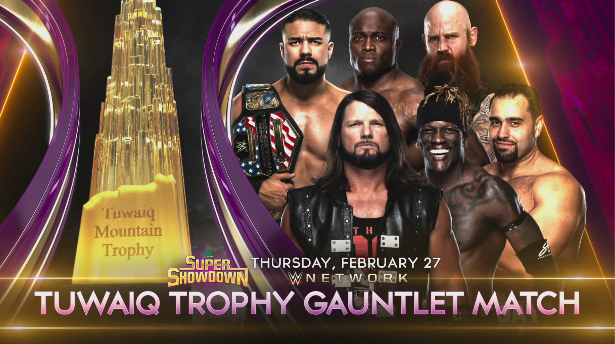 At first glance, the prestigious Tuwaiq Mountain Trophy looked like one such precious piece of hardware. Jerry Lawler was certainly impressed, remarking, "I think that Tuwaiq trophy may be made out of solid gold."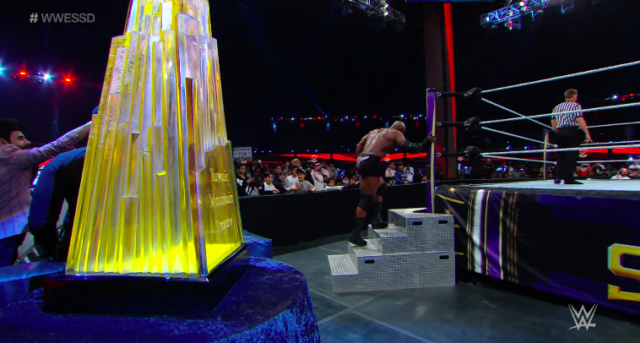 Or piss-colored polymer. But despite looking like a prize you might win on Nickelodeon's GUTS…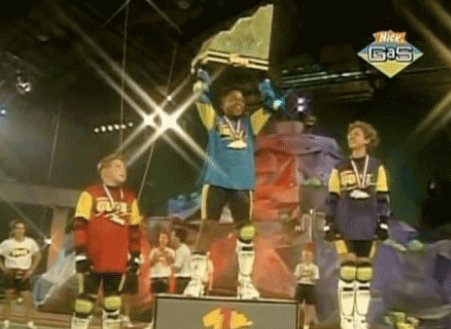 …the trophy depicted Jabal Tuwaiq, a 500 mile long geologic formation…

…and, according to the promo copy all the announcers read, a "symbol of strength and fortitude". Also, it was prestigious.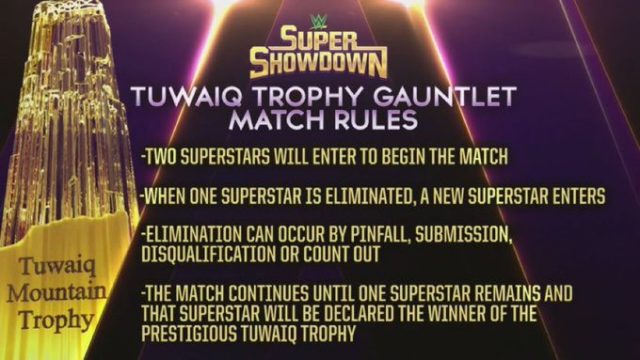 To win it, six men would compete in a gauntlet match at Super Showdown in Riyadh:
R-Truth, Bobby Lashley, Andrade, Erick Rowan, AJ Styles, and Rey Mysterio…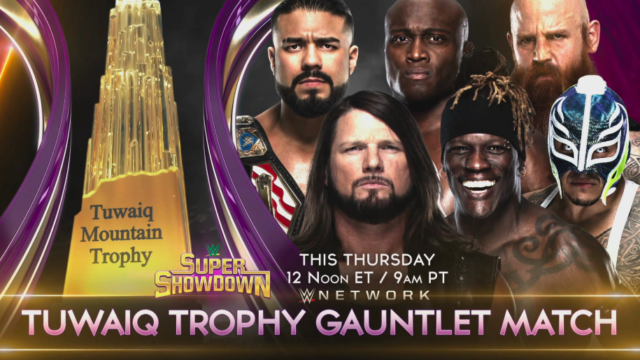 …the latter of whom replaced Rusev for no official reason. Only by lasting to the end would one superstar earn a glowing piece of the radical rock.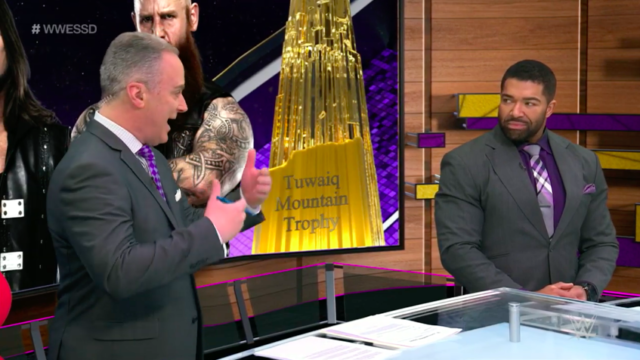 "This is going to be something that people are going to talk about for years to come," speculated Kickoff Show analyst David Otunga.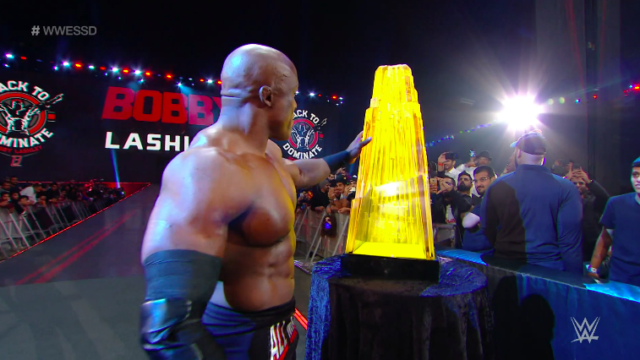 The first two competitors in the gauntlet for the Prestigious Tuwaiq Mountain Trophy were R-Truth and Bobby Lashley…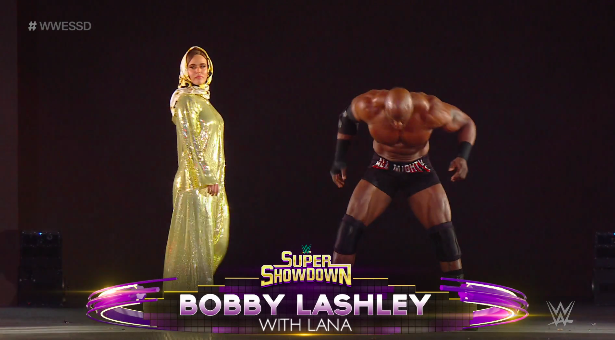 …briefly accompanied by his new wife Lana, who wore a full-length covering in accordance with local mores. Lana, if you'll recall, had spent the past five months bragging about having sex with Lashley while still married to Rusev, all with naked arms.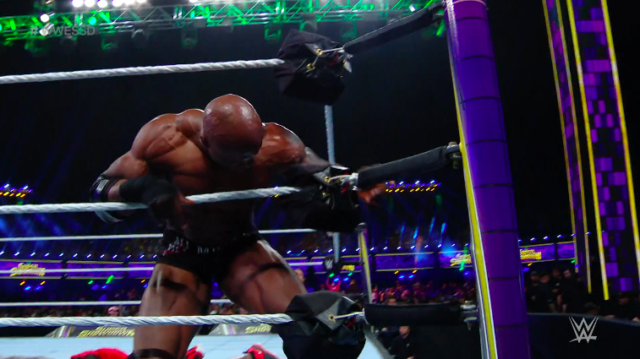 Bobby Lashley, showing both strength and fortitude, dominated R-Truth for much of their match before running into the ring post…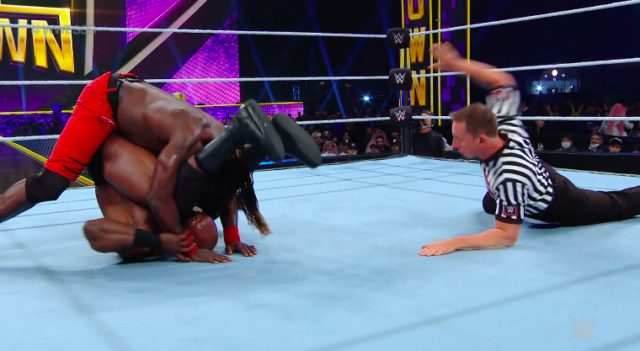 …allowing R-Truth to pick up the fluke victory.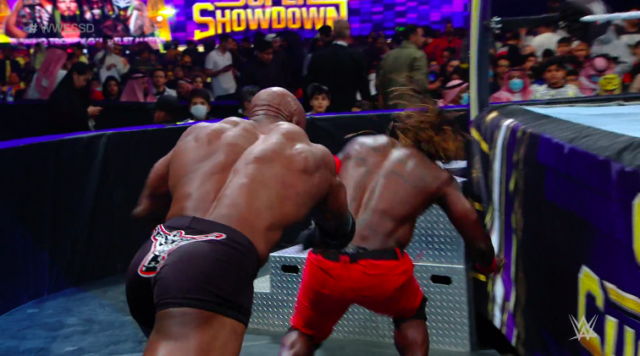 No longer in contention for the Prestigious Tuwaiq Mountain Trophy, Lashley brutalized Truth while the referee impotently scolded him. This wouldn't have happened had Mo been the special referee.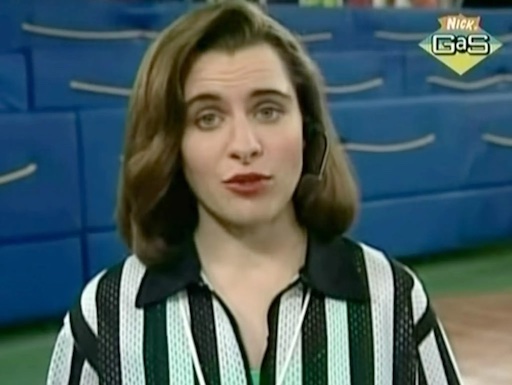 Lashley's loss was Andrade's gain; the US champion looked to pick the bones of the beaten R-Truth en route to winning the Prestigious Tuwaiq Mountain Trophy.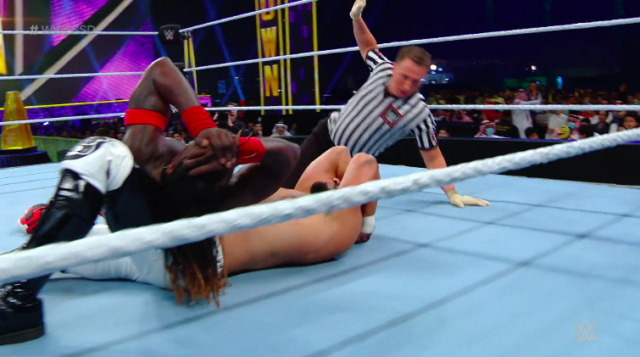 Instead, Truth scored an even flukier win, knocking heads with Andrade and happening to land on top of him.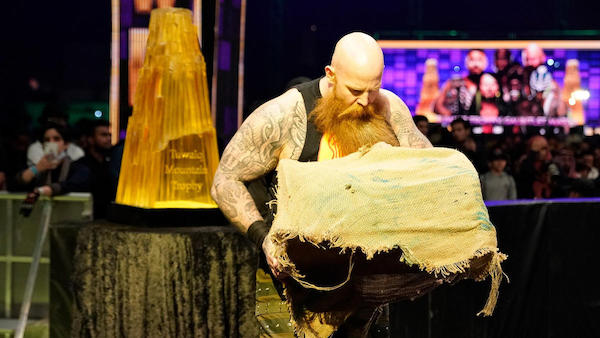 Erick Rowan, who managed to get his giant spider through customs, was the next contender for the Prestigious Tuwaiq Mountain Trophy. Again, he controlled the match until Truth accidentally knocked over Rowan's precious cage.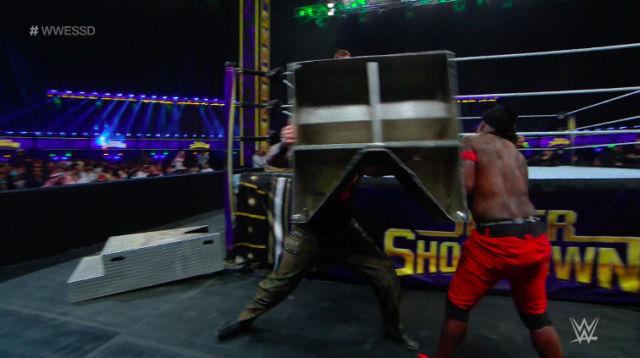 Incensed, Erick attacked Truth with the steps, getting himself disqualified.
Hardly embodying strength and fortitude, R-Truth had lucked his way this far in the gauntlet match…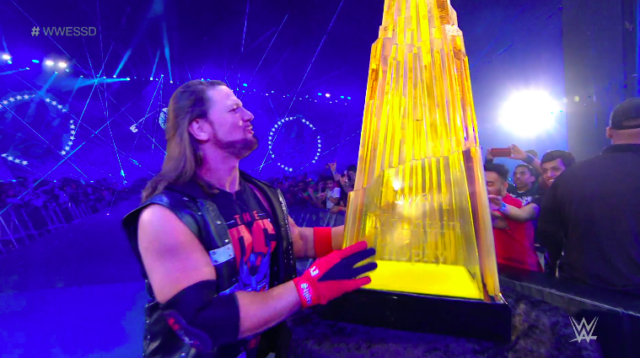 …but his luck ran out when AJ Styles made his own bid for the Prestigious Tuwaiq Mountain Trophy.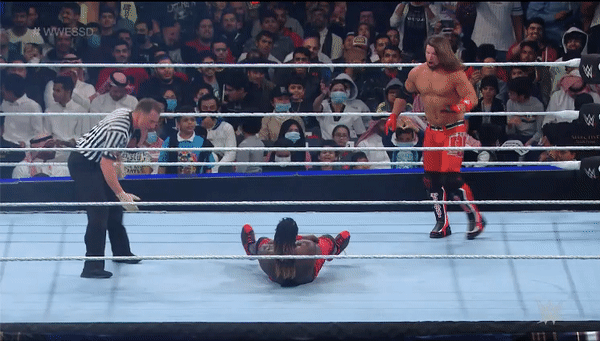 Mocking Truth with some (pretty good) dance moves, Styles toyed with his opponent before putting him away with the Calf Crusher.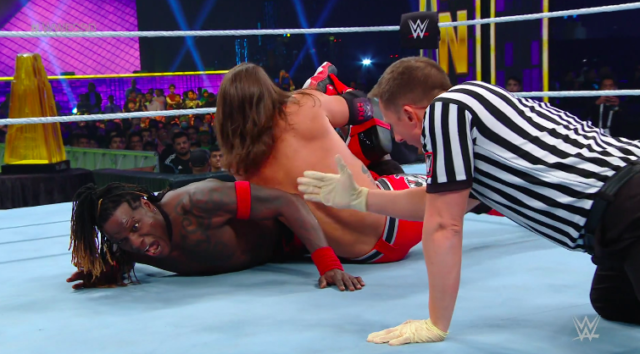 By now, if you'd taken a shot every time an announcer mentioned the "Prestigious Tuwaiq Mountain Trophy", you'd have been publicly flogged.
Styles's next and last opponent was to be Rey Mysterio…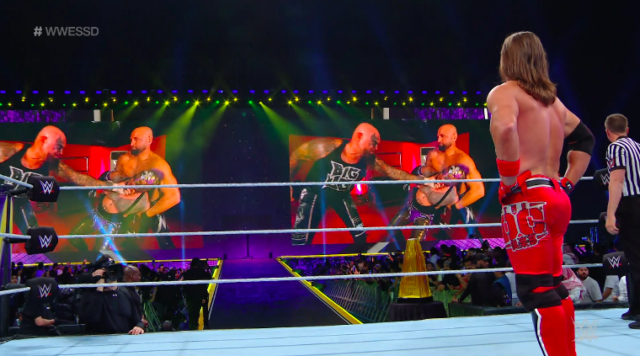 …but AJ's buddies the Good Brothers attacked him backstage before he could enter. That hardly seemed worth a 14-hour flight.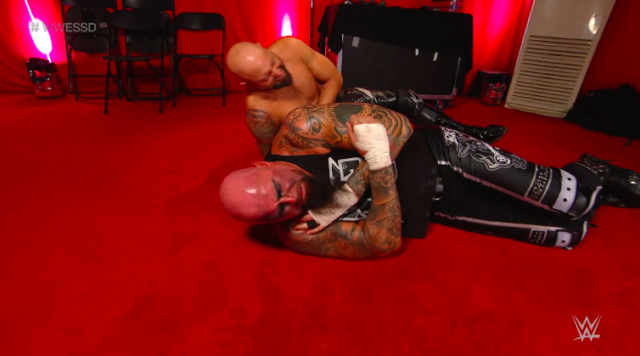 But before the referee could count out Rey and hand the match (and the Prestigious Tuwaiq Mountain Trophy) to AJ, the Undertaker appeared and laid out the Good Brothers.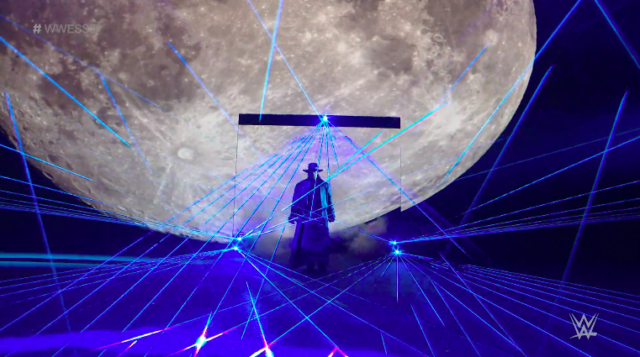 Having just happened to stop into town, Taker decided to throw his hat in the ring.
Not literally, though. In fact, The Undertaker removed neither his hat nor his robe.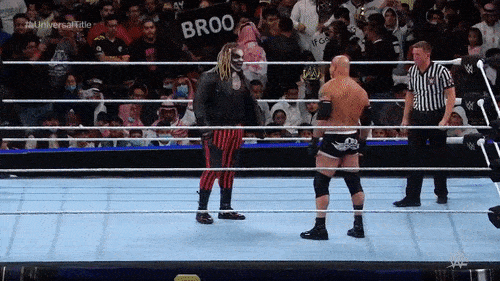 Taker simply chokeslammed Styles…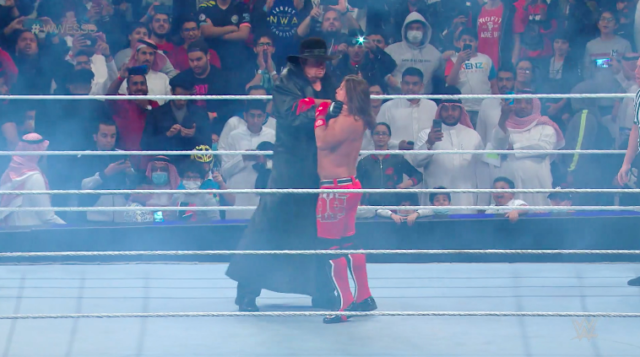 …and pinned him.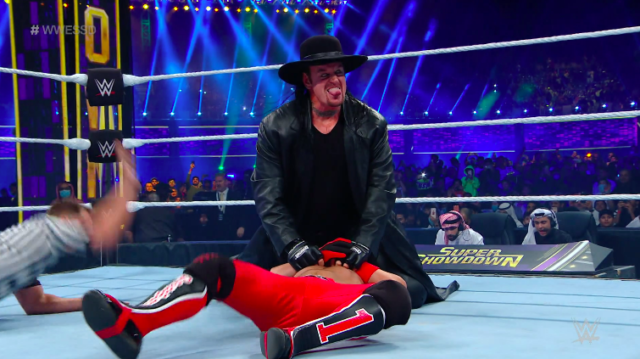 Having won the Cheap Finish Gauntlet Match, the Prestigious Tuwaiq Mountain Trophy was now his for the taking.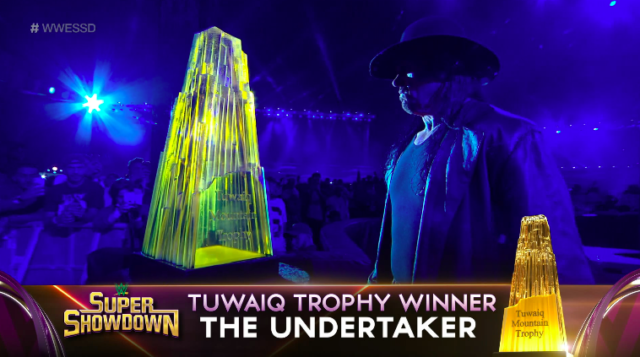 But instead, The Undertaker just kept walking up the ramp.
Once everyone landed safely back in the States, the Tuwaiq trophy was never again mentioned by name.
Possibly to hide how little of their $50 million budget WWE had actually spent on the trophy, The Undertaker never even brought it out on TV. Besides, do you really think Taker, with his seven world titles and 24 WrestleMania wins, was going to lug that thing around for his retirement tour?
For all we know, the Prestigious Tuwaiq Mountain Trophy is still in Riyadh, awaiting the next Tuwaiq Mountain Gauntlet Match.